One of my favorite things to do when traveling is try and stock up on various local sweets and chocolate.  Spain first began consuming chocolate in the 1600s, after conquering the Aztecs in the Americas, and discovering the cocoa bean. It's rumored that the first official recipe for chocolate emerged in 1644 by Antonia Colmenero in the book A Curious Treatise of the Nature and Quality of Chocolate:
100 cacao beans
2 chiles (black pepper may be substituted)
a handful of anise
"ear flower"
1 vanilla pod
2 ounces cinnamon
12 almonds or hazelnuts
pound sugar
achiote to taste
Chocolate in Spain has evolved since then, and now is often served hot, and with churros on the side.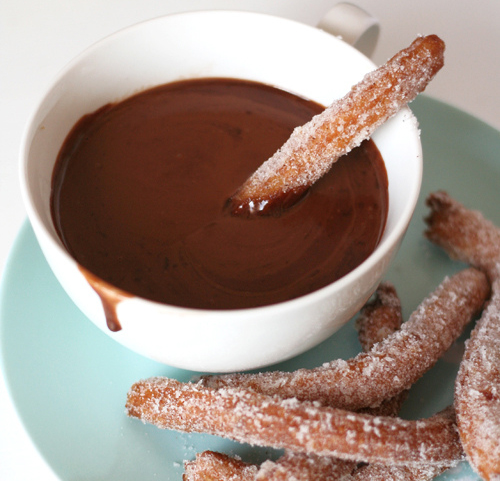 photo by Lisa at spicy ice cream
Not being in Spain ourselves, we at Tea are big fans of Vosges's Barcelona Bar – which we can buy just down the street. It may be made in the USA, but the almonds, sea salt, and rich chocolate are all reminiscent of Spain.