Today we're featuring guest blogger Linh Tran, who traveled to Britain with her two kids, daughter age 3, son age 5.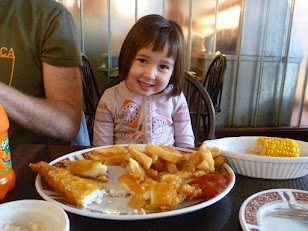 Britain.  The only thing that caught my eye as my family and I shuffled through customs at Heathrow airport after a red-eye flight was a banner by the Heritage Foundation of a castle reading, "Heritage is GREAT Britain."  Apropos, this trip to England will my children's first trip to visit their grandparents where they will probably have a memory of it in the future.  We hoped to show the children around Essex, where their father grew up, give them a taste of English pastimes and flavors, and teach them a bit of the queen's English.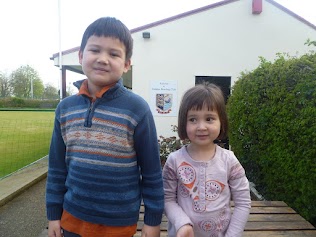 First up was a walk along a footpath behind granddad's house.  Nothing better to beat jet lag than fresh air and sunshine.  We learned the hard way to avoid the prickly nettle leaves and how, thankfully, mother nature creates balance by growing dock leaves close by to soothe the sting.  The biggest hit near granddad's house was not feeding the horses or finding the most feathers on our walk, but the zip line at the local playground where the children can sit and zip between two posts.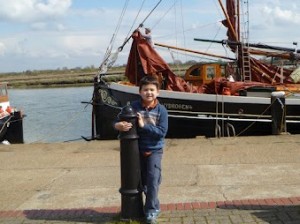 There was another zip line at a playground by the seafront in the town of Maldon, where generations of my husband's family were born and bred.  Cool fact my son found out was that his great great great grandmother was born in The Queen's Head pub, still operational today.  The children enjoyed seeing all the barges and sailors working on their sails as we walked along the estuary.  We had lunch on the high street and the children surprised us by eating their entire portion of fish whereas they left lots of chips on their plate.  We also introduced them to Cornish pasties, sausage rolls, Yorkshire pudding, smarties push ups, and no trip to the UK is complete without a copious amount of Cadbury's chocolate.  They delighted in tasting the local favorite Rossi ice cream in Southend-on-Sea.  We had a tragic family-sitcom moment when 2 licks into my daughter's ice cream cone, it fell to the ground and rolled down the slope.  My son generously shared his cone and we perked them both up with carnival rides and mini golf on the beach front at Adventure Island.
By the end of our week long visit, the children began sounding British when they asked for more biscuits, bananas, and ice lollies.     They started using words like lorry, boot, queue, and cheers.  Most importantly, they reconnected with their grandparents and got a glimpse of what life might be like growing up in Essex.  Heritage is great, indeed.