Our Bali-inspired children's clothes collection featured the craft of Batik, an art form we saw and practiced while in Bali. Traditional Batiks are created with hot wax, in a dying technique which allows the craftsman to form lush patterns and designs.  We wanted to find a way for little citizens to Batik that was safe.  Below is our step-by-step guide on how-to Batik- no hot wax needed! All you need is  glue, paint, a t-shirt and an open mind!
I chose to Batik a shirt- however you can Batik any cloth materials.  Think of how much fun it would be to Batik pillow cases?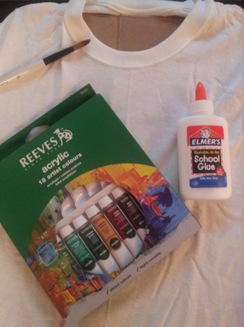 The first step is to design your Batik pattern.  You'll use the glue to do this. It can be a little tricky to wield the glue, so you may want to have your little ones practice glue drawing on cardboard first.  You can also map out your design first with pencil. I also used a scrap piece of cardboard to put in the shirt so the glue wouldn't seep through to the back of the shirt.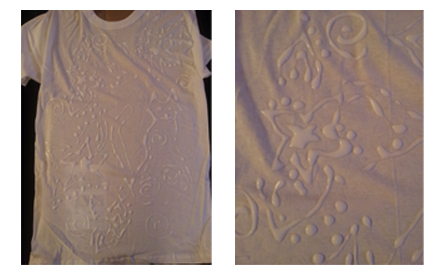 The next step is hardest. You have to wait for the glue to dry and this will take at least 24 hours.  Playing the waiting game can be hard when you have little citizens eager to paint!
Once the glue is completely dry, break out your acrylic paints, your paint brush, a mixing area, and a water bowl to clean the brush and start painting! While painting, you'll want to keep the the piece of cardboard inside the shirt for the same reason you kept it in while gluing- you don't want the paint to leak through to the back of the shirt.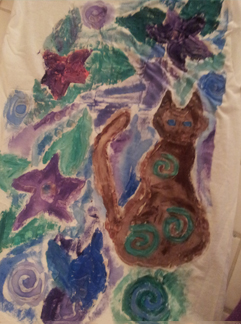 Once the Batik is painted, leave it in a safe place where the paint can dry. This will probably take at least 12 hours.  Once dry, you can either peel off the glue or put it in the washing machine. I chose the latter as it was much easier and had great results. Check out my finished Batik shirt below.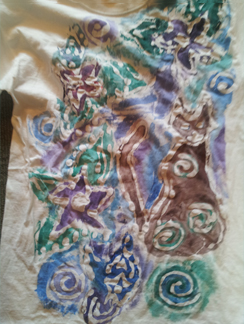 The picture minimalizes the cool effect the process created.  The colors are much more vibrant and the designs pop more in person. All-in-all, this is a great project for those looking to craft a gift for a loved one (Mother's Day or Father's Day Batiks?).
Please share your Batiks with our community at Facebook. We'd love to see your little citizens artful, Bali-inspired work!