Today we're featuring guest bloggers Kristen Daniel, a teacher at San Francisco Friends School, and her two girls Lilly (10) & Clem (8), stylistas in-training and adventure enthusiasts, who just returned home from their trip to Rome. They explored the city and are excited to present all of its wonders through the lens of a little citizen. While on their trip, the girls modeled items from our Spring Bali girls clothes collection.
Looking for a walkable city rich with archeological and architectural sites and, most importantly, delicious food, we settled on a trip to Rome during our daughters' spring break.  We rented an apartment in the cobblestoned Roman neighborhood of Trastevere and spent many hours wandering its medieval maze of backstreets.  Arriving in Rome on a dazzlingly bright Easter Sunday morning instantly transported us from the San Francisco fog.  Lily, 10, and Clementine, 8, soaked up the spring sun and slurped up the amatriciana.
Winding through the narrow streets away from the crush of vendors selling mini-Colosseums, a doll repair shop's window display caught Lily's eye.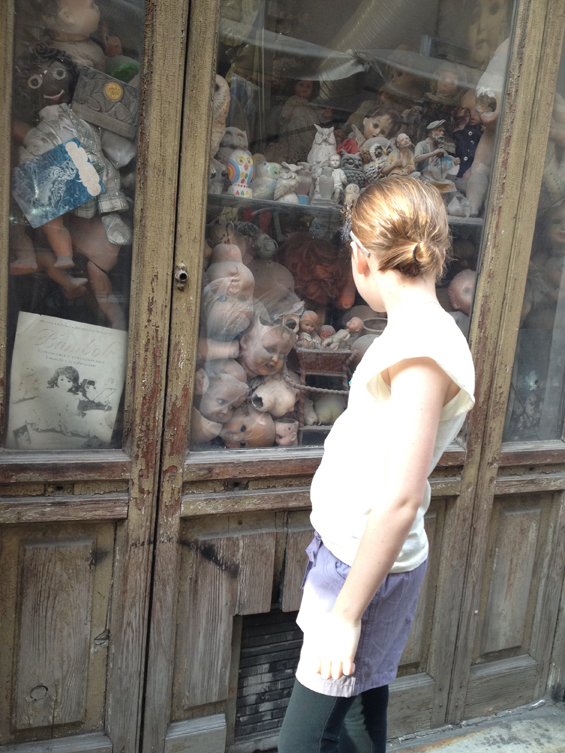 "This caught my eye because it was only doll heads.  No bodies and definitely no full dolls!" -Lily
Emails and texts are ok when stateside, but nothing beats getting a postcard in the mail stamped with official Italian francobollos.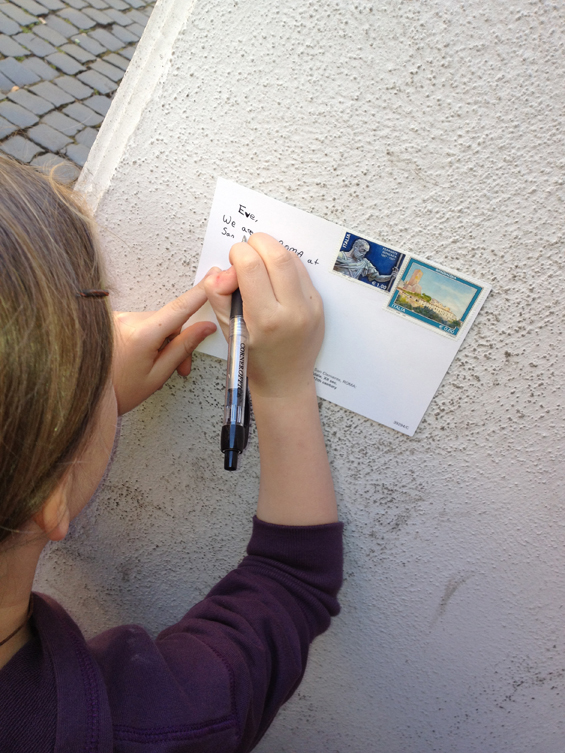 "I got stamps from a little corner store and asked for them myself. " – Clem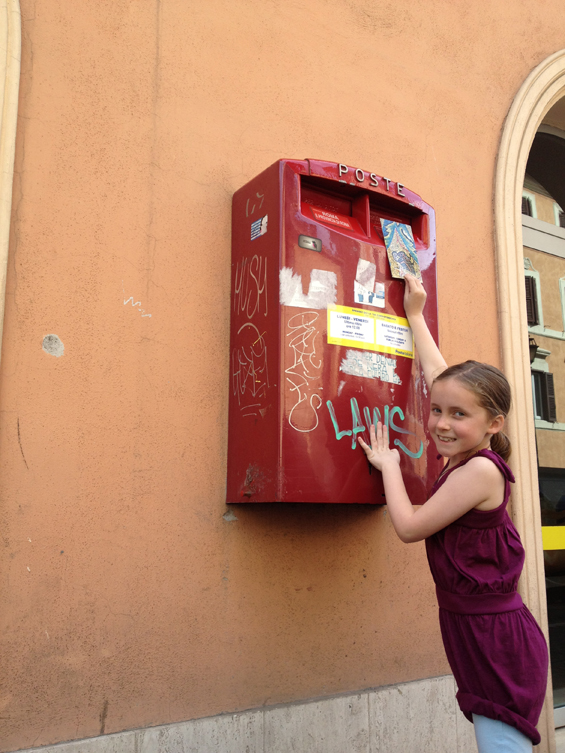 "I'm mailing a letter to a friend! The mailboxes are pretty high to reach." – Clem
Contemporary Roman graffiti decorated the backstreets of Trastevere, reminding us of the San Francisco Mission District close to home.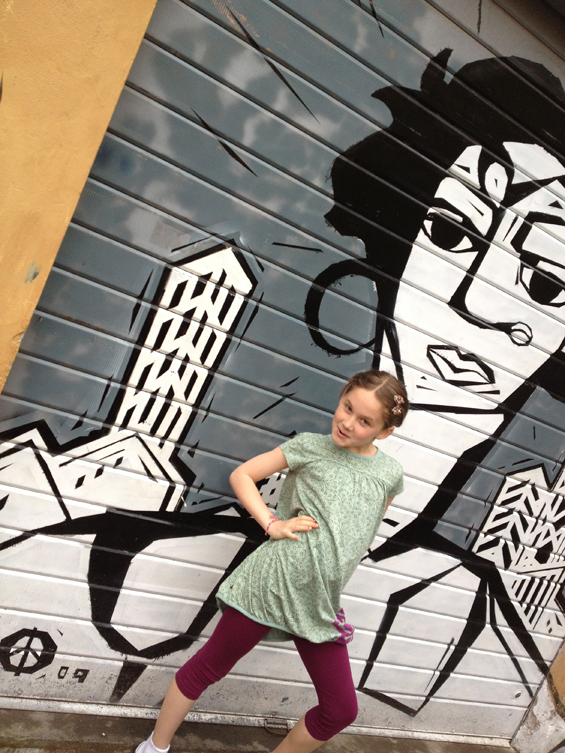 "I really liked this graffiti because I couldn't really figure out what the expression of the women was.  At the bottom of the picture you can see cobblestones, and we had to walk on them all day!" – Lily
Waving to kids on their way home from school translates easily.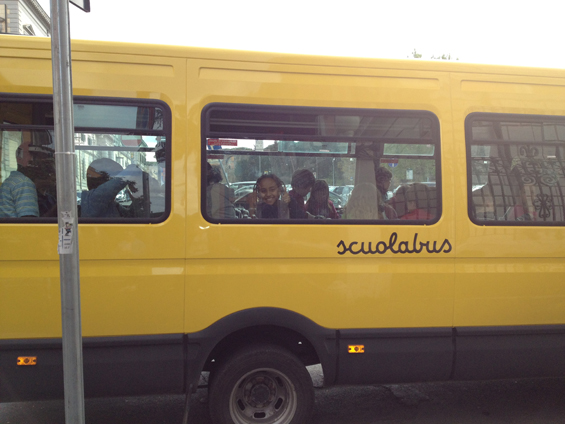 Long lines can bring out the sillies.  Clem accessorized her dress with a belt and sunglasses and worked out some energy in the courtyard at the Vatican museums.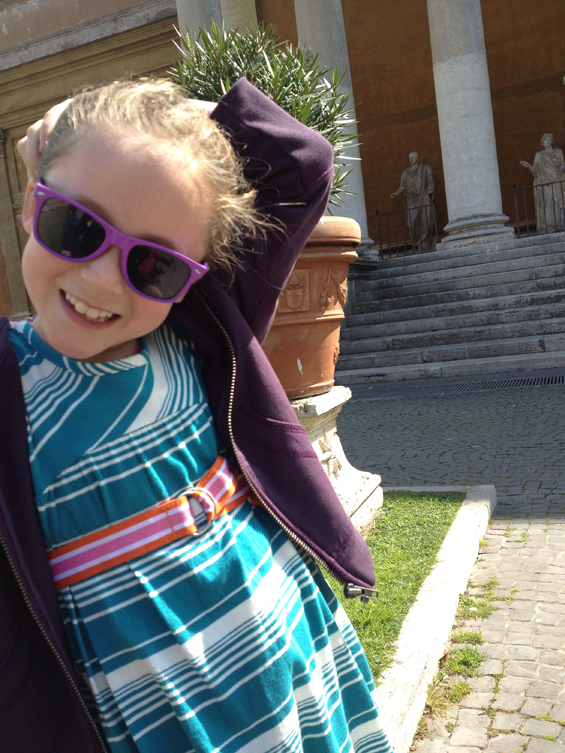 "It was SUPER hot dancing and prancing around!" – Clem
An attempt to step off the cobblestones for a bit needed a helping hand.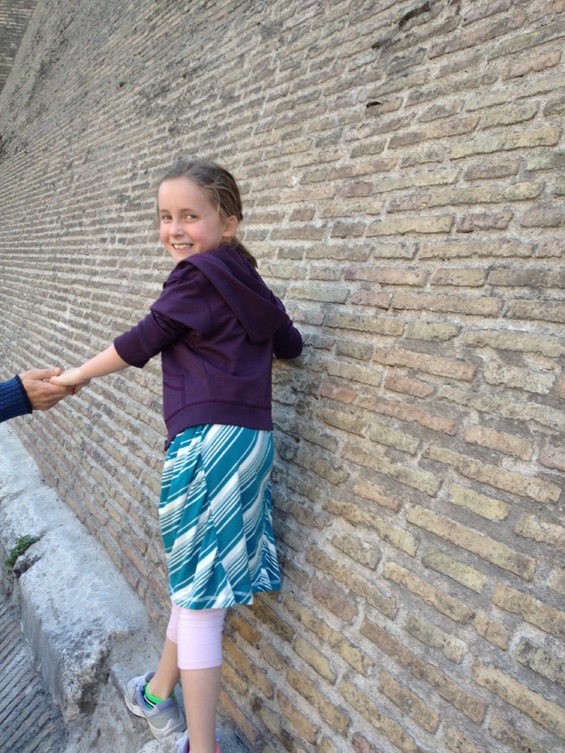 "On the little path of stone, there were lots of big gaps so I almost fell over while taking the picture." – Clem
Part of the fun was learning to dexterously manipulate the public drinking fountains like a real Roman.  Delicious,  fresh, and free water was available in almost every piazza.   It took some practice before we could have a sip and keep our shoes dry.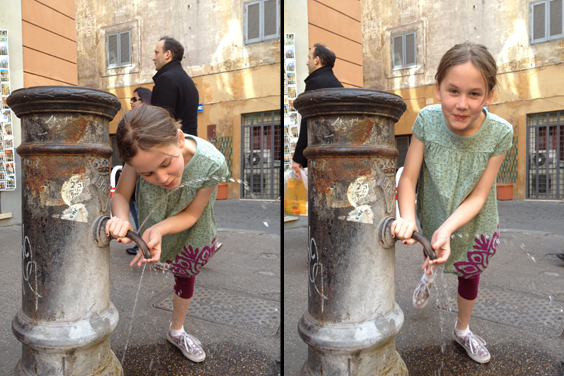 "This was the most hard thing and the most fun thing in Rome.  I probably soaked my feet 5 million times!" – Lily
Nothing beats a gelato after hours of pounding the cobblestones.  Best gelato in Rome?  The gelateria closest to your apartment or hotel.   Stracciatella and nocciola got the best reviews from our discerning tasters more accustomed to Mitchell's mango or grasshopper pie.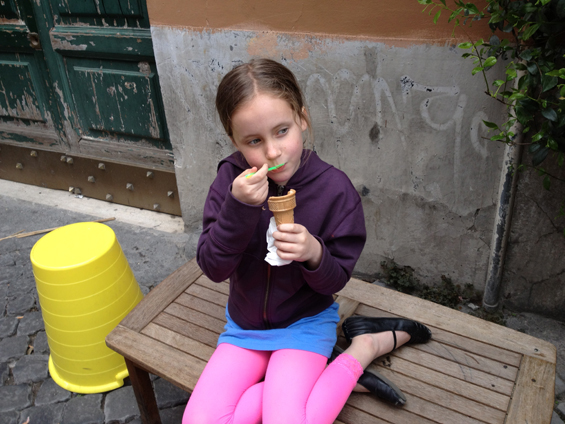 "It's always a little chilly in the afternoon and gelato made it colder, but at least it tasted good!"  – Clem