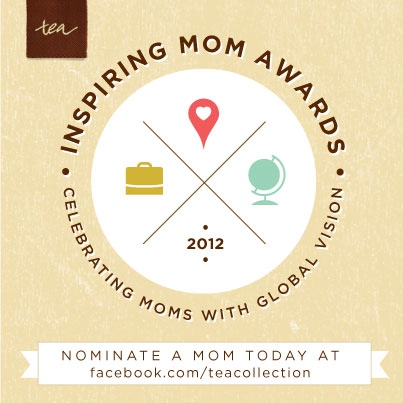 This month Tea wanted to celebrate the inspiring moms in our community with the IMAs and recognize their accomplishments.  We have received over 110 nominations of mothers who you said inspire you.  To help us narrow down our semi- finalists, we gathered a panel of model citizens who we thought embodied the values.  Meet two of our model citizens today from our globetrotting category- Stella Ma and Caren McCormack.  We thought it would be fun to get to know our model citizens a little bit better, so we asked them a couple of questions to see what inspires them.
Stella Ma is a Bay Area native who Co-Founded Little Passports, a great way to introduce the world to your little citizen.  Each month your little citizen will be sent a suitcase bursting with information about a country's geography, history, culture, and language. You can discover her amazing company here: https://www.littlepassports.com/
Stella Ma: Globetrotter
1. How do you maintain a healthy work and home life balance?
Running a start-up while trying to raise a family is definitely a challenge. I'm driven to work hard but it's just as important to me that I'm there for the family.  We always have dinner together, and I make sure to take time to be there for my children whether it's attending field trips, helping with homework or taking them to extracurricular activities/classes.
2. What's your favorite aspect about being a mom?
I love all the wonderful small moments and experiences that I get to share with my children. At pick-up last week, my younger son told me that I was his best friend.  A few weeks back, my older son told me that he's going to work for me when he grows up because he loves Little Passports.
3. Do you have a piece of advice for moms everywhere?
I'm trying very hard to live in the moment and not worry about the next thing on the to-do list or schedule.  I can't say that I'm very good at doing this yet.  It's so true that our children grow up so quickly.  I want to make sure to take the time to enjoy them as they are now.
4. What's one thing you can't live without?
I love green tea lattes.  They're my pick-me-up!
5. Who inspires you?
My mom is the inspiration in my life.  She immigrated to the states from China not speaking any English and she worked incredibly hard, sometimes working multiple jobs simultaneously, to make a life for our family here in the US.  I now love seeing how my children have a wonderful relationship with their grandmother.  When one of my children was asked in his English homework who inspires him, he answered "Popo" ("grandmother" in Chinese).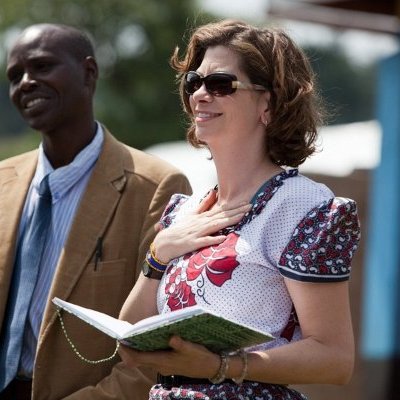 Caren McCormack one of our model Globetrotters. Caren McCormack worked to co-found the Kilgoris Project, a nonprofit that feeds and educates children in a remote Kenyan village.  Each year Caren travels to Kenya with her family (husband and two daughters) to work closely with the organization. Karen was previously also a Foreign Correspondent for Tea and was able to travel to Kenya with a suitcase full of Tea then came home to share her travel experience on our blog, Studio T.  We invite you to read more about the Foreign Correspondent program (https://www.teacollection.com/gothere) and discover Caren's amazing non-profit here: https://kilgoris.org/
Caren McCormack– Globetrotter
1. How do you maintain a healthy work and home life balance?
Tame the technology. On the work/life balance front, I'm challenging myself to really be present when I'm present. When I'm helping with homework, I'm not also looking at emails. At dinner, I'm not checking texts. My kids appreciate it, and I'm saner.
2. What's your favorite aspect about being a mom?
The best part of mothering is also the biggest challenge. I love watching my daughters change with each age, blossoming more and more as individuals. The problem? They keep changing! Just when I think I've figured out how to best parent them, they're on to a new stage.
3. Do you have a piece of advice for moms everywhere?
Love the ones you're with. I'm not sure this is advice, as much as it is cheering on the sisterhood. It's all we can really do as moms. We just keep showing up and loving our kids as they are, for who they are.
4. What's one thing you can't live without?
I'm tempted to give a deep answer here. But let's be realistic—coffee.
5. Who inspires you?
The Kilgoris Project staff in Kenya! I get to work with such terrific people. Their passion for education, community and possibility makes my jaw drop.