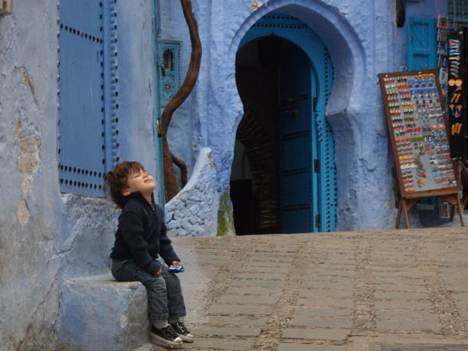 There is no denying that packing up a household and a family and transporting them across the world is a hardship… but when the destination is Morocco, and you have the good fortune to not just visit but live in this vibrant country there are many more delights than difficulties.
Many people asked us how we would manage with a young toddler in Morocco. It's true that the usual protections you become used to in the United States (rubber playground floors, clean organic vegetables, etc.) are conspicuously absent in Morocco. But the warmth of the people, towards children in particular, and the wide array of experiences you can expose your child to more than make up for it.
There is so much to choose from… ancient buildings, bustling markets, tanneries, cafes, beaches and more.  Here are some of our favorites for kids from our year in Morocco.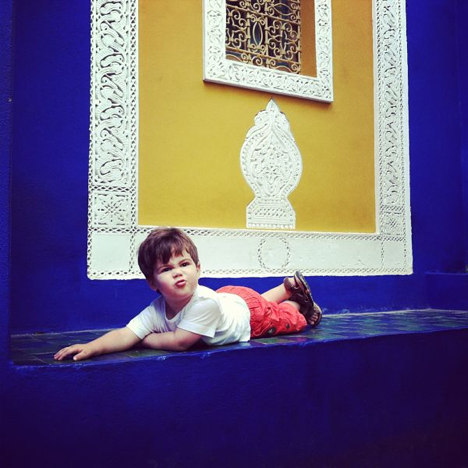 The Majorelle Gardens: Marrakech
Marrakech isn't hot year round, however, the summer is particularly brutal. But even when the thermostat hits 105 in the busy media, the Majorelle Gardens beckon with a promise of cool shade and lots of running space!
When you visit Morocco with a child, particularly a toddler, keeping them off the ground is key given the number of mopeds, donkeys and carts that are competing for the limited alleyway real estate. But in the Majorelle Gardens, it is strictly pedestrians only.
The Gardens were designed by a french expatriate and were loved and owned by famous designer Yves Saint Laurent. It houses various species of plants and birds as well as a museum of Berber Culture. It is a beautiful introduction to Morocco for all ages and a welcome oasis of calm.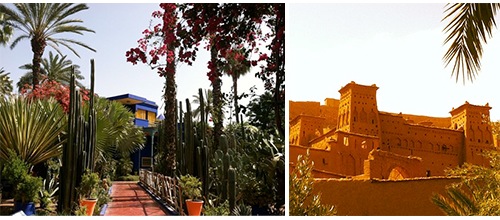 The Old Kasbah: Aït Benhaddou
If you want to get up close to the Morocco of legend, then you have to head to Aït Benhaddou. There is something for children of all ages. The little ones will love the (mostly) empty, winding alleys up to the fortress and older ones will be thrilled to know they are standing where the stars have stood since films and series from Gladiator and Game of Thrones have come here for the ancient backdrop. You can even stay in an 11th century mud brick Kasbah (watch out though… no electricity!).  The best part of our little one? Your baggage porter is your local obliging donkey. We named him Hercules.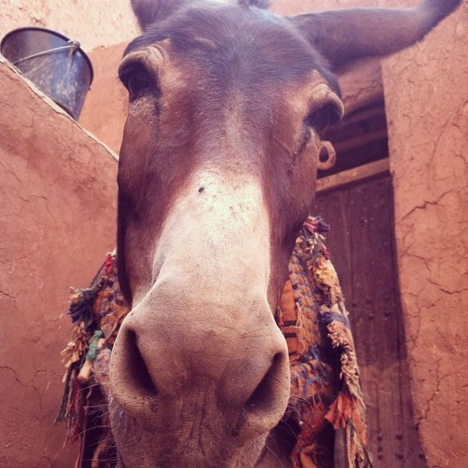 The Clock Cafe: Fes
There is of course no better way to get to know a country than through its cuisine. If you have an opportunity to visit a Moroccan restaurant near you, be sure to indulge in a fragrant Tagine (pressure-cooked, spiced meat dish) and any of the sweets on offer.  In Morocco, the best food is to be found in a family home. But one restaurant that came close for us, was the Clock Cafe, deep in the Fes Medina. The Clock has reinvented many traditional dishes and offers menu choices like a camel burger, which is sure to thrill your adventurous eater.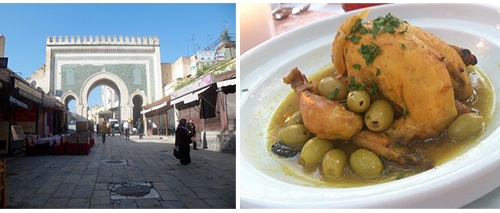 For the more squeamish, there is delicious almond milk, Moroccan salads and other delicacies! Don't miss out.
Natalia Rankine-Galloway is the founder of CultureBaby; seeking out new global products and hearing from mothers worldwide about how they celebrate culture with their kids. You can read more about her personal adventures at The Culture Mum Chronicles.