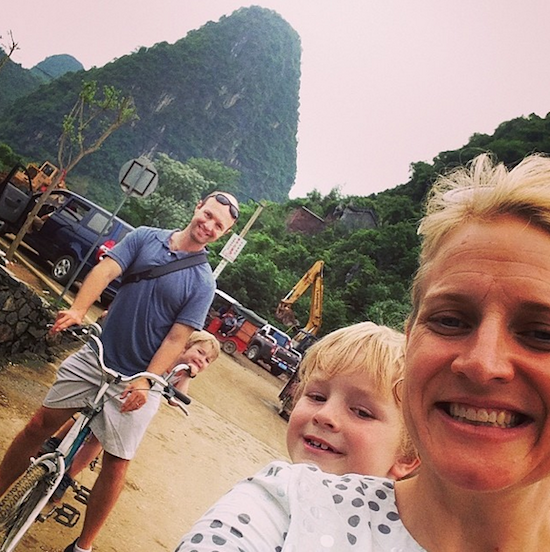 I fell in love with my husband in Australia. Since then, we have traveled together through Bali, Thailand, New Zealand, Peru, Italy, England, Germany, Mexico and Costa Rica… And we're just getting started! As soon as our boys turned 5 and 7, we knew it was time to hit the road again, this time with the boys in tow. We packed our bags and traveled (as a family of 4!) to China and Thailand for an incredible journey. Traveling internationally with children for the first time comes with a bit of anxiety. How will they handle the 13 hour flight? The jet lag? The food? Rest assured, it will all work out one way or another! Here are a few things I learned after 15 days abroad with my family of four.
Booking Flights: Tactical Advice Request kids meals if you think your kids will (like mine) just eat the rolls and ice cream from the regular airline meals. Use seatguru.com to figure out the best seats for your family. Legroom and easy access to the bathroom matter with kids. We also enjoyed flights when we had a row to ourselves. This really helps the kids giving them room to drape their bodies over our legs and lean on shoulders – allowing a little more room for sleeping. Think hard about the time you want to arrive. I had heard advice suggesting to land in the day time so the sunlight helps adjust your circadian rhythms, but I am a big believer in landing late at night. I believe in pushing through with movies and iPads so that by the time you arrive, you will be tired enough to sleep through the night. Be sure to sleep with the hotel curtains open – having the sun shine in bright and early will help everyone wake up.
Pick Your Pockets When you're one of two responsible adults traveling with your family of four, you end up with a lot of stuff. Hand sanitizer, passports, customs forms, Tic Tacs, loveys, cameras, snacks… the list goes on. Save yourself the time (and stress!) by designating each item to a particular pocket. Then, adhere to this plan religiously! I speak from the experience of searching pocket after pocket for passports. That can really get your heart rate up!
Pack Strategically + Clean Socks Depending on your itinerary, you could end up with a lot of packing and unpacking. Sometimes it was easier to keep the clothing in the suitcase, especially if we had just one night in a hotel. Decide in advance where each person will keep their clean clothes, their toiletries, and their shoes. This will save a lot of time looping in pockets and ruffling through nice stacks of packed clothes looking for the "good" sunscreen or their favorite pair of sneakers. I never knew how much I would appreciate clean socks until we went on this trip! It is unreasonable to pack 20 pairs of socks per child and it is too expensive to pay the hotel to wash socks every few days. Vaska detergents saved us. I washed a lot of socks (and other clothing) in the bathtub and hung them up to dry. The key to success isn't just good detergent though, it is planning enough time for items to dry – especially in humid climates!
Weather Isn't Predictable Figure out how to pack as little as possible without compromising style or functionality. To me, this was an advanced puzzle. I had a great pair of chambray pants that worked well in both warm and cold climates. I had lightweight cardigans for layering and easy  jewelry to dress up my everyday tees. I learned quickly that an umbrella was just as helpful in Bangkok's hot sun as it was in a Hong Kong rain shower. And while packing 4 umbrella's might sound like overkill; having an umbrella for each family member is much easier than trying to shuffle around with children under one.
Go With The Flow There is something beautiful that happens when we travel. We are almost [un]necessarily present at every step along the way. Figuring out the plan for the day, which train to take, what this museum is about. We didn't have data plans on our phones, so no urgent emails to manage. There is no DVR full of Mad Men waiting to be watched. As a result, the whole family can be together. Connected and completely present. We followed the same (uncalculated) schedule each day. We would tuck our kids into bed when they were tired, without a rigid bedtime. My husband and I would read a book, enjoy a beer from the mini-bar, reflect on the day – and then crawl into bed ourselves just an hour or two later. Perhaps the most important souvenir of all was the bond we experienced as we explored a foreign place with our family.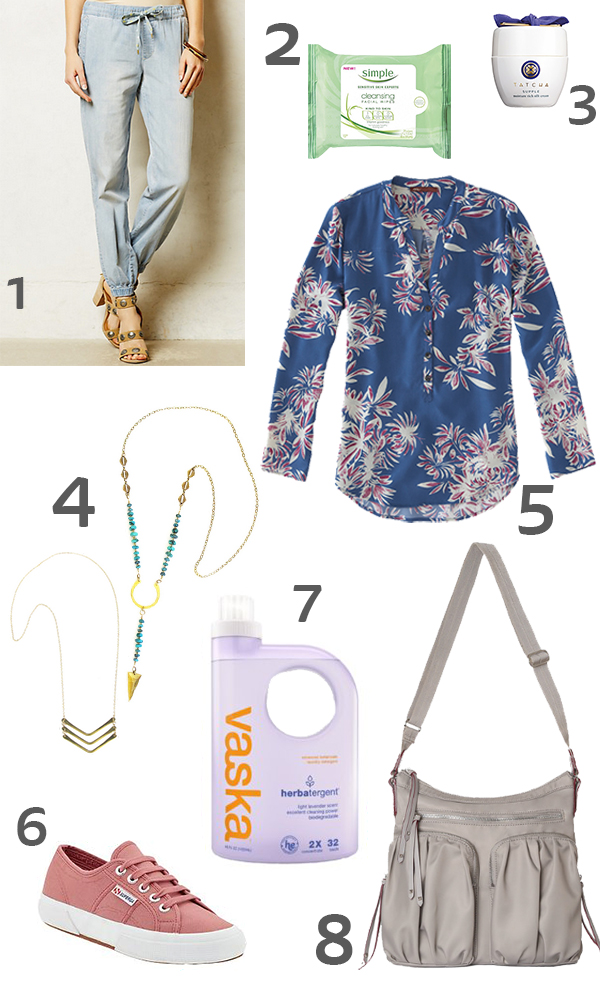 1 Chambray Pants // 2 Cleansing Wipes // 3 Night Cream // 4 Necklaces // 5 Tunics 6 Colorful Sneakers // 7 Vaska Detergent // 8 Purse with Pockets a Rafflecopter giveaway
5 lucky winners will be chosen!