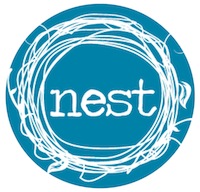 Each month Studio T  features one of our retailers. This month we caught up with Caroline, owner of Nest Children's Boutique. In the Denver area? Stop by and say hello at one of her locations near Cherry Creek North or Larimer Square!
Have you always lived in Denver?  I have lived all over the place (I am the Tea poster child!) I grew up in Evanston, IL, studied abroad in Germany and Vietnam and have lived in Philadelphia, New York, Boston and London.  I left New York and moved to Denver with my family after I had my first to child and this is where we have been ever since.
How was your business born? When I had my first child and was living in New York working on Wall Street, I literally spent hours searching for a very specific Liberty of London print shirt for my daughter, Agnes. I realized that I had a latent passion. When our family moved to Denver, it became very clear how important it was for me to do something each and every day that I loved. I love this industry and the people I have met as a result of my involvement in it. I love the relationships I have developed with customers and other small business owners in the community.
Tell us a little about your family. My parents both worked when I was young and when they had time off, they used those beloved frequent flier miles to show us the whole wide world. Every year, we took a trip to a foreign country.  I love to travel and I love a new adventure. I even took my daughter to Laos and Thailand when she was 9 months old! I went to China when I was 7 which was very formative for me. I think that's why I love Tea Collection so much – my personal values are very much in line with theirs as a company. Like me, they "go there"!
Where is the last place you traveled? My last vacation was a trip to the Holiday Inn on Colorado Blvd for one night. I slept for 14 hours straight – no kids in my bed. Best ever. No, I kid. Our family went to Punta Mita in Mexico for Spring Break this year. It was fabulous. Not only did we sun, swim and eat large amounts of guacamole, but we got to experience a different culture as well.
Your best friend is visiting your city for the first time and only has 24 hours to explore—what would you tell them to do?  First, you will head to Snooze for a delicious breakfast (breakfast tacos and gourmet pancakes the kids will adore). Then, stop at Aviano's Coffee in Cherry Creek for a morning-cap (Mom must have lots of coffee). Then, spend the morning at the Denver Botanic Gardens (bring some breakfast leftovers to feed the goldfish). Then head down to the historic Larimer Square in downtown Denver for a little shopping and a late lunch at Tom's Urban 24. After that, head up to Red Rocks for a look at the fabulous amphitheater and a hike on its wonderful trails. You might see a deer! Then head down for dinner. I love Steuben's, Ace, ChoLon and the Kitchen Next Door. Each one has a great menu for kids that goes beyond the usual suspects. And, drink lots of water. We are a mile high!
What advice do you have for local mothers? Denver and Boulder have so much to offer for families and for mothers in particular.  One of the best things about these cities is that they have much of what large metropolitan cities have to offer along with incredible access to some of the most beautiful natural settings in the world!  Denver is growing so quickly and is full of people from all over the place who are looking to meet new people – it is such a friendly city. Mom's groups like Stapleton Moms and Mod Moms are great resources for all kinds of "mom" things. Check out our blog: Nest Moms know for other great tips for kid friendly restaurants, pediatricians etc.
What types of events and promotions do you run in your boutique? We are doing different events and fun promotions in our store all the time. Every Tuesday, we do a Facebook Giveaway of Tea Collection products. Just "like" our question or, preferably, answer it and you become eligible to win a free piece of Tea! We also do surprise giveaways on Instagram. We are so excited about a contest we will be running this August where an entire kindergarten class can win a free Tea Collection item.
What is one thing your customers would be surprised to learn about you?  I was born in the backseat of a Volkswagen and have been on the go ever since!