We talk a lot about going "around the world", but the other side of this phrase "and across the street" is just as important. We know that being a good citizen (big or little) means being a good neighbor, too.
Local boutiques have always been an integral part of the community. Shopkeepers know their neighbors, greet customers by name, watch babies grow into big kids. This August, we launched our very first Tea Neighborhood Shop at Kid Dynamo in Berkeley, CA. Kid Dynamo has long been a retailer of Tea and we treasure the relationship we have with shop owners, Erin and Holly. Around the world and across the street, neighborhoods are where life happens. And that's exactly where we want to be. So, what does a Tea Neighborhood Shop look like?When you walk into the Tea Neighborhood Shop at Kid Dynamo, you'll see we've expanded our assortment and inventory to fill half of the store. We've displayed as many outfits as we can around the shop (hoping they'll spark a few outfitting ideas for you!) and you'll always find the latest styles. In the shop window, we have origami cranes we hand colored and folded—a nod to Japan, the inspiration behind our Fall collection.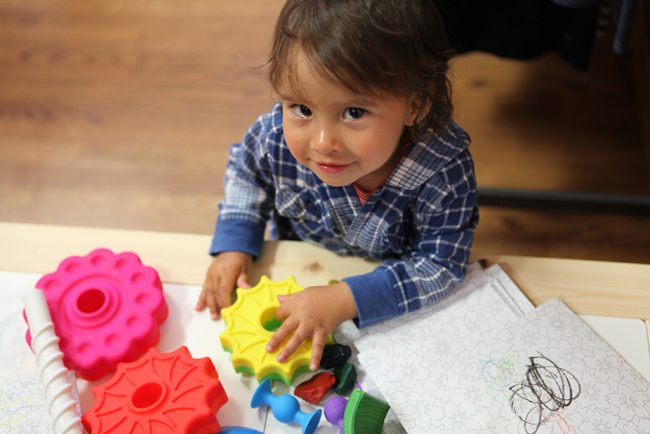 In the middle of the room, you'll find a special coloring wall and table with coloring sheets for your little ones, because they might want to sit and take a break from all of the shopping. You might even meet a Tea employee (or co-founder!), because we love stopping by to spend time in the store. We love the personal connections we've made, and it's only been a few weeks. So, if you're in the neighborhood… maybe you live down the street or you're visiting from another state, please stop in and say hello, we'd love to meet you!
Want to stay up to date on local events happening in Berkeley? Join our new Facebook group. We'd love to hear from you and stay in touch!
2108 Vine Street
Berkeley, CA 94709
Open Monday – Thursday: 10 AM – 6 PM
Friday: 10 AM – 7 PM
Saturday: 10 AM – 6 PM
Sunday: 10 AM – 5 PM