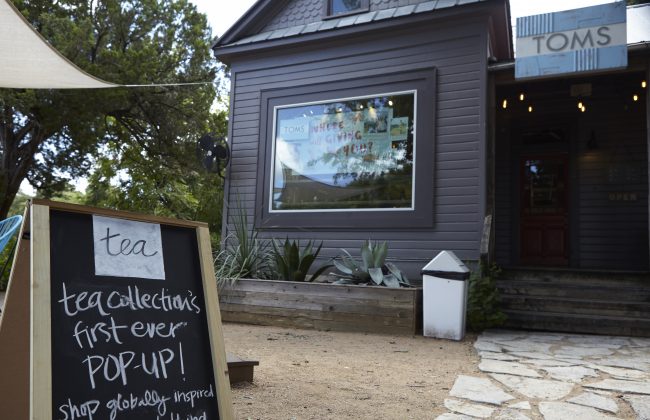 If you attended our pop-up shop in Austin, you know there was a lot going on at #TEAONTHEROAD. The event couldn't have been what it was without the help of many, many people. National companies sent truckloads of snacks while local musicians and businesses donated their time to entertain and educate. Today, we're giving credit where credit is due, here's a breakdown of everyone who played a part in Austin.
We knew that Austin was the live music capital of the world, but we didn't realize just how amazing the talent was when it came to children's entertainers! Mr. Will and Staci Gray, two talented musicians who specialize in kid's music and events, captivated guests with their original tunes. Max Zimmet & Hot Pickin Blue Grass Band turned out to be the perfect band for our launch party, Taft Washburn sang his originals and Gary Taylor put on a show that had everyone singing along.
Being parents ourselves, we knew that snack were going to be an integral part of the pop-up's success. We reached out to local businesses, Beanitos, Zilks Hummus, PopTopia Pops, as well as national companies Skinny Pop, Plum Organics, KIND and Hint and were thrilled when these generous companies offered to donate their products. No one went hungry thanks to these amazing sponsors!
While shopping was the main event, entertainment was aplenty. We had temporary tattoos with NatureTats, bubble making with Handzies, coloring with May Designs, family yoga with The Little Yoga House, story time and origami with the Japan-America Society of Greater Austin, Japanese cooking class with Foodie Kids Austin and family portraits with Cloverbud Photography. We couldn't have asked for better partners to help make #TEAONTHEROAD a fun event for the whole family.
A big thank you to our wonderful partners who each donated 200 items to our goody bags. We handed out these amazing bags to our first 200 customers and they were thrilled to find everything stuffed inside! The bag was filled with treats, offers, accessories and books from Handzies, May Designs, Olly Vitamins, Annie's, Hello Shiso, Green Kid Crafts, Peppercorn Kids, National Geographic, Putumayo Kids, Justin's, Barefoot Books, 18 Rabbits, OmieBox and Picket Fences (one of our Austin retailers!).
Want to see more photos and get a full recap of our #TEAONTHEROAD event? See more here.