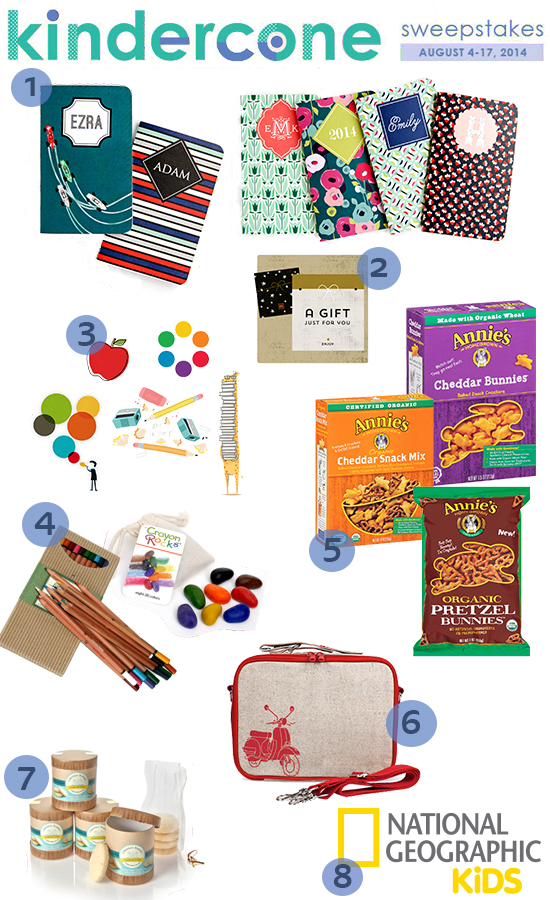 Every year in Germany, children set out for their first day of school with a large, colorful KinderCone or Schultüte ("shool-too-teh") filled with school supplies, sweet treats and small gifts. Now you could win a back-to-school surprise for the entire class to celebrate this German tradition! So… just what will every child get?
1. Custom Tea printed notebooks from May Designs
May Designs is an eco-friendly company for functional and fabulous canvas notebooks and custom notecards. www.maydesigns.com
2. A $50 Tea Collection gift certificate & a Germany-inspired activity book
3. Fun temporary tattoos from TATTLY
Tattly is a temporary tattoo store for design-minded kids and kids-at-heart. After applying many bad-clip-art tattoos on her daughter, swissmiss decided to stop complaining and take matters into her own hands. Tattly was born! www.tattly.com
4. School and art supplies from Stubby Pencil Studio
Stubby Pencil Studio was launched in 2006 after founder Kate Rosenthal, realized there was a need for eco-friendly, do-it-yourself stationary products for young children. To compliment the line of recycled stationary sourced biodegradable soy crayons and color pencils made from FSC certified wood. www.stubbypencilstudio.com
5. Healthy organic snacks from Annie's Homegrown
Annie's makes delicious and nourishing foods that are good for the planet, too! www.annies.com
6. A lunchbox from SoYoung
SoYoung offers a line of highly functional products designed in Canada, with great urban appeal for the modern family, including diaper bags, backpacks, lunch boxes, cooler bags and accessories. www.soyoung.ca
7. Yummy German cookies from Chateau Bakery
Delicate European-Style Premium Cookies. Sweet and Salty. Melt in Your Mouth. Only 5 Premium Ingredients: Cane Sugar, Flour, Butter, Sea Salt, Vanilla. www.chateau-bakery.com
8. The winning class will also receive a collection of 20 books from National Geographic Kids!
Enter to win (and don't forget to encourage your classmates, too) today!