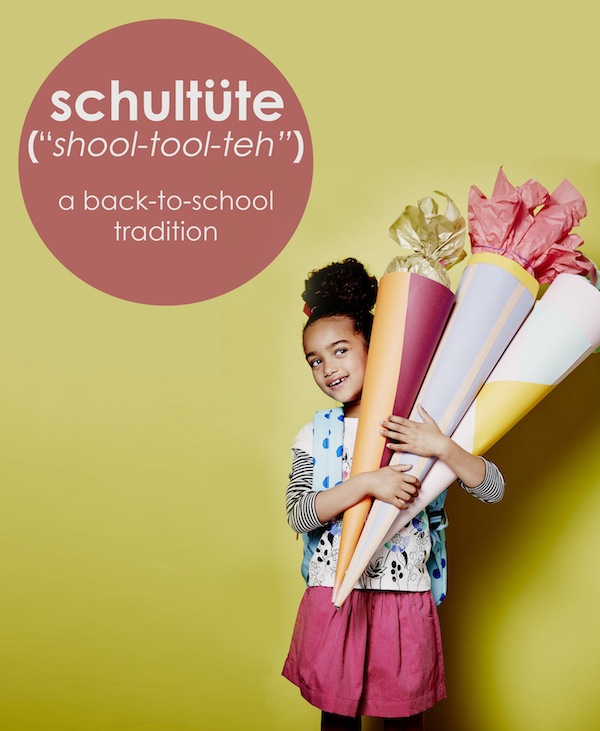 Long ago, German parents told their children they would know it was time to go to school when the fruit was ripe on the Schultütenbaum (school cone tree). The "fruit" was actually  bright paper cones called schultüte ("shool-too-teh") that parents filled with sweet treats and hung on a metal tree at their child's school.
More than 200 years later, this fun back-to-school tradition is still going strong. Today's schultüte (or KinderCone) can be as big as 35 inches tall and contain practical school supplies as well as treats. In honor of this long-standing back-to-school tradition, local Tea retailers are hosting a KinderCone event you won't want to miss.
For four days beginning Friday, August 8th, we're asking you to give back to your local community. Donate unused school supplies to participating retailers (think of it as filling up a giant schultüte for someone's school) and you'll receive 15% off your Tea purchase!
Participating Retailers:
Alabama
Homewood: Jack n Jill Shop
Northport: Krush Boutique
Arkansas
Little Rock: Whippersnappers
Arizona
Glendale: Daniela Jay Boutique
California
Elk Grove: Kissed by the Moon
Encinitas: Magical Child
Fresno: Ga Ga CHIC Fig Garden Village
Garberville: Li'l Sproutz Boutique
Healdsburg: Cupcake
Oakland: Ruby's Garden
Redlands: Kissui
Sacramento: Koukla Kids
San Diego: Style Child
San Francisco: Fiddlesticks
San Francisco: Small Fry's
San Luis Obispo: EcoBambino
Santa Rosa: Cupcake
Vista: Babies in Bloom
Colorado
Boulder: Nest Children's Boutique
Denver: Nest Children's Boutique
Fort Collins: Clothes Pony
Connecticut
Avon: Over the Moon
Guilford: Just Hatched
Florida
Crystal River: Clementine Children's Boutique
Georgia
Atlanta: Seed Factory
Savannah: sara jane children's boutique
Illinois
Chicago: Little Threads
Evanston: Maya Papaya & Tony Macarony
Oak Park: Sugarcup Trading
Indiana
Bloomington: O'Child Children's Boutique
Louisiana
New Orleans: Angelique Baby + Kids
Shreveport: The Moppet Shoppe
Massachusetts
Arlington: Wild Child
Boston: Mulberry Road
Brookline: Village Baby
Concord: fritz & gigi, the children's shop
Gardner: The Velvet Goose
Lynnfield: Lively Kids
Nantucket: pinwheels
Newburyport: Lively Kids
Maryland
Bel Air: Tiny Toes
Lutherville – Timonium: Wee Chic of Green Spring Station
Maine
Rockland: Grasshopper Shop of Rockland
Michigan
Ann Arbor: Elephant Ears
Birmingham: Restyle Child
Grand Rapids: Snapdragon Boutique
Holland: Tip Toes
Manistee: Play Clothes
Minnesota
Edina: Pacifier
Minneapolis: Pacifier
Missouri
Clayton: City Sprouts
Springfield: The Kid's Court Children's Boutique
North Carolina
Asheville: Just Ducky
North Dakota
Grand Forks: Adley Anne's Baby & Maternity Boutique
New Hampshire
Portsmouth: Lively Kids
West Lebanon: country kids clothing
New Jersey
Hoboken: Bellie & Katrina
New Mexico
Albuquerque: Zap…Oh!
Ohio
Avon: The Littlest Details
Powell: Nicole's for Children
Oklahoma
Edmond: Ladybugs and Lizards Children's Boutique
Tulsa: The Lolly Garden
Oregon
Eugene: Bambini Eugene
Portland: Coffee Kids
Pennsylvania
Doylestown: Bambini's World
Kennett Square: Bedbugzz…
Lancaster: BellaBoo
Philadelphia: Ali's Wagon
Pittsburgh: The Picket Fence
State Collage: The Animal Kingdom Children's Store
Rhode Island
Cranston: mod mama
Narragansett: Polka Dot Panda
Newport: Mimi's for Kids
South Carolina
Aiken: Pitter Patter Children's Boutique
Charleston: Sugar Snap Pea
Mt Pleasant: Sugar Snap Pea
Spartanburg: Petit Armoire
Tennessee
Memphis: Cotton Tails & Sachi
Signal Mountain: Barefoot Bandits….loot for kids
Texas
Dallas: babybliss & miniME
McAllen: Zoodles
Temple: Callie's Boutique
Texarkana: oh baby!
Utah
Salt Lake City: Babinski's Baby
Virginia
Charlottesville: Petit Bebe
Fairfax: Dawn Price Baby
Harrisonburg: Over the Moon
Reston: Dawn Price Baby
Washington
Seattle: City Mouse Studio
Seattle: Clover
Seattle: Kid's Club
Sequim: Dungeness Kids Co. 
Washington D.C.
Capitol Hill: Dawn Price Baby
Georgetown: Dawn Price Baby
Wisconsin
Brookfield: goo goo gaa gaa, children's boutique
Delafield: Tadpoles
West Virginia
Shepherdstown: Up On the Hill