"Indigo, or indigotin, is a dyestuff originally extracted from the varieties of the indigo and woad plants. Indigo was known throughout the ancient world for its ability to color fabrics a deep blue. Egyptian artifacts suggest that indigo was employed as early as 1600 b.c."
To celebrate the launch of our Citizen Blue collection which is rooted in rich indigo hues, we've partnered with Tatcha, a skincare company that happens to have their very own Indigo collection, to bring you (three of you!) the chance to win a prize package worth $200! Learn more about Tatcha's founder and CEO, Victoria Tsai, below…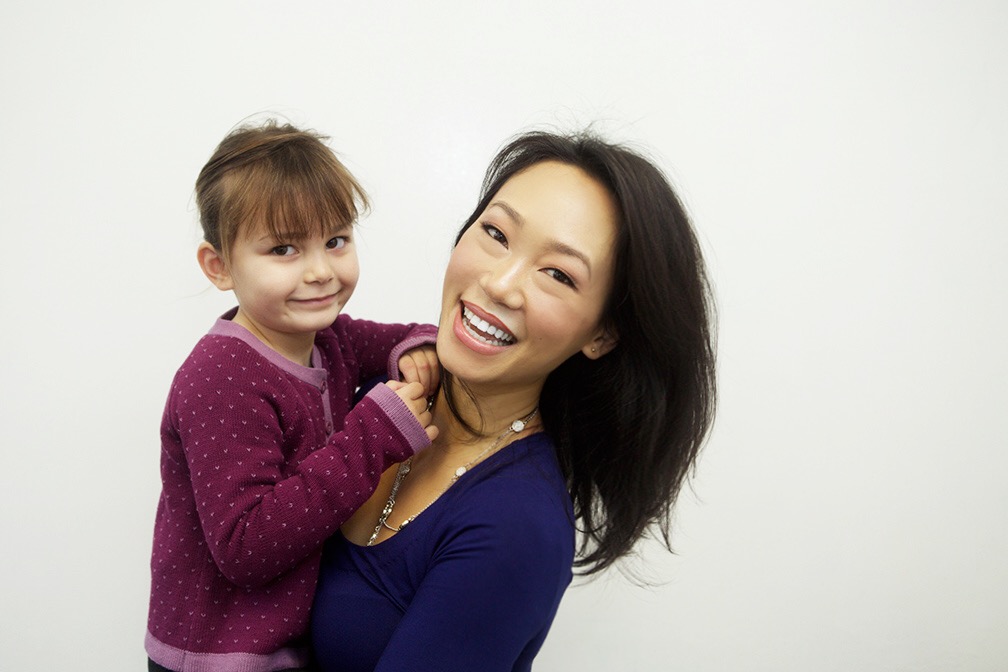 "I created Tatcha as a way to share the treasures I discovered on my journeys, a philosophy shared by the Tea Collection founders. My daughter, Alea, recently embarked on her first travels and is on her way to becoming a little citizen of the world. Wherever she roams, she loves wearing her kimono-inspired Tea Collection outfits. I'm honored to share our story – and the story of Tatcha – with you today."
We understand you created Tatcha as "a way to share the treasures and knowledge discovered on [your] journeys East." What was one of the earliest lessons learned that pushed you to start this business in 2009? 
The first time I met a geisha, I reevaluated everything I thought I knew about beauty—and I thought I knew a lot. I had sold skincare as a teenager, worked for
some of the world's biggest beauty companies and worked with scientists who were rating ingredients in beauty products. I had spent a year and a half studying the beauty world, particularly natural ingredients. Still, when I saw the geisha's flawless skin, compared to my own dermatitis, I was speechless. I had never seen skin like that on an adult, only a child—that was when I knew I had to bring their secrets to the modern world.
The original Aburatorigami blotting sheets started it all. Share the story behind the product!
One of the reasons I created Tatcha was because I spent years treating acute dermatitis—blistering, bleeding and cracking all over my face. Despite oral and
topical steroids, my skin was permanently sensitized. The only thing gentle enough to lift away oil was a traditional Japanese blotting paper. I traveled to Japan to find their origin and learn more about them, and was told that they are actually called "beating papers," since artisans use them to protect gold as they hammer it into leafing. Geisha discovered centuries ago that the handmade sheets are soft and absorbent, perfect for lifting away oil without disturbing makeup or stealing
moisture from the skin.  I asked the artisans how these women discovered the papers; they simply shrugged and said, "Ask a geisha." That simple sentence was the beginning of Tatcha!
Tell us about the Indigo Collection.
About two years ago, I noticed patches of increasingly dry and irritated skin from long flights, changing temperatures and constant hand washing (a side-effect of
having a small child). Despite being prescribed tubs and tubes of steroids, the itching and cracking on my hands and arms persisted. I was fascinated to see a
reference to natural Indigo's ability to relieve irritation and inflammation, even mentioned in the centuries-old Japanese beauty manuscript we had unearthed. We found a husband and wife duo who grew the botanical on the banks of the Yoshino River, and sourced their Indigo to create our collection. When we received samples from our chemists, I was shocked at the color— a deep, rich blue. I trusted in the wisdom of our book and coated it on my hands. The relief was immediate and lasting, and my eczema has yet to reappear. We knew we had to bring this to life and created the Indigo Collection, a nourishing trio of body butter, hand cream and an intensive treatment. One of our first fans was my colleague's niece, a two-year old who kept asking for "Blue Tatcha!"
Tatcha partners with Room to Read, an organization improving literacy and gender equality in education in the developing world. How did this partnership begin and how will it continue to grow?
Even before Tatcha was born, I wanted to help support girls' education. One of our core beliefs as a skincare company is that beauty begins in the heart and the mind. When I read "Leaving Microsoft to Save the World," John Wood's story resonated with me and we reached out to the Room to Read team. We now have a "one for one" partnership: each skincare purchase, whether through tatcha.com or one of our retail partners, funds a day of school for an incredible girl. As our brand grows, we'll be able to send more girls to school, which is why we're so honored to share our collection with the lovely Tea Collection audience!
You travel to Japan often. We'd love for you to share a few of your favorite spots – What to do, what to see, what to eat?
Nishiki Market: This colorful market is called "the stomach of Kyoto." It's one of my first meals when I arrive in town, and supplies food to all of the restaurants in  Kyoto. It's known for sophisticated cuisine and incredibly fresh ingredients.
Tsuruya Yoshinobu: One of the oldest confectionary stores in Kyoto, known for its handmade red-bean candies. The seasonally inspired treats are carefully crafted into flowers and fun, modern shapes before your eyes. I haven't yet had the chance to bring Alea to Kyoto with me, but this will be our first stop when I do—I know the bright colors and sweets will delight her.
Kyoto canals: The canals famously crisscross the city, the water reflecting lanterns of shops and restaurants lining the edges. Cranes are a frequent sight in and along the canals. There is always a crane stationed outside my favorite restaurant, who will famously bark for sushi.
Miyawaki Baisen-an: The simple lantern hanging outside the wooden entrance is humble and unassuming, but this beautiful store provides fans for geisha, sumo wrestlers and the Imperial family. I always stop here to see their stunning fans and visit the proprietor, a dear friend.
Nijusan-ya: A beautiful slip of a shop, frequented by modern-day geisha. They carry beautiful hairpins and accessories, delicately handcrafted and perfectly appropriate for the season. My favorite part of visiting is watching the kimono-clad geisha flitting around the store as they make their purchases.