I can imagine if you asked grown ups their favorite childhood holiday memory, most would say baking and decorating cookies. Every year my mother would make a big batch of gingerbread and sugar cookie dough for my brother, my cousin and I to roll out and decorate.
There would be bottle after bottle of red, white and green crystals, sanding sugars and little silver balls that looked just like holiday ornaments. The only time we were quiet was when we were all decorating our cookies with precision and care. My mom would then pop them into the oven to bake until just golden, while we sipped on hot cocoa before returning to the table to cover the cookies with icing and frosting in an array of colors. 
My Molasses Roll Out Cookies are a twist on the gingerbread cookies my mom made. These have a bit more deep molasses, offering more iron bite for bite, and also have less spice for kids who rebel against too much "spice" (as my daughter did as a toddler). Most roll-out dough, like the ones for sugar cookies and gingerbread, need to be refrigerated before you can roll them out and use cookie cutters on. Not this dough! It's so easy to make and because you can roll it out immediately, it's perfect for those spontaneous cookie-baking sessions when your kids want to make cookies now and not have to wait until the dough has sat long enough in the fridge.
These baked gems may have the same appearance as gingerbread and a similar depth of flavor, but they're a lot milder, not to mention seriously addictive. It's also the perfect time of year to make these, so what are you waiting for? Relieve your childhood memories and create a tradition with your little ones that can be passed down from generation to generation.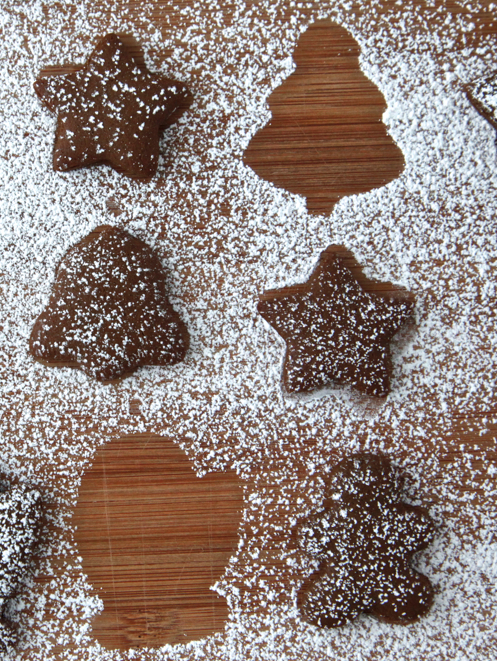 Molasses Roll Out Cookies
2 cups all purpose flour
1/2 teaspoon salt
1/2 teaspoon baking soda
1/4 cup unsalted butter (at room temperature)
1/4 cup packed dark brown sugar
1 large egg
1 teaspoon vanilla extract
1/4 cup unsulphered molasses
Directions:
Preheat your oven to 350F. In a bowl, whisk together the flour, baking soda and salt and then set it aside. In the bowl of a standing mixer, or with an electric mixer, cream together the butter and sugar until light and fluffy. (This will take about 5 minutes.) Add the egg, vanilla and molasses, and mix it up until combined. Gradually add the dry ingredients until just combined. Roll out the dough between two pieces of parchment paper to ½-inch thick for softer and chewier cookies. Roll them thinner for crispier cookies. Cut out with cookie cutters and bake for 10-12 minutes.