Sometimes, finding connections to far-off places doesn't require you to leave your home. Our friends at Finding Stuff Club created a fun, interactive Portugal-at-Home Scavenger Hunt featuring everyday items and Portugal-adjacent prompts. Plus, it doubles as a coloring sheet!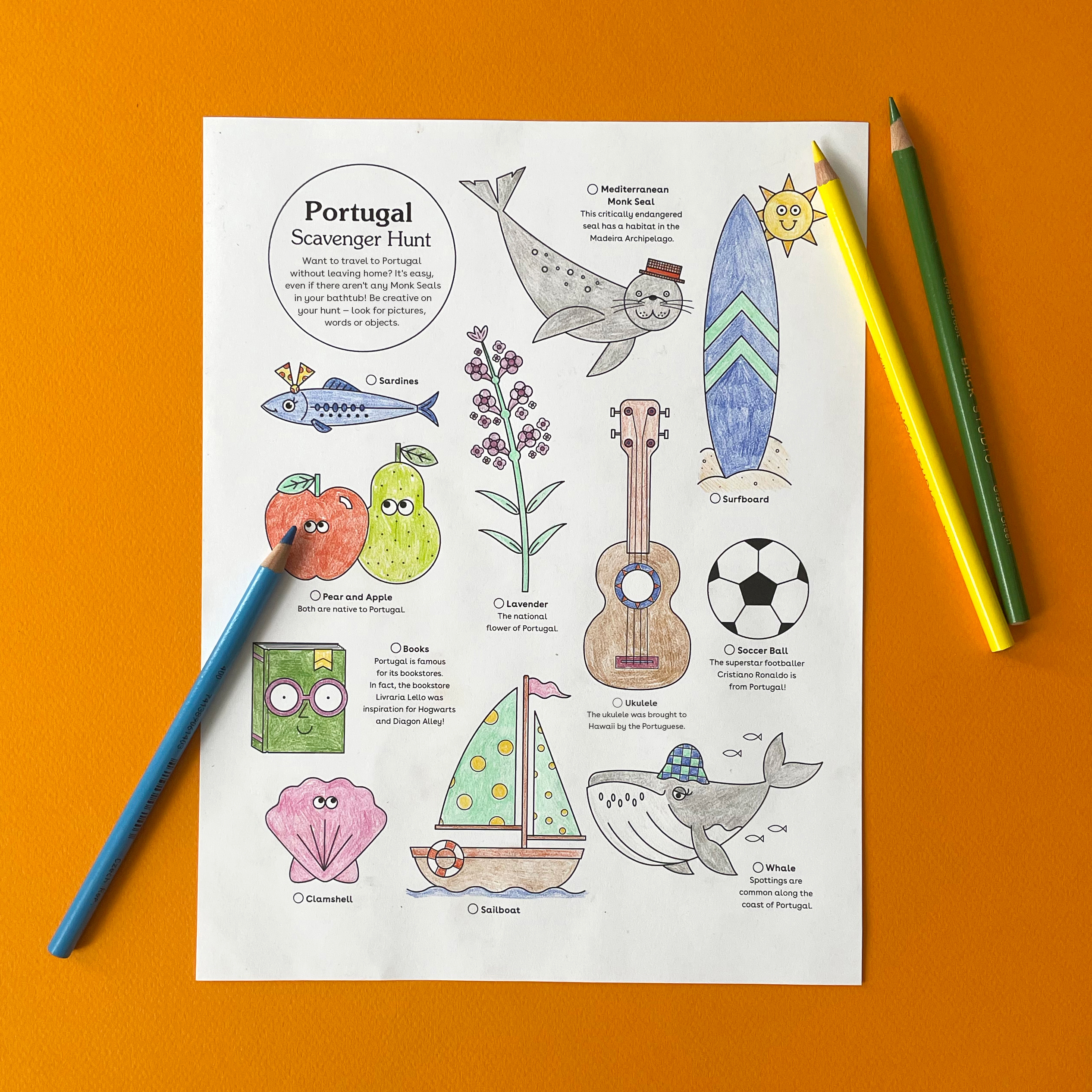 Travel to Portugal this Memorial Day weekend from the comfort of your own home. No monk seals in your bathtub? No problem! Go ahead and get creative – look for pictures, words, or objects that match the images in the activity. 

What you'll find in this Portugal-themed scavenger hunt:
Mediterranean Monk Seal: This critically endangered seal has a habitat in the Madeira Archipelago.
Sardines: Canned sardines are a common delicacy in Portugal.
Pear & Apple: Both are native to Portugal.
Books: Portugal is famous for its bookstores. In fact, the bookstore Livraria Lello was the inspiration for Hogwarts and Diagon Alley.
Lavender: The lavender is the national flower of Portugal.
Surfboard:  Ericeira, Peniche, and the Lisbon coast are three of the most famous surf spots. The entire continental coast of Portugal is known for its year round surf.
Soccer Ball: The superstar footballer, Cristiano Ronaldo, is from Portugal.
Ukulele: The ukulele was brought to Hawaii by the Portuguese.
Clamshell: Clamshells are most commonly found on the southern tip of Portugal, and are the most popular shellfish.
Sailboat: With a mild climate and warm sunshine, Portugal is a very popular destination for sailboats!
Whale: Whale sightings are common along the coast of Portugal.
Be sure to follow us @teacollection and @findingstuff.club on Instagram for more fun activities like this, and don't forget to check out our latest collection inspired by Portugal here.