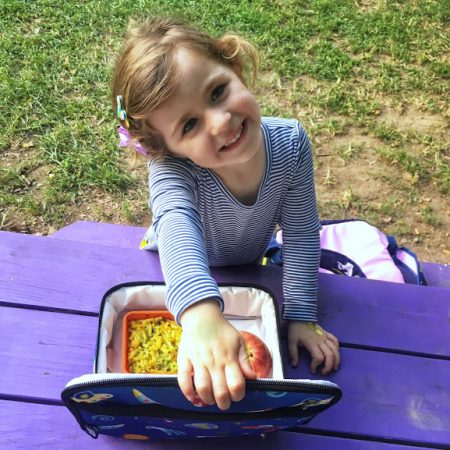 Carine Rosalia is a French-American mom of Italian origins, living in DC, with a mission to help busy families simplify meal preparation and make it more fun for all involved.
Learn how to make an easy school lunch


Fall has officially started and children across the United States are back in school. But even though the school year has just started, it's easy to have already fallen into a pattern of sending kids off with the same, unexciting lunch each day. Children often get bored with the usual sandwich in their lunch box and parents get stumped for balanced lunch options that are easy to pack. It can be a real challenge to find time and ideas to make balanced, easy, lunches that meet school restrictions (no nuts, no access to refrigeration or microwave) and get kids excited.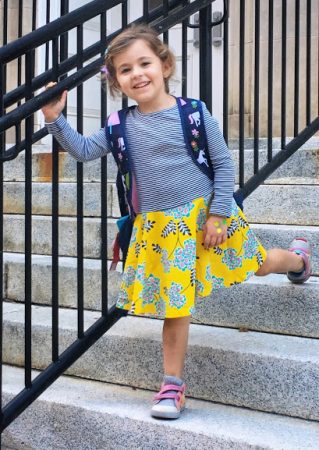 (Wearing Tea Collection Skirted Dress in Asian Floral)
For an easy and healthy alternative for her daughter's school lunch, Carine was inspired by the Quiche Lorraine that she used to make with her mom for family picnics. Quiches are great warm or cold and can be adapted many different ways by adding a variety of vegetables, protein and even grain.
Broccoli and Pasta Lunch Square


The recipe makes 3 lunch squares, so you can stock up and have meals ready for days when you don't have time to prepare a special lunch.
• Course: Lunch
• Cuisine: French-American
• Servings: 3
• Prep Time: 20 minutes
• Cook Time: 20 minutes
Ingredients:


• 3 oz elbow pasta
• ½ broccoli
• 2 tbsp milk
• ½ cup cheddar cheese
• 2 eggs
• 1 pinch salt
Units: Metric US Imperial
Instructions:
1. Preheat oven to 425 degrees Fahrenheit
2. Cook the elbow pasta according to package instructions and drain
3. Return pasta to pan on low heat. Add milk and cheese (cheese can be grated in advance to help it melt). Make sure that all the pasta is well coated with the cheesy mixture
4. Roughly chop the broccoli and steam half a head of broccoli for 7 minutes. Note: You can start this step while the pasta cooks
5. Mash the broccoli to form a paste and add to the cheesy pasta
6. Crack 2 eggs over the pasta and stir
7. Add a pinch of salt
8. Pour into oven proof dish or in an oven tin
9. Bake for 20 minutes or until the top has a nice golden crust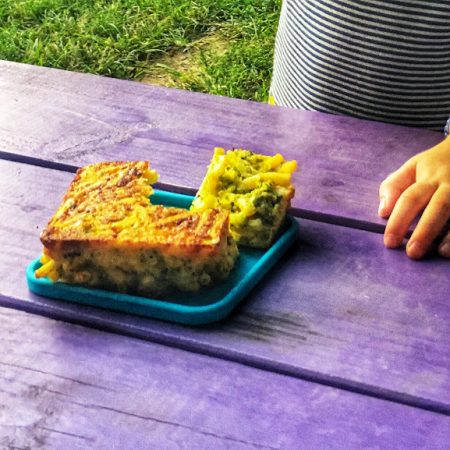 Carine has also designed special containers, Lunch Squares, that are oven and microwave proof so you can make, bake, store and re-reheat the lunch squares in the same containers. You can check out ThisThatLunch.com for more information.