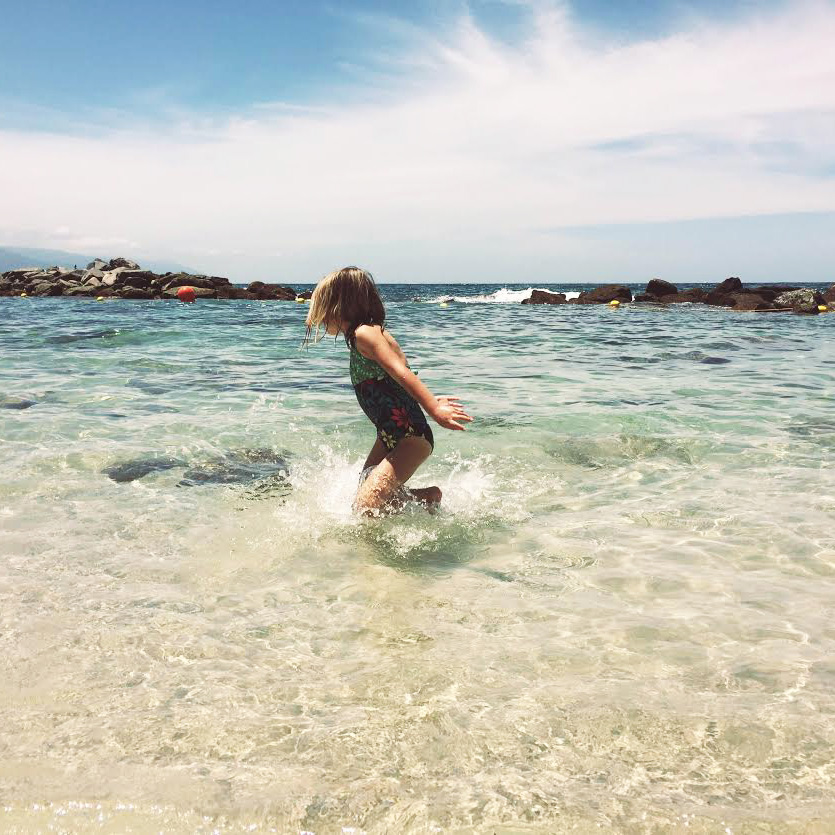 My husband and I often visited Mexico as a young couple before we had children. The sights, sounds, smells and adventures in Mexico are unlike anything else. We have always longed to take our own children to this special place as a family one day. We recently started taking family trips to Mexico. It's not an incredibly long travel day, but we're still able give them a foreign experience with new food, language, currency and experiences like no other. Mexico holds a special place in our hearts. Bringing our own kids there to see what we love was incredible and valuable. On this particular trip we traveled to Mismaloya, a small town south of Puerto Vallarta. It is actually the same town where my husband proposed to me, several years ago.
When we arrived, Sam and Charlotte immediately immersed themselves in the culture and music, the food and the people. They learned some basic Spanish and were well on their way to becoming fully comfortable in this new place in the world. Sam loved pesos. He collected, saved and spent them throughout the trip, mostly on spicy chili, tamarind candy and woven bracelets. Charlotte loved sampling all the "paletas" (popsicles) and coconut treats she could get her hands on. An abundance of fresh mangos and avocados were always available as well as endless guacamole and fresh tortillas. The food in Mexico is simply outstanding.
We traveled by boat to remote beaches, while my husband fished with our kids. They caught many interesting fish, which were all closely examined by the kids and then set free. The beautiful beach of Yelapa was our final destination, where we hiked and explored the endless pathways and trails with sweet children and dogs greeting us at every turn. The smiling faces in Mexico are unforgettable. It's evident that the Mexican people truly appreciate the beauty of their surroundings and love their life. Happiness exudes from everyone. Their authenticity and simplicity is admirable and something that we try to soak up while we are there.
Another special memory was our daily public bus ride into town. The kids loved this. The bus was often packed with nowhere to sit and very hot and noisy. Most of the buses are extremely old and give a bumpy ride down the long windy ocean-side road. Charlotte often fell asleep in my husbands arms during these rides and would continue her nap time while we packed her around downtown. Long hot days often require a siesta!
On this, and every trip we take, we pack lots of Tea Collection for the kids. We know it wears well, packs well, mixes and matches as needed and looks amazing. I loved knowing we had plenty of comfortable cotton outfits that the kids and I both love. Sometimes in the heat, you just need to be comfortable. The kids have been wearing Tea since they were babies, so it was really fun to pick out some new summer styles for this trip.
Traveling to Mexico with kids ages 4 and 8 was wonderful and I highly recommend it. The kids came home with some incredible experiences, memories and stories they will not soon forget. They loved learning about another place in the world and a place that is special to their parents. We hope they take their kids to Mismaloya, Mexico one day and continue to share the magic of travel. Being in Mexico as a family truly has made the foreign familiar and we cannot wait to get back.
Interesting be being a Foreign Correspondent for Studio T? Learn more here.