Our second  Foreign Correspondent has returned from her travels! Stacy, her husband, and her two children traveled to Istanbul and Jerusalem this summer. We outfitted them with a suitcase full of Tea before they left, asking them to share their adventures with us upon their return. Below is part 3 of their adventure.
After a quick flight, we arrived in Jerusalem to reunite with my husband's family and friends.  We had some excitement in that within the first three hours of arrival, we ended up in the ER.  Our daughter was beyond overexcited and while playing broke her wrist.  She had a cast on for the first eight days of the Jerusalem leg of the trip.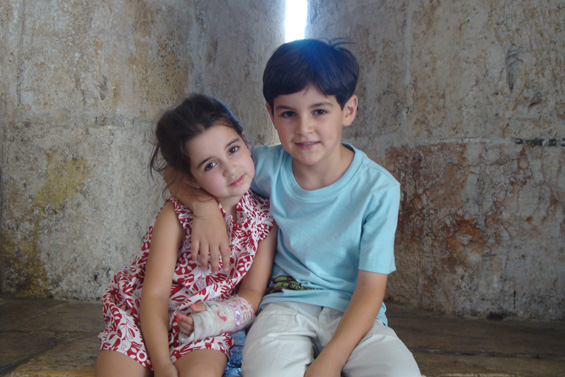 One of our favorite things to do in Jerusalem is to visit the Old City.  This is the walled in city within a much larger city.  I don't think I can describe how special, how spectacular the Old City is.  The view is breathtaking from nearly every corner of the city.  It's home to many very holy places for Muslims, Christians, and Jews, and people from all over the world travel here to pray, tour, and experience.  It's divided into four uneven quarters – Jewish, Muslim, Christian, and Armenian.  Tens of thousands of people live, work, go to school, and play inside the walls of Jerusalem and, for the most part, things are fairly separate in that the Armenians live in the Armenian Quarter, the Christian Palestinians live in the Christian Quarter, etc.  One can travel freely (for the most part) between the quarters, but there is a demarcation which is always interesting to observe from a tourist's perspective.
Over the years, my husband and I have traveled up and down the winding alleys of each quarter – together and separately – my husband first as a child and me initially as a college student.  Since the kids were born, however, our plans have been, shall we say, less ambitious.  We want to show them the Old City, have them love the Old City and, eventually, be able to wander throughout the Old City.  But for this trip, we kept it short and simple and entered through Bab al-Khalil (Jaffa Gate) and walked through just a few alleyways for some conversing, shopping, snacking, and observing.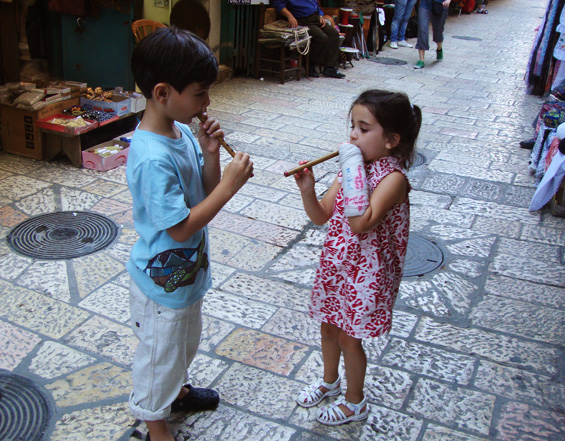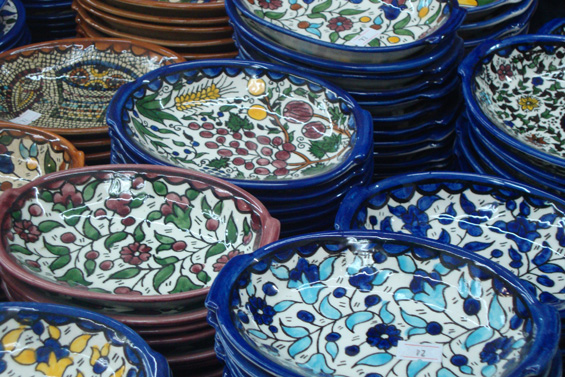 We bought some beautiful traditional Palestinian pottery pieces for our house and some gifts for friends and family.  We've been collecting it for years.  The pottery is made and hand painted in the West Bank town of Hebron.    The colors are bright, the patterns are cheerful, and it makes a lovely table setting.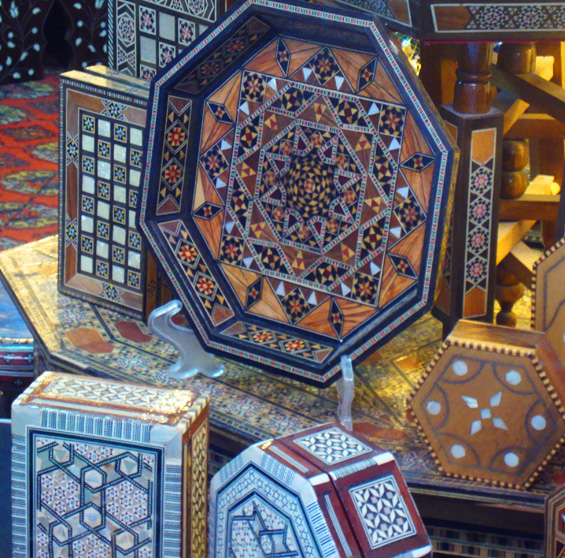 We also stopped by a terrific place where we bought a side table years and years ago.  The little shop sells furniture, chess tables, dressers, mirrors, chairs – all beautifully handcrafted in Syria from walnut with mother of pearl inlay.  Our son sat right down and started playing with the chess boards.  We picked up some pieces for him, and I have my eye on a stunning table/chess board that we will need to save for many, many years before we're ready to bring that piece home with us.