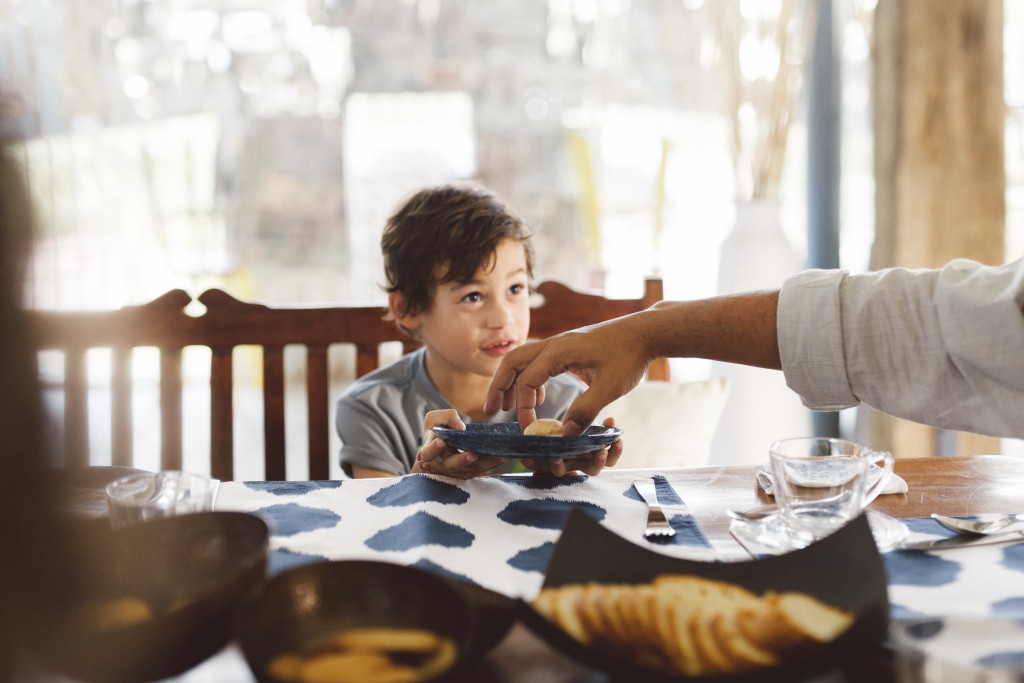 Have you ever wondered why kids in other countries can eat raw fish for lunch, but you can't get your six year old to take a bite of scrambled eggs? On our travels, we are always in awe of the different types of meals we see youngsters devouring. While it's foreign to us, it's familiar to them, so we're sharing breakfasts from around the world for you to share in your home to introduce new cultures to your children one dish at a time. We've rounded up five breakfast foods from past Tea destinations that your kids are sure to love!
PAN CON TOMATE FROM CATALONIA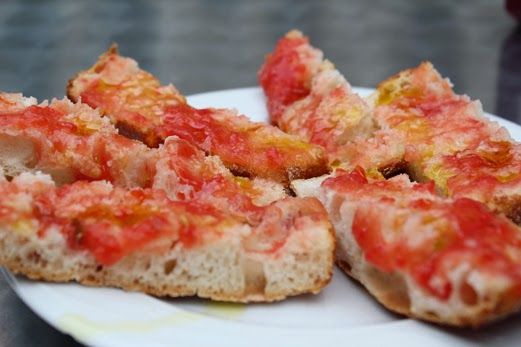 Breakfast in Catalonia is a two part affair. Kids will typically eat at home before running off to school, but also break between 10:00 am – 12:00 pm for a "second breakfast" or snack. A traditional dish enjoyed during this time is Pan Con Tomate or toast with tomato.
INGREDIENTS
– several slices of crusty bread
– 1 fresh tomato
– 1 clove of garlic
– extra virgin olive oil
– sliced serrano or Iberico ham
DIRECTIONS
Toast the fresh bread to get it crispy. Cut the garlic clove in half and gently rub on the toasted surface of the bread. Drizzle a small amount of olive oil. Cut the tomato in half and rub it against the surface of the bread until it is coated, but not soggy. Add room temperature slices of ham and serve!
ACAI BOWL FROM BRAZIL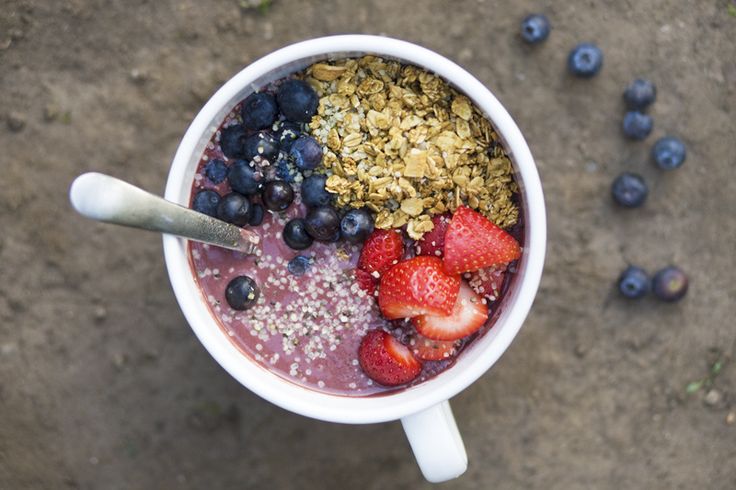 Do your kids love fruit? Acai is a berry that is grown in Central and South America. When frozen in puree form, it makes for a sweet smoothie-like treat that many Brazilians enjoy for breakfast.
INGREDIENTS
– 1/3 cup frozen pureed acai (often sold in the freezer section of health food stores)
– 2 bananas
– drizzle of guarana syrup (feel free to add in as much as you'd like)
– 1/4 cup orange or apple juice
DIRECTIONS
Let frozen acai thaw for 15 mins until you can squish it around in the packet. Puree the acai and banana in a blender, adding a little water or juice to make it easier to blend. Pour the puree into a bowl and drizzle the guyana. Top with fruit and granola!
GAERAN TOSU TU FROM KOREA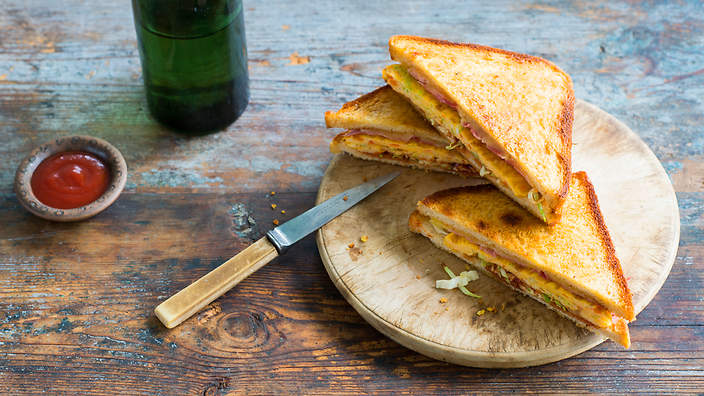 Gaeran Tosu Tu (or egg toast) is the bacon-egg-and-cheese of Korea. Egg toast is often sold in street stall vendors. While a traditional Korean breakfast usually consists of rice, soup and kimchi for many Koreans on the go, Gaeran Tosu Tu is a quick fix!
INGREDIENTS
– 2 tablespoons of butter
– 2 tablespoons of olive oil
– 4 slices of bread
– 3 eggs, beaten
– 1 tablespoon finely diced carrot
– 1 tablespoon finely diced onion
– 1/4 cup sliced green cabbage
– salt, pepper & sugar for taste
– 2 thin slices of ham
– 2 large slices of cheese
– optional additions: ketchup or mayonnaise
DIRECTIONS
Place a large, non-stick frying pan over medium heat on the stove. Add the butter and oil and fry 2 slices of the bread until golden. Remove from heat and repeat with the other 2 slices of bread. Wipe oil from the pan. Combine the eggs, carrots, onion and cabbage in a bowl and add salt and pepper. Pour egg mixture into the pan and gently cook the eggs for 2 minutes and then flip over all 4 sides in to make a square. Flip the omelette and let the other side cook. When it is done, transfer to a plate. Put a piece of toast back in the pan and layer the egg, cheese, ham, toppings and top with the slice of bread. Toast quickly before flipping and serve.
BUBUR AYAM FROM BALI
Bubur Ayam is a very common hearty breakfast eaten throughout Bali and Indonesia. It leaves you full for many hours… perfect for a day filled with exploring. Little ones who love rice and chicken will be comforted by this savory rice porridge!
INGREDIENTS
– 1 egg
– 1 chicken breast
– 1 cup of rice
– 1/2 cup of beans
– 1 clove of garlic, slightly crushed
– 1 handful of parsley, roughly chopped
– dry fried onions
– several small green chilies, chopped finely
– 1/2 cup soy sauce
– 2 cups of chicken broth
DIRECTIONS
Put the rice and 2 cups of water in a saucepan over high heat. When it starts to boil, add the garlic and chicken. Cook for 15-20 minutes; the chicken should be thoroughly cooked. Make a thin omelette by breaking the egg in a lightly oiled pan mixing it and letting it cook. Cut the omelette into strips. Take the chicken out of the rice and shred it. Add chicken broth into the rice and let it simmer on low. Fry the chicken in oil and a little soy sauce. Distribute the rice into two deep bowls, add the shredded chicken, omelette, fried onion, beans, and garnish with chopped parsley. Add soy sauce to the bowls and chilies and serve.
LEFSE FROM NORWAY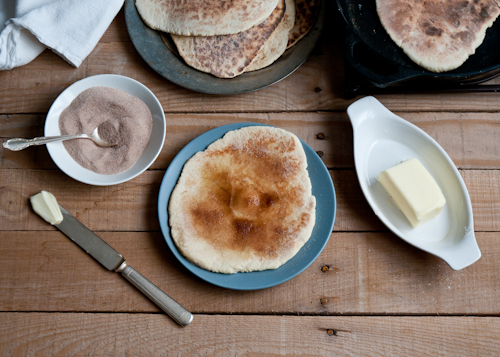 Lefse is a flatbread-like treat that is often made around holidays, but also enjoyed as a breakfast dish in Norway. Made from leftover mashed potatos, lefse can be eaten plain with butter or sweetened with cinnamon and sugar — we're sure these will be a hit at home!
INGREDIENTS
– 1 pound starchy potatoes
– 1/2 cup unsalted butter, at room temperature
– 1/4 cup heavy cream
– salt to taste
– 1 1/2 cup all-purpose flour
– butter, cinnamon, jam, cream cheese, gravlax or peanut butter for serving
DIRECTIONS
Peel the potatoes and cut them into large cubes. Place them in a saucepan, cover with water and bring to a boil. Cook until the potatoes are soft and easily pierced by a fork. Drain the potatoes and place in a bowl. Using a potato masher, mash the potatoes as thoroughly as possible, leaving no lumps. Cut the butter into small chunks and mix in. Add the cream and salt. Keep mixing until it is all completely absorbed. Transfer the potatoes into a storage container and refrigerate overnight. Or, if you have left over mashed potatoes, you can skip that part! When ready to make the lefse, clear a large workspace for dividing and rolling out the flatbreads. Mix the mashed potatoes with 1 cup of the flour. At first this will be very crumbly and floury, but the mixture will gradually start coming together. Turn the dough out on the counter and knead once or twice to bring it together into a smooth ball. Roll it into a thick log and then divide it into 16 equal portions for small 6-8″ lefse or 8 equal portions for large 10-12″ lefse. Roll each portion of dough between your palms to form a small ball. Cover all the balls with a clean dishtowel off to one side of your workspace. Set a cast iron skillet or flat grill pan over medium-high heat. Dust your workspace and rolling pin lightly with flour. Roll one of the rounds of dough in the flour and then press it into a thick disk with the heel of your hand. Working from the center out, roll the dough into as thin a circle as you can manage and lay it in the skillet. Cook for 1-2 minutes on each side until speckled with golden-brown spots. Transfer the cooked lefse to a plate and cover with another clean dish towel. Spread the lefse with your topping of choice and roll it up to eat!