We fell in love with sweet cardamom syrup-soaked donuts while traveling in India, better known as gulab jamun. These sweet treats are well worth the time it takes to make them!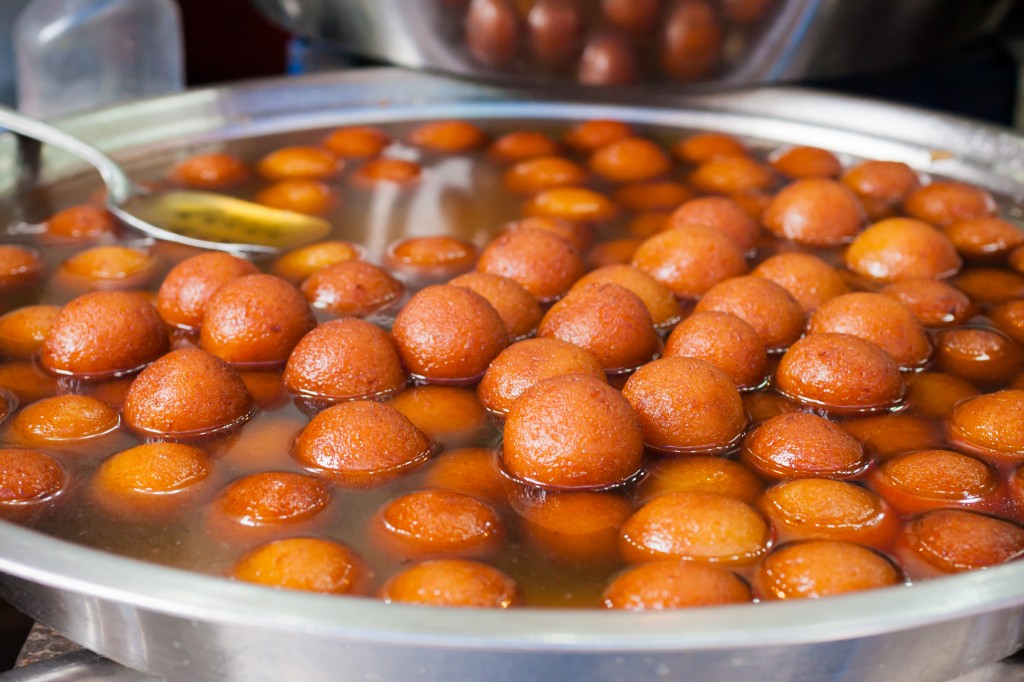 INGREDIENTS
1 cup butter
8 cups whole milk
2 1/2 cups sugar
1/8 tsp. saffron
1 tsp. rosewater
8 cardamom pods, cracked
1/4 cup all-purpose flour, sifted
1/4 cup semolina flour
1/2 tsp. baking powder
3 tbsp. ghee or clarified butter (plus more for frying)
1 tbsp. plain yogurt
1 egg
INSTRUCTIONS
1. Bring milk to a boil in a 4 quart nonstick pan. Reduce heat to medium-low and cook, stirring, until very thick, about 5 hours. You should have 1 1/2 cups of thickened milk; let cool to room temperature.
2. Bring sugar, saffron, rosewater, cardamom and 1 3/4 cups water to a boil in a 1 quart saucepan. Cook, stirring, until sugar dissolves (8-10 minutes), let cool.
3. Combine thickened milk, the flours and baking powder in a bowl of a stand mixer fitted with a paddle attachment, mix. Add ghee, yogurt and egg; continue to beat until dough forms. Cover with plastic wrap and set aside for 10 minutes.
4. Heat 2″ ghee in a 6 quart pan until a deep-fry thermometer reads 275°. Using wet hands, divide dough into 16 pieces, roll into balls. Working in batches, fry, stirring to keep donuts submerged until cooked through (12-15 minutes). Using a slotted spoon, transfer to paper towels to drain briefly, then transfer hot donuts to syrup and let soak for at least 30 minutes before serving.