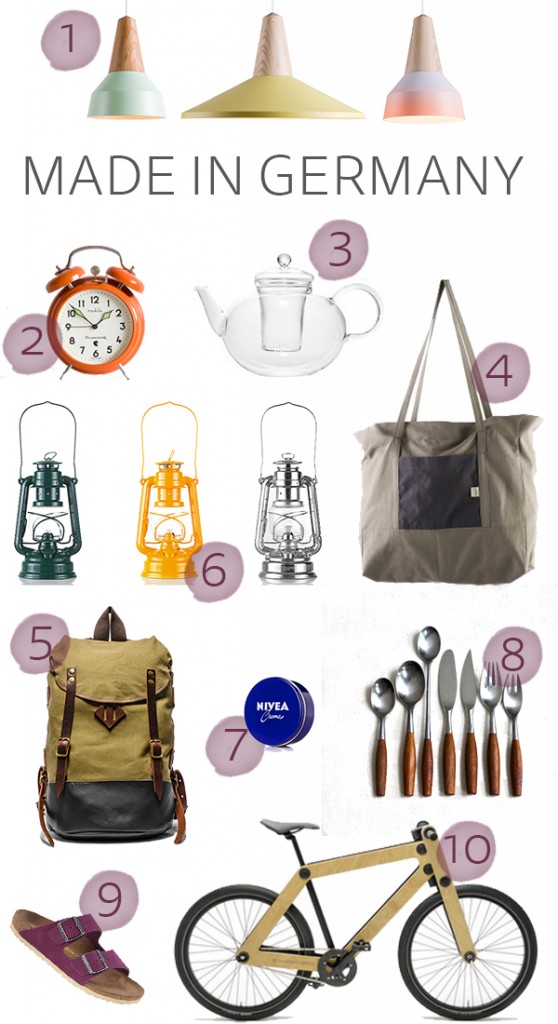 1 eikon lamps // 2 ruhla mechanical clock // 3 glass tea pot // 4 slowmo tote 5 seil marschall hiking pack // 6  kerosene lanterns // 7 nivea creme // 8 dansk fjord flatware // 9 birkenstock
10 sandwichbikes
If you find a product that's "Made in Germany", it is likely you'll feel confident about your purchase. German products are known for their high quality and reliability. From a trusted beauty cream to sleek and modern lamps to a bike crafted out of german wood… we've found a little something for everyone.
Our list wouldn't be complete without mentioning our favorite German candy, Haribo gummy bears! Fun fact: Apple flavored Haribo gummy bears are only found in Germany. The green colored gummies you're eating in the United States (which are made in Turkey) are actually strawberry flavored. Editors note: I'm currently snacking on apple gummy bears from Germany and I wish I could share them with each of you!