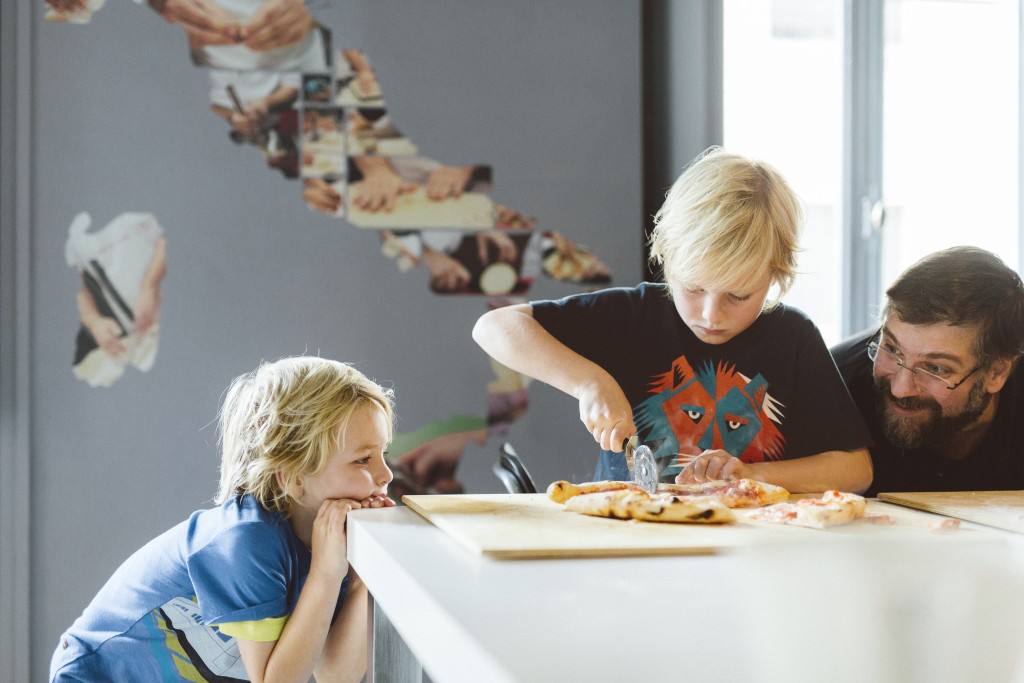 Italy holds a special place in our hearts for many reasons, and we'd be lying if we said that pizza wasn't high up on the list. Italy is home to modern day pizza… the pies we know and love evolved from flatbread dishes that were popular in Naples hundreds of years ago. When our co-founder Leigh and her family traveled to Turin, her boys got to try their hand at making their very own pies. A special moment for any pizza-loving little citizen. Do your little citizens love pizza? Read more to download our pizza coloring activity and get our pizza recipe!
In 1830, the Antica Pizzeria Port'Alba in Naples became the first true pizzeria, allowing you to order a custom pie with your choice of toppings. These early flatbread "pizzas" were topped with many of the same ingredients that are still popular today—garlic, cheese, basil and more. A traditional Margherita pizza is topped with fresh basil, tomato and mozzarella. We like to add anything that's in the refrigerator… pepperoni, onions, peppers, olives, more cheese—the options are endless! Some places in Italy even top their pizzas with anchovies!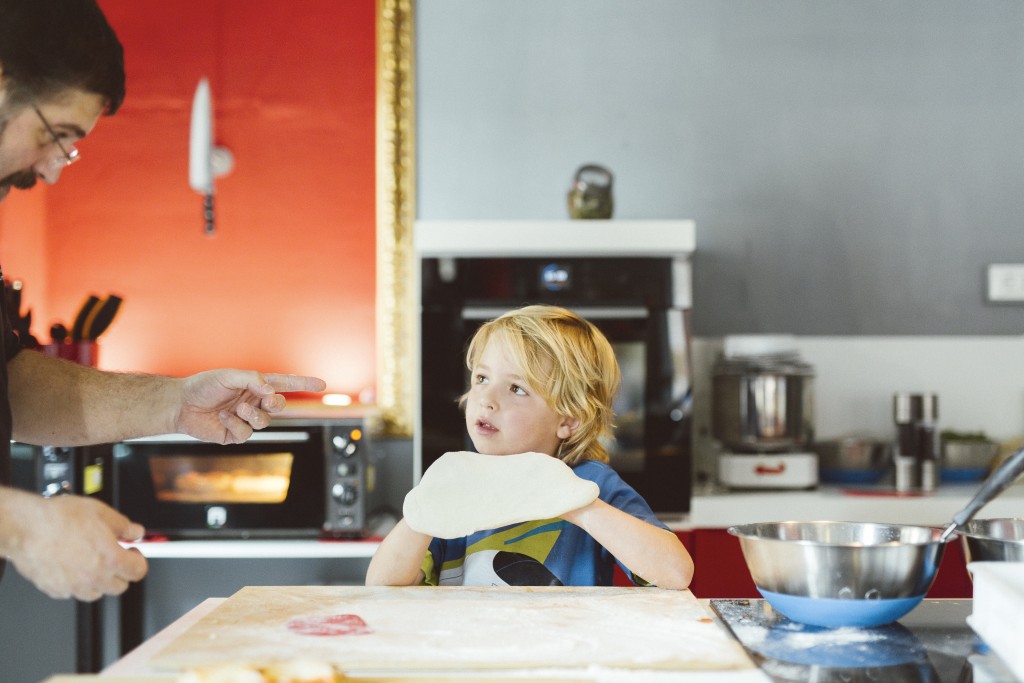 What makes a pizza in Naples special is the dough. Neapolitan pizza is made with very few ingredients; flour, water, salt, and yeast. Matthew and Adam tried their hand at kneading and rolling out the dough for their pizza. While it may seem difficult, the most important thing to remember is take your time. The best pizza is never a perfect circle, anyway! The key to getting it crispy with a charred crust is cooking it in a wood-fired oven. But since we don't all live in Italy, we've come up with a way you can make pizza at home. Try our recipe and let us know what you think!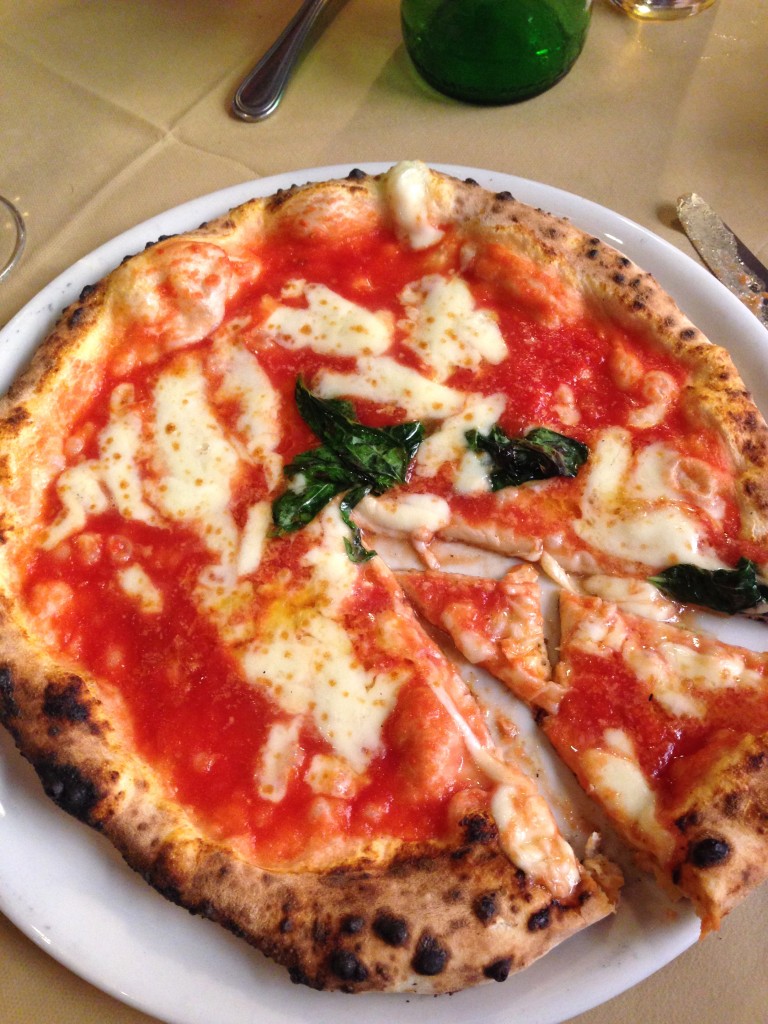 Neapolitan Pizza Recipe
INGREDIENTS
-7 cups of high quality flour (like Caputo brand)
-1 cup of warm water
-4 teaspoons of Kosher salt
– 1 1/2 teaspoons of active dry yeast
-4 teaspoons of sugar
-1 teaspoon of extra-virgin olive oil
-1 can whole peeled San Marzano tomatoes, drained, passed through blender
-8 oz. mozzarella di buffala, thinly sliced and patted dry with paper towels
DIRECTIONS
First step, make the dough! In a small bowl, whisk together yeast and the warm water. Let it sit for 10 minutes. Put flour and sugar into a medium size bowl. Mix well with a wooden spoon. Add yeast mixture and 1 1/2 cups of ice cold water; knead with your hands until smooth and a dough forms (this should take around 5 minutes). Add salt and continue to knead for 2 more minutes. Divide your dough into 4 equal parts. Roll the dough into tight balls and transfer to a lightly floured baking sheet. Cover with plastic wrap and refrigerate overnight.
Remove dough from refrigerator and let come to room temperature. Put a pizza stone on the lowest rack in the oven and heat the oven to 550 degrees Fahrenheit (or the highest setting). Heat for at least 20 minutes.
It's time to make your pizzas! Working with one piece of dough at a time, dust with flour. Using your hands, stretch and shape the dough into a circle. Transfer the dough to a sheet of parchment paper. Drizzle oil around rim of dough. Spoon about 1/4 cup of tomato sauce onto dough, leaving 1-inch border for the crust. Season with salt. Arrange one quarter of cheese evenly over the pizza. Drizzle pizza with more oil. Grabbing the edges of the parchment paper, transfer the dough to the pizza stone. Bake until golden brown (about 12 minutes). Remove from the oven. Top with basil and more oil if you would like. Slice and serve! Repeat with remaining ingredients to make 4 pizzas.
Here's another way to bring pizza to your little citizens, that doesn't involve an oven. Download our pizza activity sheet and help them cut out toppings to make their own unique pizza. Yum!