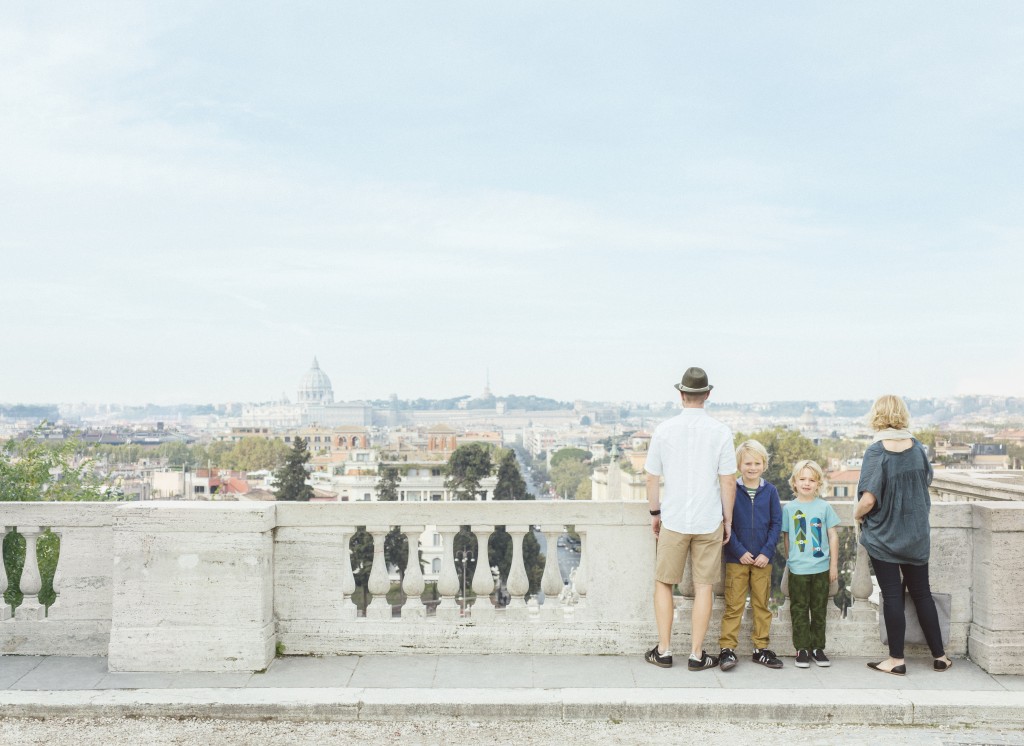 You know the saying… Rome wasn't built in a day. Well, there's no way you can truly experience all its splendor in just one day. In fact, you might need a few to get through our list of sites, adventures and food! If you happen to find yourself in Rome (or you're just lusting from afar!), make sure to check out some of our favorite spots, hand-picked and vetted by our our designers, our co-founder and CEO, Leigh, and even kid tested by Leigh's two boys, Adam and Matthew.
Our guide to Rome is meant to share our favorite places off the beaten track, places you might not see if you take a tour bus through the city. However, it should go without saying that you need to stop by the big ones… the Colosseum, St. Peter's Basilica and the Vatican, the Tiber river, the Trevi Fountain, the Spanish Steps and the Roman Forum. They're grand and magnificent and not to be missed.
EAT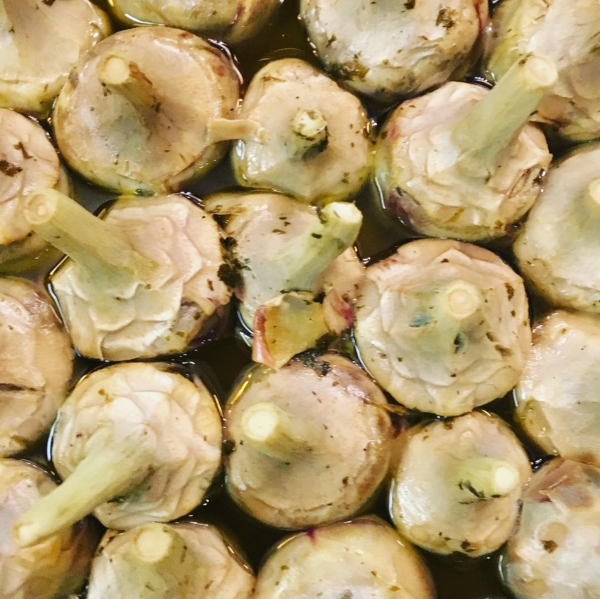 Ristorante Tullio
Address: 26 Via San Nicola da Tolentino, Roma
Hours: 12:30 PM – 3:00 PM & 7:30 PM – 11:00 PM (Monday – Saturday)
Website
Is this place real? Old school Rome. Gray haired, bellied waiters with good manners and jackets. Friendly and funny – especially with the kids. The waiting area showcases the antipasto of seriously fresh mushrooms, artichokes, and octopus salad. Of course, at 8:00 pm, we were one of the first tables seated, but after anchovy salad, cacio e pepe pasta, steak and a delicious dessert with meringue, not to mention plenty of the table wine, the restaurant was a buzz. – Leigh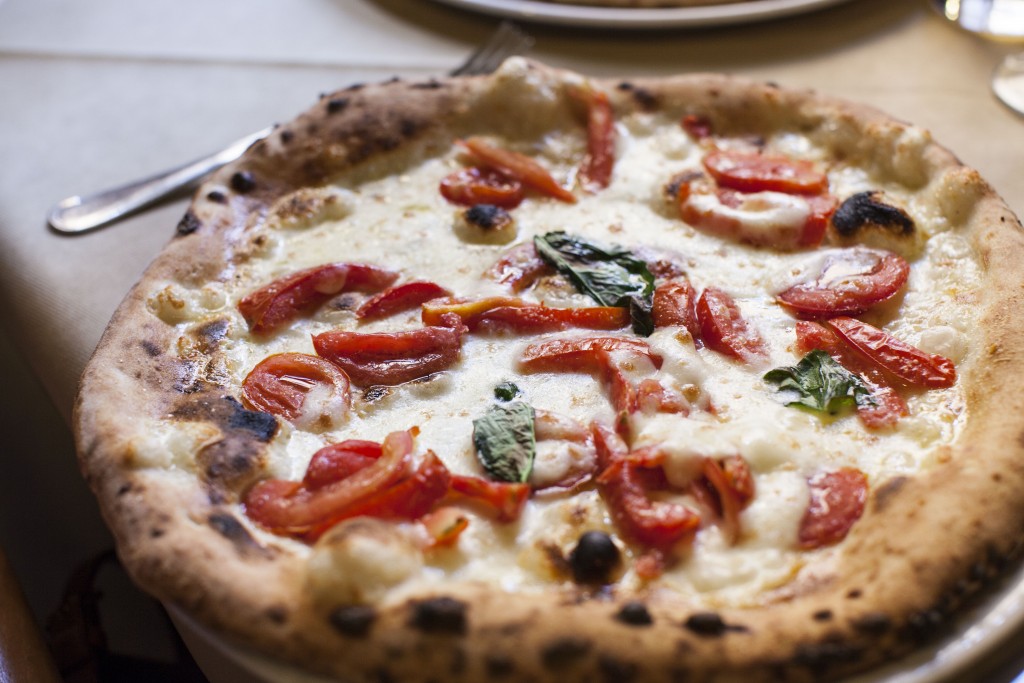 Li Rioni – A Santiquattro
Address: 24 Via SS.Quattro, Roma
Hours: 7:00 PM – 12:00 AM (Wednesday – Monday)
Website
Our designers had a lovely, long dinner here one night on their trip, filled with pizza, pasta and lots of wine. Li Roni has often been named the best pizza in Rome, and it truly does not disappoint. For an appetizer, order enough arancini balls and fried olives for the table. You can't go wrong with the Margarita Pizza or house-made buffalo mozzarella, but if you're up for an adventure, ask your waiter what he would recommend. Make sure to have dessert (this applies to all meals, not matter where you are, at any time of day!).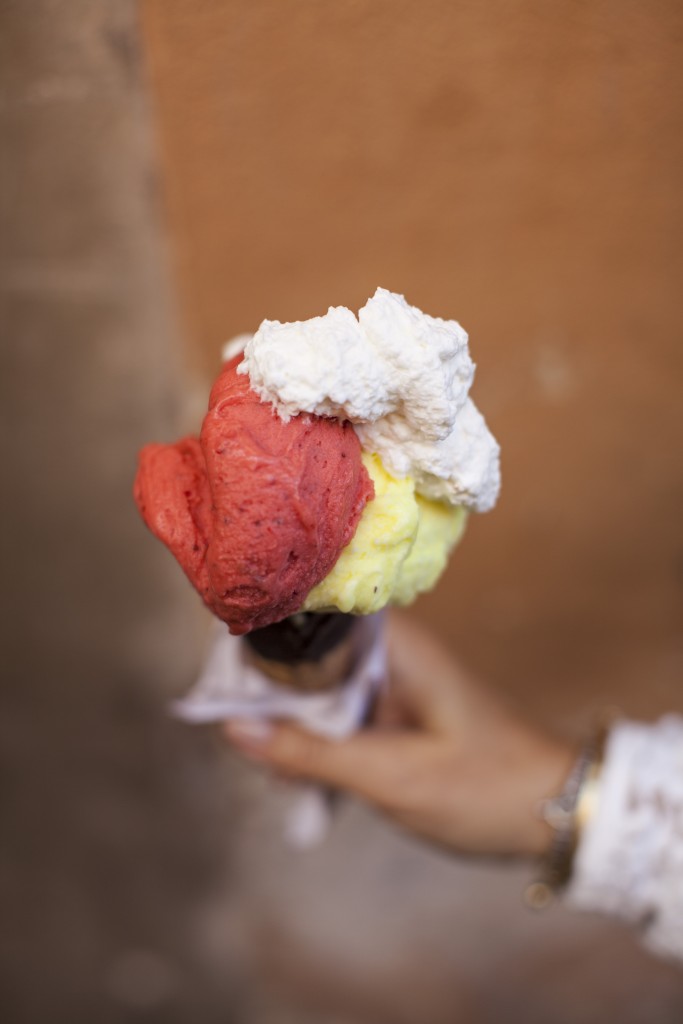 Giolitti
Address: Via degli Uffici del Vicario, 40, Roma
The gelato from Giolitti holds a strong place in our hearts. It's a popular tourist destination, but we couldn't pass it during our inspiration trip. We sampled just about every flavor they had… and not one was a disappointment. Gianduja (chocolate-hazelnut), zabaione (custard-y with some marsala wine), amarena (sour cherry), stacciatella (vanilla with chocolate pieces) and our favorite, fragola (strawberry). Don't skip the whipped cream!
One last note from Leigh: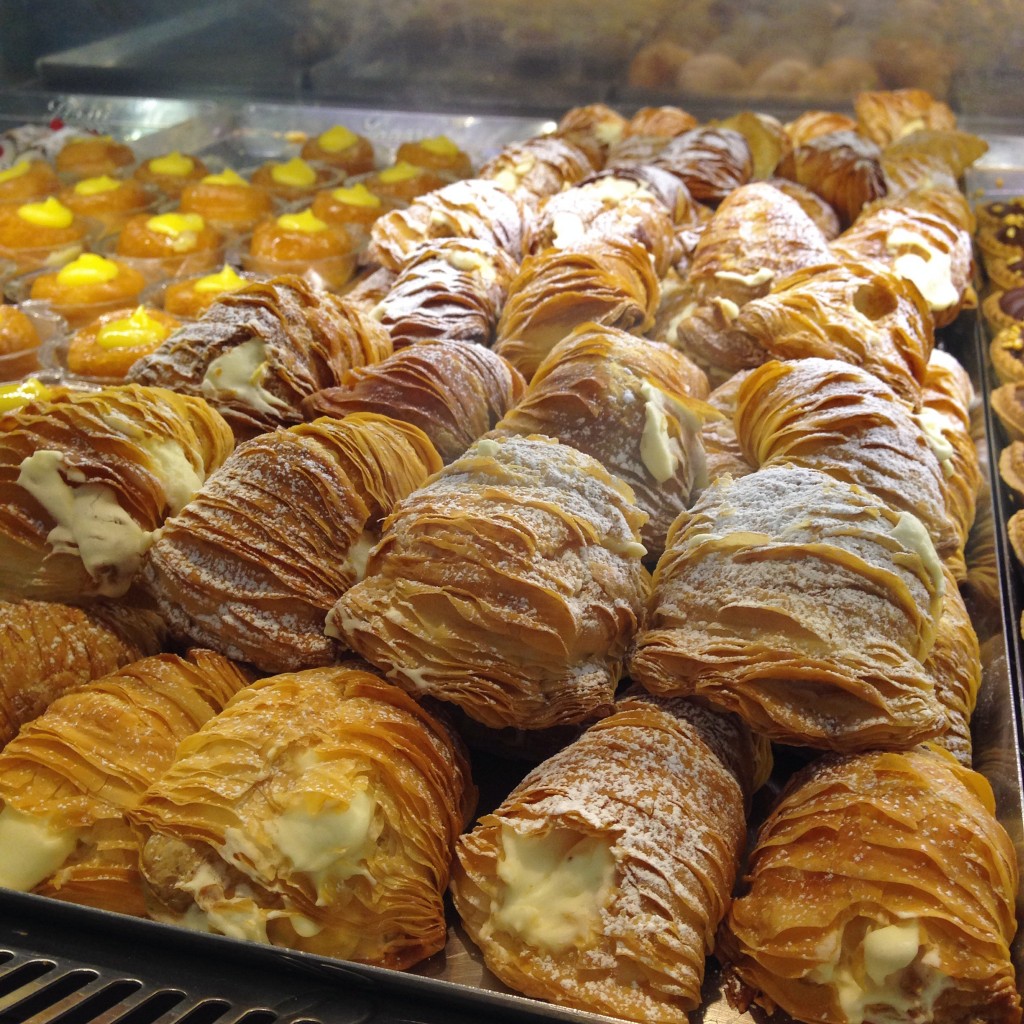 Find the Sfogliatella Riccia. Try to find it warm and somewhere really, really good. This pastry changed my life and I'm only sort of kidding. Flaky pastry leaves with untold amounts of butter, filled with ricotta creamy goodness with a hint of orange zest, and the whole thing dusted with powdered sugar. Please don't make the mistake I made by only finding this magical creation once. Find them early & often.
DO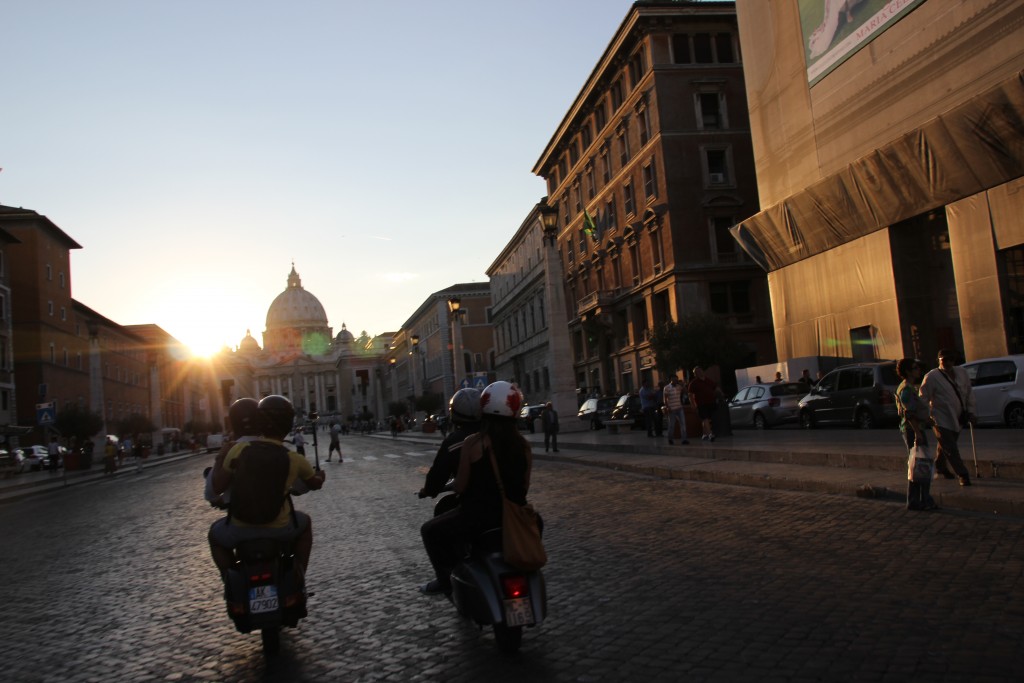 Scooteroma Vespa Tour
This is an absolute must. Scooteroma is run by a husband (an Italian) and wife (a native Minnesotan), who are both knowledgeable and as sweet as can be. Their fleet of authentic vespas and enthusiastic guides aren't too bad either! Sign up for one of their personalized tours of the city — you won't regret it. As soon as we landing in Rome, we jumped on these vespas and took off. It was the perfect way to get the lay of the land right off the bat! We zipped around the city; on cobblestone streets, in narrow alleys, through squares, and beside the major sights. At stoplights, our drivers shared nuggets of history and we stopped along the way to learn more. We got a perspective of Rome – its size, its history, and its importance–bypassing traffic, much faster than if we had toured by foot. Beyond the tour, the context and the learning, it was just pure fun. The speed, the zip, the smiles!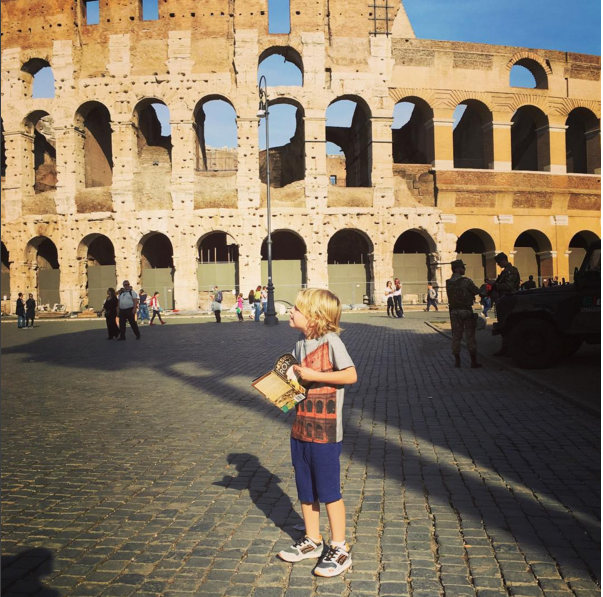 Gladiator School at Gruppo Storico Romano
Address: 18 Via Appia Antica, Roma
Website
If you have kids, you won't want to miss this different way to learn the history of the Colosseum. Gruppo Storico Romano – a real-life gladiator school – offers day programs where you and your kids can take a two-hour Roman gladiator training, decked out in traditional gladiator clothing. Leigh and her family learned and laughed their way through a training — truly an experience you won't forget. Interested in booking a family trip to Italy? We're giving you the chance to travel the Tea way. And this experience is included!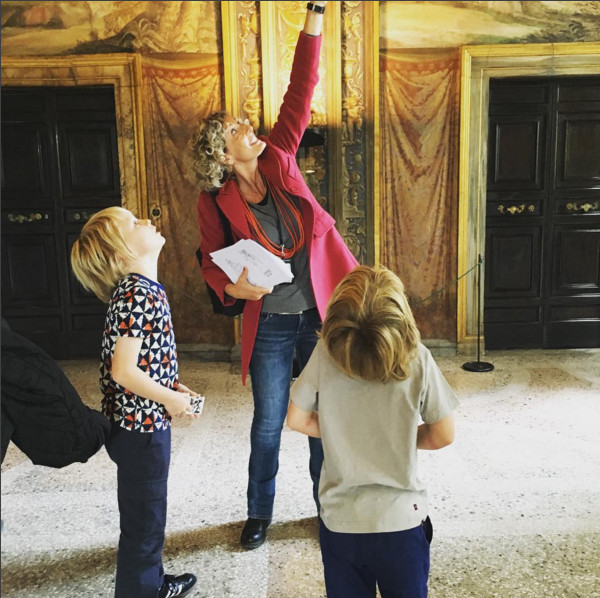 Mythology Workshop Walking Tour via Context Travel
Address: Villa Farnesina, 230 Via della Lungara, Roma
Website
This workshop takes place in and around the Villa Darnesina, which was the private villa of Agostino Chigi, on the banks of the Tiber River, where the Renaissance painter Raphael (and others) painted some of the most important mythological works in the world. Your guide, trained to work with children, will lead your family on an interactive discussion of frescoes by Raphael. You'll learn about gods and goddesses and even have the chance to sketch themselves. "We were so impressed by the guides from Context travel. If you and your family have more appetite for learning, then schedule a tour and learn all about the mythological symbolism that shows up everywhere in architecture and art. The history and politics include a lot of learnings that seem oh so relevant today." – Leigh
SEE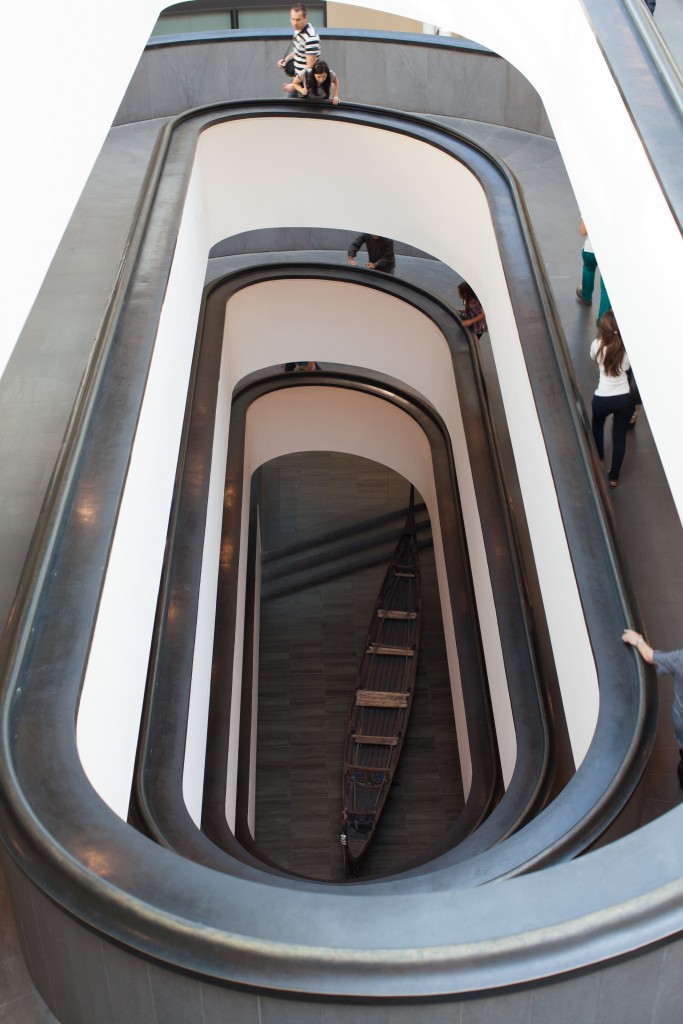 Galleria Nazionale d'Arte Moderna e Contemporanea
Address: 131 Viale delle Belle Arti, Roma
Website
Hours: 8:30 AM – 7:30 PM (Tuesdays – Sundays)
The Galleria Nazionale d'Arte Moderna or the National Gallery of Modern Art, is an art museum in Rome filled with beautiful pieces of modern and contemporary art. We roamed it's halls while gazing at the works of Giacomo Balla, Amedeo Modigliani and Alberto Burri. You can also get the chance to see some very notable artists like Degas, Kandinsky, Monet, Jackson Pollock and Van Gogh. Even better, the Gallery is close by to the Borghese Gardens, so make an afternoon of it!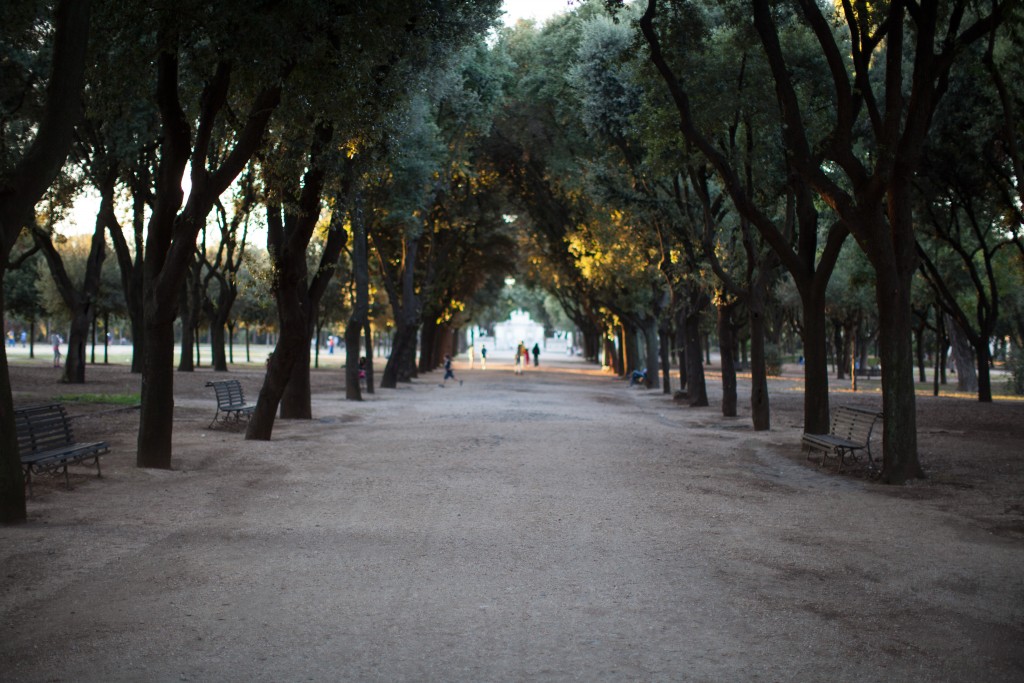 Villa Borghese Park & Villa Borghese 
Address: 5 Piazzale del Museo Borghese, Roma
Hours: (Park) open daily from dawn until dusk. (Galleria): 8:30 AM – 7:30 PM (Tuesday – Sunday)
Website
Villa Borghese park features 226 acres of gardens, statues, fountains, lakes, museums and theaters and is often compared to be Rome's version of central park, only with more museums! An afternoon spent wandering through the gardens and sites is a must! It is a perfect moment to get out of the hustle and bustle of the city, bring a picnic and people watch. If you have kids, stop by the zoo and many playgrounds scattered throughout. Leigh and her family strolled through the tree lined streets that intersect the park. The perfect place for an easy afternoon.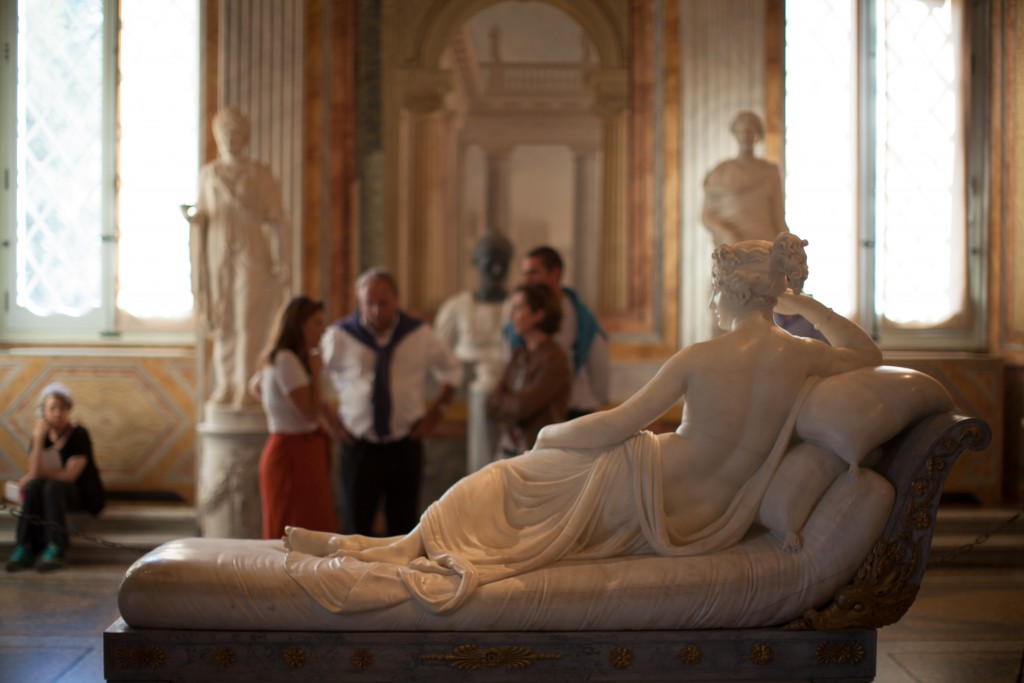 Our designers took in the art at the Galleria Borghese, the art gallery featuring many early paintings and sculptures once owned by the prominent Borghese family. Make sure to book your tickets ahead of time!
SHOP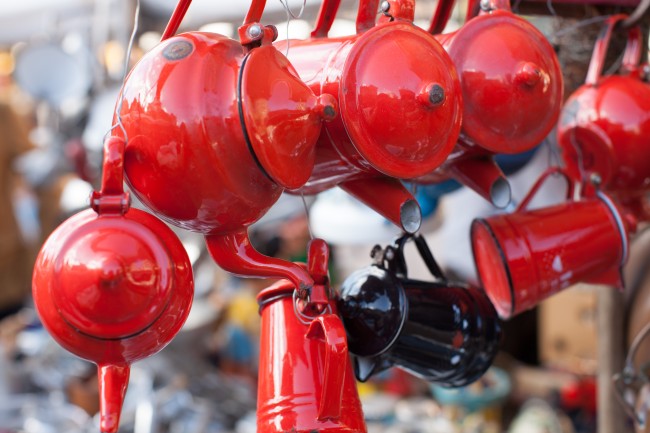 Porta Portese Flea Market
Address: Piazza Porta Portese
Hours: Sunday, 6AM – 1PM
This is one gigantic flea market — It truly is the biggest flea market in Rome. We got there early and spent hours sifting through all types of treasures… old and loved to shiny and new. Our favorite finds were vintage scarves. The prints and patterns were pieces of Italian history and even inspired a few of our new styles!
Pifebo Vintage Shop
Address: Via dei Serpenti 141 (Rione Monti location)
Hours: Monday – Saturday 11AM-8PM & Sunday 12PM-8PM
Pifebo has 3 locations and while we only stopped by one, we're positive that you can't go wrong with any of them. They're excellent curators and have everything from that perfect leather jacket to the coveted Gucci bag that's been loved and cared for and sits in fabulous condition.
Via del Governo Vecchio (118)
Have only a few hours? This is your street. It has everything from vintage shops to classic boutiques to nice bars and casual restaurants. Many of Rome's main vintage stores are located here and you'll be able to find everything from shoes to clothing to accessories. We could have wandered around here for days!
Always dreamed of taking a family vacation to Italy, but become too overwhelmed when trying to plan? We've partnered with family travel company Tauck to give you the opportunity to travel the Tea way. The best part about it? They handle all of the planning and scheduling and you just get to enjoy life with your family.