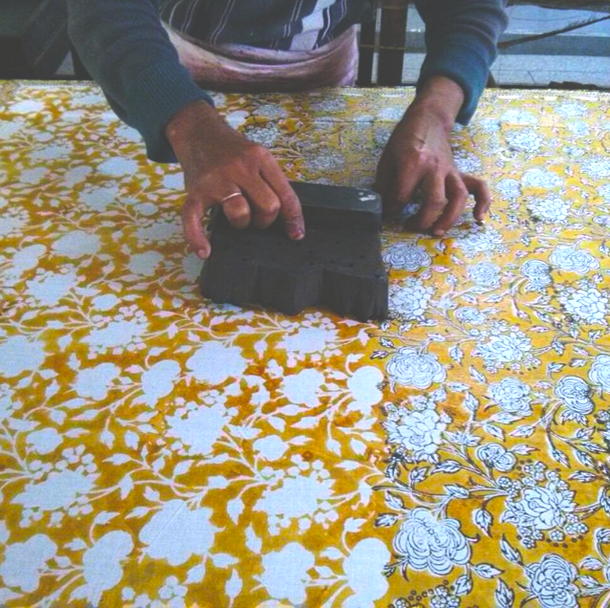 Khadija Gurnah was born in Kenya and her husband is Puerto Rican. Together they have three children, a son who is 10 and two girls aged 4 and 2. She came across Tea when she was looking for clothing that reflected the diversity of her family.
"My kids are multiracial and I had a hard trying to find things for my children's rooms that had a mix of modern American with a global aesthetic, so I found global artisans and started my own company, Safiya's Room. The company I use in India for quilts is a multigenerational operation that has worked with me to mix traditional designs with modern colors."
She works with a multigenerational family business that has been working in the fabric trade industry for decades. The family patriarch was a trader in muslin fabric and used his understanding to work with block print artisans in Jaipur to create quilts. She works very closely with his grandson, Shubham, who graduated with a degree in Engineering from Purdue University. He has updated his family business communications so that they can easily communicate between Connecticut and Jaipur, while meticulously maintaining all of the traditional artisan techniques of block printing.
Shubham has a team of 3 designers headed by Raksha. Raksha and her team are responsible for all the twin quilt designs that Khadija stocks. She is excellent in putting a modern twist on traditional block print designs!
The toddler quilt designs come from motifs that Khadija loves, such as Uzbek Suzanni patterns or Quatrefoils inspired by Moroccan tiles. Khadija sends ideas to Raksha and she works with Ramavtar to make sure that they can translate the colors and patterns into block printing techniques. Ramavtar is a color master who specializes in coloring, dying and printing of clothes. He works closely with Dinesh who is responsible for making sure the colors on the printed fabric match to those in the designs.
We love the authentic hand blocked patterns and hand-stitched fabrics, and we're so excited that three of you will soon own your favorite Safiya's Room quilt (and a $50 Tea gift certificate!).