Spring Break has come and gone which means, pretty soon, summer will be upon us. Time to swap out the scarves for sunnies and head west where big swells, blue skies and endless ocean awaits. From the carefree surfer culture of SoCal to Hawaii's tropical aloha vibes, join us as we soak up the warm air and laid-back lifestyle of the West Coast.
Whether they're bound for the beach or a block party, get your little citizens set for summer's adventures in easy-going outfits inspired by the captivating Pacific Coast.
Surf, Skate, Scoot 
Here on the coast of California, board sports are a way of life. Whether catching the perfect swell or stomping a kickflip, icons of ocean and street have one thing in common: their effortlessly cool, carefree style. We channeled that relaxed vibe and translated it into comfy styles that are made to run, ride and zoom, or just plain chill.
Inspired by skate culture's signature checkerboard motif and accented with contrast piping at the trims, these classic shorts are ready for action.
Coal Classic Checkerboard Print Piped Shorts
Pair with: Photoreal Surf Graphic Tee + Babiators Aces Navigator Sunglasses
The go-with-anything print comes in styles for her, too!
Shop matching shorts for Tween
Plus blue hued capri leggings
A Taste of the Tropics
From the tropical islands of Hawaii to the iconic palm tree lined streets of Los Angeles, our summer collection is gushing with fresh juicy fruits, flowers and foliage. Think pop-color pineapples, towering palms, brilliant birds of paradise and sun-washed brights.
Of course it wouldn't be summer without easy swinging sundresses. Sweet tiers and simple shoulder ties meet punchy brights in a fun, flowing midi length.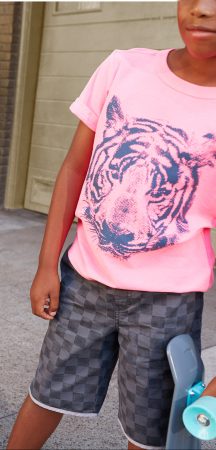 While his wardrobe gets a little 80's flair with energetic fluorescents, edgy half-tone graphics and island inspired prints.
Print Pocket Tee
Tiger Graphic Tee
Puffer Fish Graphic Baby Tee
Whatever your plans this summer, we hope you'll include Tea in your plans! Tell us what kind of fun you're up to in the comments below or write to us about your adventures, and don't forget to follow along as we explore the west coast and all of its wonders.