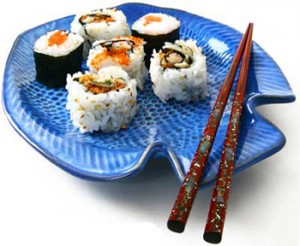 My husband and I love to eat out at our favorite sushi restaurant at least once a week. At some point, my husband decided that this didn't have to end even though we have a very active baby! We started taking her out for sushi when she was about 9 months old and now she is a regular! Here are our top five reasons why eating out sushi is perfect for families:
1) The food comes quickly! No worrying about packing extra food to tide your little one over, or stuffing them with the free bread. An order of edamame, the perfect finger food, is always available right away.
2) The portions are great finger foods. For beginners (early eaters): sticky rice and edamame are great. For more advanced eaters, grilled fish entrees (like hamachi), cooked sushi (like California rolls ) and veggie tempura offer a nice variety of healthy, easy foods.
3) A new place to play and explore. It's a great new adventure with lots of things for toddlers to explore: the plates, cups and bowls are great for stacking, the chop sticks are a fun challenge (as long as you watch the eye-poking), and the hustle and bustle atmosphere is just noisy enough to drown out toddler complaints!
4) Mom and Dad get a break from eating kiddie food. While Lizzie is munching away on rice and avocado rolls, we get to indulge in our favorites, ocean trout and Atlantic char sushi!
5) Most importantly, we are introducing our daughter to a part of our life that is fun and enriching. We know that this will become an important family tradition that can continue as she gets older and more adventurous!