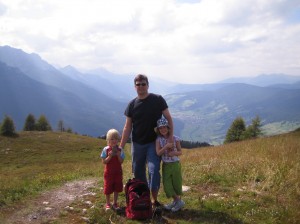 We just returned from our first camping trip with the kids. I have such fond memories of camping as a kid in Texas that I wanted my husband and kids to have the same experiences. But camping as a kid is not the same as camping in the parental role. This time I was in charge of all the daily tasks and making sure we took everything we needed without being loaded down with too much stuff either. Our car can only fit so much!
I recently found a book called Adventuring with Children: The Family Pack-Along Guide to the Outdoors and the World by Nan Jeffery, Foghorn Press, 1990. It's an amazing book filled with so many practical tips and details on all sorts of adventure traveling whether it be camping, canoeing, hiking, cycling, etc. There are special sections on traveling with babies, medical care and even education for those who want to travel throughout the school year. The sections on how to prepare and pack are thorough and well thought out. I found I had everything I needed without over packing. Can you imagine – I got clothes for a family of four for two weeks into ONE suitcase! This is a miracle to me who always seems to pack too much! I'll definitely be following this packing guide for the rest of my travels.
We chose our first camping destination – the Italian Dolomites – because I'm currently 7 months pregnant and didn't want to go anywhere too hot this summer. We also have friends living in Bolzano that we haven't seen for several years. The southern tyrol region is bilingual German and Italian. We get by in Italian pretty well since it is so close to French, but our German is very basic! Fortunately between Italian and English we managed quite well and the kids enjoyed picking up a few new phrases in Italian and German.
I researched the campsites online and made reservations in advance for two sites, one each week. We didn't want to be packing and unpacking too often. Both campsites were well equipped with bathroom facilities, dish washing and laundry facilities, mini supermarket and restaurant. I also specifically chose sites that had swimming pools since I knew my kids would want to go swimming every day.
Our first week in Bolzano was wonderful and we combined hanging by the pool with day trips into the surrounding mountains and lakes. The kids loved riding the cable cars up into the mountains and the pony ride we did one day. We even spent over 5 hours at the botanical gardens of Trauttmansdorff Castle in nearby Merano and hiked all over the mountainside. I couldn't believe the kids' stamina for this kind of thing, but they loved it! It was a cloudy but dry day which made all the difference too. If it had been sunny, I doubt we would have lasted so long! Orlando especially liked seeing the Koi fish that looked just like the one on his tea t-shirt!
Our second week we went higher up into the mountains to a small town called Sesto. D goes skiing here in the winter with his buddies and the kids were very excited to see all his favorite spots. We were a bit surprised by how much colder it was at night, but fortunately we just added layers to our clothes as Nan Jeffery advised in her book and we were warm enough! The mountains were stunning and I look forward to returning again when I'm not pregnant so that we can do more hiking and adventuring.
Overall it was a great holiday and I'm happy to have made the investment in our camping gear. We'll be able to affordably explore much more of Europe this way. Being in a campsite allows the kids to roam around and make friends with kids from many different countries – something that staying in a hotel or rented apartment can't provide. Efficient packing meant only a few toys. It felt great to entertain ourselves with just a few items and of course makes coming home like returning to wonderland!
So where will our next vacation take us? Olivia declared that the perfect vacation would combine swimming with bike riding each day. We'll have baby #3 by then as well, so I'll have to readjust the packing a bit and get the bike rack onto the car too. Hmmm….another adventure for sure!