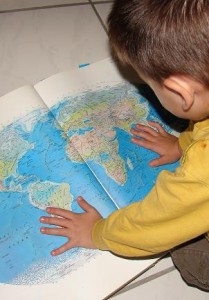 At a baby shower last year, the hostess had all of the guests write down two pieces of important parenting advice to put in a beautiful, handmade book for the mother-to-be. I write down what I always do when asked to do these things:
If it is a boy, always make sure the penis is pointing down before fastening the diaper.
Show your child as much of the world as you are able.
The hostess chuckled when she read what passes as wisdom in my eyes and then said, "Oh, Kayt. If only it were that easy!"
I do understand that travel is a luxury and that, in these times, air fare to exotic locales may not be a priority. But I do believe that showing your child the world is easier than one might think. You just need to think outside the airport.
Here are some of the ways that when you can't go out to meet the world, you can bring the world back home to you.
Try a new tongue. Check out a Mommy and Me language class. Or see if a local school offers language instruction.
Reach out. Contact a local International organization and see if there is a Mom of that nationality who would like to get together to share language and play dates. Lots of times, they are anxious to make American friends and improve their English. It's a great way to learn about a country and culture firsthand.
Go to a International Festival. There is a great calendar of festivals and events across the U.S. on the International Festivals and Events Association Web site.
Check out a book. Pick out some Children's books that explore other cultures. Some of our favorites are "The Musicians of Bremen" by Jane Yolen and "Three Samurai Cats" by Eric A. Kimmel.
Play the postcard game. When I was young, my father sent me a postcard from everywhere he traveled. I still have every single one. Those two sentence blurbs describing the picture can inspire a lot of curiosity. Ask friends and family that are traveling to send your child his very own card.
Do a project. When I was young, I called it "Whirl-a-World." I would spin our family globe and let my finger stop on a country. I'd then do research in the encyclopedia or at the library to learn more about the culture and people there.
Crack that cookbook. Is there a better way to learn about a culture than trying its food? Try a new international recipe and let your child help cook it.
That's my basic list but I'm sure I missed other great ways to show your child the world. What are some other ways that have worked for you?