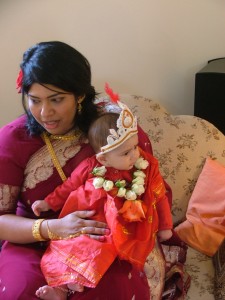 It was Moushumi's 7th month birthday and she was going to choose her destiny! For such an important event, it was of course necessary to get dolled up. I wore a beautiful silk sari, and Moushumi wore an adorable red sari that mimics the one worn by a bride in our Bengali culture. Even my husband, who is American, wore Indian clothes. The occasion was Moushumi's Annaprashan, a traditional Bengali-Hindu rite-of-passage ritual that marks the occasion of an infant's first taste of solid food, typically rice. It also involves a fun pick-your-destiny game for the child.
My parents, who live close by, had the event at their house with delicious catered as well as home-made Indian food. My parents invited all of their close friends because in our culture, it is customary for everyone to come and bless the child. Many people came long distances to share in this special day with us, including some of my oldest friends. Several of my husband's family members were also able to come for the whole weekend, which was wonderful. My husband's father had an important role to play, helping my stepfather feed Moushumi the rice pudding that is the centerpiece of the ceremony. He wore Indian clothes, and handled his slippery-soled Indian shoes very well. It was truly a multicultural event, with two grandfathers from different cultures trying to feed an agreeable but confused baby.
It's worth describing Moushumi's outfit in detail, to convey the cuteness. She wore a red silk sari, and jewelry, including anklets, a garland and a special head-dress. She looked adorable! When we came into the room where the guests were waiting for us, she gave everyone a big smile. She was the star and I think she knew it!
Both my stepfather and my father-in-law took turns feeding Moushumi her "payesh" or rice pudding. The payesh was blessed by a priest during a "puja" or worship at our house earlier that morning. She basically spit it out, but that was good enough for us. We then played the destiny game, which involves presenting the child with a tray holding different objects. Everyone watched intently to see what she would pick. Minutes before, my mother had run out to the yard and grabbed a clump of soil with grass still attached. That was the first thing Moushumi picked up – and then she promptly threw it down on the floor! People joked that this meant she was rejecting a life as a landowner. She briefly touched the book and then picked up the pen. My family was very happy about that because we have many professors, doctors, and writers in our family and the pen signifies learning and intellect. She finally picked up the gold bangle and everyone cheered – you can't go wrong with gold, it signifies wealth. As her mother, I conclude that this game showed us a future where she is curious about everything and will make many messes. After the ceremony, Moushumi had a quick wardrobe change into a red dress and was passed around to everyone at the party! We then ate and drank and chatted while the star took a well-deserved nap.
It was a great, if somewhat exhausting, day. Although she may not remember a thing, Moushumi was very aware at the time that something interesting was happening – eating something new, having people fawn all over her, wearing lots of funny stuff, and being able to grab and throw things. She got meet lots of new people as well as see some family members that she doesn't see often. I believe she felt the love – and really, that is the point of events like these, isn't it – whatever culture it may be? Despite differences in culture, everyone who took part understood that it was an occasion to come together and celebrate the miraculous beauty of a new child.