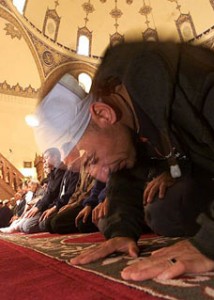 This is #6 of an on going dialog of our travel which included 4 countries and a 4 year old. Please check the prior archives for the previous sagas
We were living in Saudi Arabia for a month last year. Sometime between Non-Christmas and Non-New Year and right in the middle of the Hajj pilgrimage to Mecca, my daughter and I had an amazing cultural experience which only a rare few Americans get.
I had walked outside the gym I was in but quickly returned inside to gather my daughter, Olivia. It was important to me that she not just be in Saudi Arabia but instead to experience such an amazing country. Especially in this day and age were it seems so many people judge the kingdom of Saudi Arabia and Muslims in negative way. I wanted her to be able to FEEL the difference in the air. I wanted her to sense it from her insides.
In that moment, at 6:15 pm in the evening, we both FELT something special in the air. We FELT what the difference was to be Saudi Arabian. The sun was going down and it was about 75 degrees. The sky was orange and darkening. And every mosque in the city of Jeddah was in prayer. Every mosque has loud speakers that project the prayer being said inside by a man. There are mosques everywhere, seemingly on every block in the city. And every mosque had a calm male voice chanting a prayer, almost singing. I said to my daughter "Olivia, what is that we hear?" And she replied, "they are praying." I said "Isn't it amazing! Nearly all the people in this city, the whole country for that matter, are all praying at the same time. They are ALL doing it. Isn't it amazing? I really want you to listen and try hard to remember this for your whole life. This is very special." Then I said to her "why aren't we praying?" She replied very matter of factly "oh … that's because we aren't Mussie."
Today, as I started to write this piece I stopped and sat down with my 5 year old snuggled on my lap. I talked to her about that experience. I asked her if she remembered Ghada's gym and she said yes. I asked her if she remembered the special night when we went outside to hear all the prayers from the mosques. And she shook her head… no. My heart dropped. I wanted her to remember. I needed her to remember. I felt if she could remember and absorb this part of the whole Saudi experience it might give her a core of compassion for others who think and believe differently than she does. I needed her to remember so she would have respect for Muslims all over the world in a time where it is more than necessary. But she didn't. So I told her the whole story, everything we said to each other on that warm Arab night. And when I told her the reply she gave "oh…that's because we aren't Mussie," she said to me with her head slightly tilted and very serious…."Mom. They aren't Mussie. They are MUSLIM." My heart rose again and I now know she has the respect I wanted her to learn from it. She can't remember the night but I know in my heart she absorbed the experience and the message.