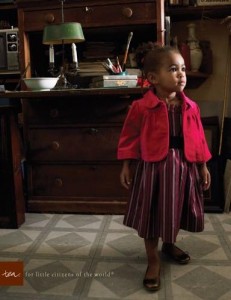 My 13-month-old daughter Zoe practically lives in Daily Tea and gets a lot of complements on her Daily Tea outfits. They are the perfect comfortable, resilient, and stylish play clothes and we love them. Even her Dad (who rarely notices baby clothes) gets excited for Daily Tea. But until recently we had yet to venture into Tea Collection.
With several events coming up –Thanksgiving, a new years party, a few birthday parties and a trip to see family and friends in Los Angeles, I was looking for some outfits that will really stand out. I fell in love with the Bryggen Stripe Sweater Dress, but decided that none of Zoe's events were formal enough to warrant "twirl factor at a maximum" as promised in the description on the tea website.
When choosing clothes for Zoe I gravitate towards comfortable knits (thus my obsession with Daily Tea), and so I decided on the Rasmussen Floral Knit dress. I also purchased the matching Pointelle Leggings. I figured we can pair the dress with tights and Mary-Janes for parties, and then she can wear the dress with the more casual leggings this winter as a comfy yet gorgeous every day outfit. When the weather gets cooler we can pull out the coordinating bloomers that come with the dress. For activities such as dinners and brunches out with friends I chose the adorable Sno Flugen Hoodie and the Vindella Velvet Trousers in lavender. The velvet of these pants when paired with the otherwise casual hoodie makes the outfit just dressy enough. I also picked up the Daily Tea Chrysanthemum dress and another pair of bootcut leggings from the early Fall collection to mix and match with the Daily Tea Bird Dress which has been a favorite of ours this season. I can't wait to put Zoe in all of her fabulous new Tea clothes!