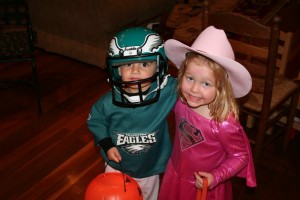 For Halloween this year, our friends graciously hosted our family for a truly one-of-a-kind event: their annual neighborhood trick-or-treat extravaganza and "competition." We didn't believe Lana and Sean when they told us about the tradition last year. "We had over 800 trick-or-treaters come to our house—we counted, and so did our neighbors," Sean said proudly over dinner last fall. "We have a friendly competition for which house gets the most," said Lana. "We gave out 10 5-lb bags of candy," she added. "Eight hundred trick-or-treaters?" my husband and I repeated in amazement, "how is that even possible?"
We were thrilled when we were given the chance to find out. And, since this year Halloween fell on a Friday, we pictured the streets around Lana and Sean's house would be packed to the gills with giddy revelers, something like we had seen the one time we were in New York City on New Year's Eve. I imagined a sea of kids walking shoulder to shoulder, a parade of parents toting flashlights, and a never-ending turn-style of door-bell ringing and shouts of "trick-or treat!" In short, I was very excited, and so was my preschooler. Even my husband, who never dresses up, got into the spirit. Because our son went as a football player, my husband donned his old referee uniform, and I dressed up as a cheerleader (for the record, my costume was a rental).
Our friends were just as motivated. Our son's friend, Sara, went as a pink Supergirl. Her big sister was a witch, and her brother was Darth Vader. Lana had the best 1960's outfit I've ever seen, with 3-inch white plastic go-go boots, big hair—the works. Sean didn't dress up, but he was busy staffing the door and playing bartender. His gin and tonics are legendary in the neighborhood, and so Halloween "water" gets handed out to all of the parents who need a little something to get them in the spirit too.
When the night kicked off and our children were all dressed up and getting ready to hit the streets, everything started quite calmly, much like every other Halloween I have seen. At first, while the sun was still up, a few young parents with little tiny babies and toddlers rang the doorbell here and there. Gradually, as the sun set, traffic picked up, and we began to see just how it was possible to fill the streets with the number of people Lana and Sean had predicted.
When it was time for us to venture out with our children, the neighbors put on quite a show. The decorations were amazing. Hand-carved pumpkins by children, moms and dads were by far my favorite part. Scary ghosts hanging in trees, spooky sounds floating from outdoor speakers, and creatures and tombstones scattered on lawns were everywhere. One house went a step further. The parents set up an American Idol table with themselves and their adult friends as judges, asking trick-or-treaters to "audition" for their candy. It was great, and music (good and bad) filled the streets.
At one house, we ran into a couple that was all dressed up in Renaissance clothes. They looked amazing, and we soon learned that they were from Italy. The woman told me, "I have never experienced a Halloween before," and she was as starry-eyed and happy as the 3-year-olds holding Lana's and my hands. It was such a treat to see grownups as excited as children on a night that did not disappoint.