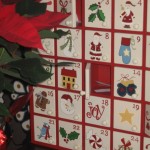 The holidays with little ones can be crazy. Just getting presents bought, wrapped and shipped, and Christmas cards out on time can be about all a new mom can handle. And for the past four Christmases our family has been doing the bare minimum to get festive. Only half the decorations come out, very little baking is done and gifts are bought online to save time.
But my oldest is almost five, and this year I decided it was time to start making some memories and teaching Christmas to my kids. It was clear they were understanding more and more about Santa. But I wanted them to get the whole holiday in more than just a commercial context. So that meant a little reflection on my part. What things are important for me to share about this season with preschoolers?
December can be filled with shopping and spending or it can be about savoring the lights, colors, songs, smells and tastes of this month. Because once January and February comes, it continues to be cold and it's back to business as usual.
I had read in a Wondertime article about a mom who did an activity a day with her kids during Advent in lieu of candy/gifts everyday. We've done the candy Advent calendars and still do because it's just fun to have chocolate, but this year we took our wooden Advent calendar and filled it with fun things for us to do together as a family. Things that, for me, make the season what it is. So here are 24 days of activities:
Make paper snowflakes and decorate the windows
Learn/sing some traditional Christmas carols
Decorate the house with decorations
Make a gingerbread house
Make Christmas cookies for a friend
Celebrate St. Nicholas Day (Dec. 6)
Decorate the Christmas tree
Read a Christmas classic
Do something nice for someone we don't know
Look at Christmas lights
Bring food to someone who needs it
Go see The Nutcracker
Celebrate St. Lucia Day (Dec. 13)
Attend a Christmas event
Make popcorn garland
Read the Christmas story
Make hot chocolate
Go ice skating
Watch a Christmas movie
Make a Christmas paper chain and hang it
Hang lights up in the house
Family game night
Buy a toy for a child who doesn't have one
Unwrap/open one present each
By doing these, our family gets some dedicated time together. But we've turned Christmas "chores" into fun activities. I even had them wrapping presents and helping to stamp the Christmas cards.
Celebrating St. Nicholas Day and St. Lucia Day are important for me to incorporate in some way during the season. Saint Nicholas imparts the real Christmas spirit of giving–which is what the season is about. After living in Germany as a child for a while, this became a familiar name, but the tradition has been lost. St. Lucia Day is a Swedish holiday, one we learned about while living there. While not celebrated so much at home anymore (more at school), it's still a wonderful way to celebrate the season.
We're less than halfway through the month, but the kids still run to the calendar each morning to see what we'll be doing for the day.
Linda Kerr writes at Baby Bunching, Monkey Business and DC Metro Moms.