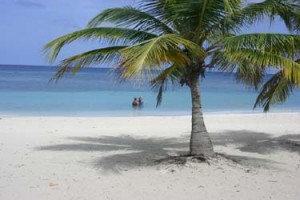 Barefoot Cay is an exquisite piece of paradise in the otherwise rough-around-the-edges island of Roatan, Honduras. For Thanksgiving our extended family of seven (including our two-year old, Grace) traveled there and had almost the whole cay (tiny island) to ourselves. We took over three of the four bungalows and enjoyed getting to know the handful of other guests who were staying in the fourth bungalow, in several yachts at the marina and in the new lofts the resort has built on the mainland.
Some of the best amenities of this beautiful little cay include the palapa on a dock out over the water, the clear blue water, delicious, well-prepared food in an intimate dining area, and the well-appointed bungalows completely furnished down to the food processor and blender! We felt very comfortable at Barefoot Cay with our 2-year old, Grace. The staff went out of their way to fix special meals for her, entertain her, and suggest outings for the whole family she would also enjoy.
We were also overwhelmed by the wonderful staff at Barefoot Cay. Mel and Fernand at the front desk were there for every little need we had, from taxi service to laundry to ideas for where to go out to dinner. Owners Milesse and John made us feel like personal guests in their home, not as paying guests of a resort. Staff in the dining room, dive shop, housekeeping, and spa were all so friendly but always professional. We have stayed elsewhere in the Caribbean with very little contact with resort staff, but everyone at Barefoot Cay was always happy to see us and so warm.
One highlight for our party was the dive shop. None of us were divers before but three of us did the Discover scuba class and were amazed by the personalized, professional service of the instructors at the dive shop. Most of the time we had a one-on-one ratio instructor to student, and at one point we even had two instructors to one student. They made us feel so safe and comfortable with the new sport. We were lucky to have grandparents along to watch Grace while we were out diving.
Another daily highlight were meals. We ate about half of our dinners in the resort dining room and they all were deliciously prepared, including the special meals for Grace. The rest of the time we cooked for ourselves in our bungalows after stocking up at a nearby grocery store.
The only downsides of Barefoot Cay are not actually the fault of Barefoot Cay. They are the same downsides we posted previously about all of Roatan. Here they are: 1) garbage floating in the water 2) sand flies and mosquitoes and 3) the ugly shipping dock next door. The reality is, Barefoot Cay is in a developing nation. Garbage-polluted water is a problem in every developing nation. It wasn't always an issue at the cay but seemed to be worse after heavy rains. We've heard it's not a problem at all in the dry season (first part of the year). As for the bugs, Barefoot Cay staff work tirelessly to keep the bugs down, spraying day and night with non-toxic sprays and handing out complimentary bug repellent to guests. Still I think they'd have to drop a pesticide bomb on Roatan to get rid of them all. The one or two times we forgot bug spray resulted in literally hundreds of sand fly bites on all of us, which are still itching a week later. Finally, there is a ship yard next door but it really isn't that bad. It never bothered us but you may want to look the other way if it bothers you.
All in all, we LOVED Barefoot Cay and highly recommend it to families traveling to Roatan. Milesse, John and their staff have obviously worked incredibly hard to create a beautiful spot in a harsh environment. It's a wonderful destination for the whole family if you're looking for a Caribbean destination off the beaten path, but still comfortable and affordable.