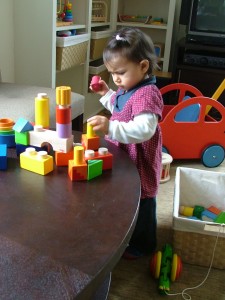 Is your house being taken over by giant plastic toys that sing and squeak and talk? Are you worried about mysterious chemicals and potentially toxic paints? Are you curious what it may be like to live without them? Yes, it's possible! We made a decision to buy only wooden toys made with non-toxic paints and lacquers for Moushumi before she was born. This was prompted by the scary news that even long-trusted companies such as Fisher-Price have had recalls due to lead in recent years.
We have let our friends and family know that we prefer these sorts of toys, sometimes by saying just that, and in other cases more subtly by saying "check out these great toy sites: oompa.com and moolka.com!" Those are great sites for non-toxic toys and there are others as well – you just have to research a bit. A particularly nice feature of these sites is that you can see where the product is made as well as the safety criteria it has met. In fact, both sites have ways for you to actually pick the country of origin. There are Haba and Kathe Kruse from Germany, Vilac from France and Green Toys from right here in the U.S. among lots of other unique brands from around the world.
We also feel like we are making some progress towards being more "green" by using toys made from environmentally friendly materials: wood rather than plastics. For example, one of our favorite companies, Plan Toys, uses only non-toxic materials, recycled and recyclable packaging with soybased inks for printing, synthetic free rubberwood, formaldahyde free glue, and so on.
The wooden toys from these companies address our safety concerns, but they also look great, and never seem to take over the way plastic ones seem to. They often come in modern, chic styles and win awards for design. It's a far cry from the quaint craft-shop look (nice in its own way, of course) that you might ordinarily associate with wooden toys. Many of the toys are so cool that adults want to play with them, too!
While at the beginning we were a bit daunted by the thought of avoiding ubiquitous plastic toys, it has turned out to be quite easy, and rewarding to do so. We look forward to using these durable and healthy toys for our next child, and even perhaps passing them on to our grandchildren.