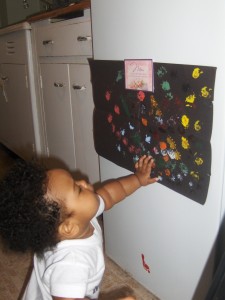 That little beauty is my niece who currently lives approximately 471 miles away from me. I hate that we live so far away, and am upset that we are about to move even farther.
I can't control where our family has placed themselves, across the nation, and even overseas already as my mother lives in Kenya. I can however, control the frequency of my attempts to make connections and form bonds.
The internet is a wonderful thing – you can send photos, videos and even e-cards to your loved ones with a click of a button.
I plan on using EVERY resource available to me as we leave soon for our relocation to Delhi, but I also plan to try and remain loyal to "real" communication.
When we recently made our dandelion paintings, we stuck one in the mail to the little darling in the photo above. How sweet it was to receive the photo via email of her looking at and touching the painting.
She's too young to understand that Mia MADE that painting for her, and too young to appreciate that they may very well form a close relationship as they grow up – no matter how far they are separated.
These two girls – my Mia and my niece who we affectionately call "Babybug Ladybug" can indeed form a bond, even across the miles. That is, if we choose to make the effort to keep them in touch.
Whether it be sending each other post cards of their travels, or finding fun things to collect and exchange via the mail … or maybe even keeping an online blog together of their experiences (how fun would that be?) … there are all sorts of creative ways to help keep a friendship and relationship intact even when you are separated physically.
I plan to help instill a relationship between the two youngest girls in our family … and hope to see it blossom and grow as they grow up!