Last month, we took our six and a half month old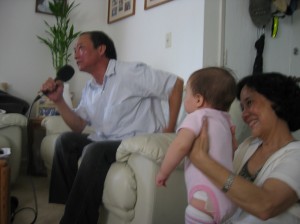 daughter Amelie to meet some relatives who were in town for my cousin's graduation. My side of the family is Vietnamese, and except for some early cooing from my parents when she was two months old, this was the first time Amelie was surrounded by her Vietnamese relatives, all who baby talked and interacted with her in their native language.
I never learned to speak fluent Vietnamese. As new refugees in this country just after the fall of Saigon, my parents felt incredibly self-conscious speaking English in public because of their perceived heavy accents. Determined that their own children wouldn't experience the same prejudice they faced, my parents had decided to speak to my brother and me only in English. In retrospect, it has been a great disappointment not to communicate in the native language of my relatives and have the ability to pass it down to my own child.
Amelie loves attention and eagerly allowed herself to be passed around between her great aunts and great uncles. I sat listening to them chat with her, ask her questions and hug her. One of my uncles even pulled out the karaoke machine and sang Vietnamese love songs to her. She cried at the end, possibly because of the high decibels, but perhaps because the serenade was over. I was thrilled with the attention too, taking way too many pictures and video clips. Even though I knew she was too young to understand, I wanted to retain these memories for her, especially the words they spoke, which were full of love and history.
My parents remind me all the time that I could take language lessons. They are convinced the Vietnamese is buried within me, since I still can understand what they say to me—I just can't generate the words to reply. But I don't hear Vietnamese on a regular basis anymore. My parents tend to speak in English when we're on the phone. So when I do hear it, either in passing on the street, or on the car radio, or in a restaurant, I sit transfixed, silencing everything else around me, attempting to translate and understand.
My husband and I have talked for years about taking Vietnamese language classes. My father is getting older and although he has spoken English for over thirty years, I know he feels more comfortable speaking in Vietnamese. I don't want that kind of language barrier between us. We always found reasons to put these classes off, but this weekend convinced us we needed to make it a priority. Children retain languages best when they are young, and I want us to be prepared when Amelie is able to speak her first words.
I know it will be difficult. This is probably why I've been delaying it for so long. But I'd like to believe what my parents say, that my fluency will not be so hard to attain, after years of listening to my family.
Sometimes, I feel the language swelling up in me. Little endearments I remember my parents used to say to me, I now find myself saying to Amelie. Although I cannot literally translate even to myself what I am saying, I hope she can feel the affection in the words, and trust that I mean them.