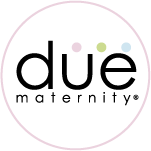 We love that our Tea moms appreciate the unique beauty and find excitement and familiarity in all of our world's cultures. No matter where you call home, the anticipation of having a new baby can recolor your life in entirely new ways- and we think you deserve to mark all of the great milestones in the most stylish and polished way possible!
Having a baby brings lots of changes, but we definitely think that your unique sense of style shouldn't be a sacrifice- that's why Tea loves the great maternity clothes found at Due Maternity. They offer a great variety of classic and contemporary styles that will allow our favorite moms-to-be to feel taken care of while they are gearing up for one of the biggest milestones of their life. They even have pampering products that will give that inspired fashion boost when the days get tiring!
And there's nothing more that we love than easy ways to pamper a busy mom! Due Maternity has swimsuits on sale at 25% off right now which means you can enjoy the vacation months daydreaming away about your baby's homecoming in our organic layette. Grab a bathing suit and go enjoy the summer sun- even with all the sunscreen you wear, the glow of a mom-to-be will last long after the sun drops behind the horizon.