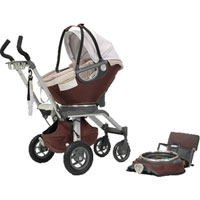 As I am daydreaming about my plans (and not yet planned activities!) for the weekend and relishing in the fact that I live in a city that ALWAYS has something exciting going on, I thought of a conversation I had not too long ago with my mom.  Living in the city doesn't afford you much square footage, so you can't go crazy and buy every specialty gadget you see on the "As Seen on TV" commercials (like the hot dog and bun warmer I've been eyeing for a while!)  When I moved into my first place in the city, I had to look for household items that could play double duty.  I guess the gravy boat warmer would have to wait until I could afford a bigger place.
One big thing that I've learned over the years is simplicity.  As a card carrying member of the "everything but the kitchen sink sized purse" club, I've taken many a hard lesson on keeping things simple.  This is especially true for multitasking moms and dads who don't have nearly enough arms (or strength!) to carry everything their busy tots need in a single day.  A great way to cut down on the clutter is with the Orbit Baby Infant System.  It's a great system that uses a universal base that allows you to upgrade from bassinet to stroller, and also transforms into a safe and easy to install car seat. 
Leigh Rawdon, Tea's CEO and co-founder said that the reason she loves the orbit is because it's easy to pack and use on the run.  Her favorite feature?  The fact that you can easily open the stroller with a single hand, and take the pod off of the base to reduce the clutter when you take it into a store or cafe.  The stroller base allows the bassinet to swivel around so that you can give your little citizen a 360 view, and open their world to new sights!  Such the fan of the Orbit Baby, Leigh has been able to use it for both of her kids. 
And as if the Orbit Baby could get any better, the company has both internal and external initiatives to help save our planet and take care of the people in our communities.  Not only do they produce a baby transport system that is chemical free, eco-friendly, and safety-certified, but they also do lots to make sure that they are keeping their carbon footprint small, and give back to different initiatives that help both the children and our environment, including a recycling program for parents and kids who have outgrown their Orbit.  You can check out the full gamete of their initiatives here.  We love the Orbit Baby for those reasons and so many more, and we think you will too!