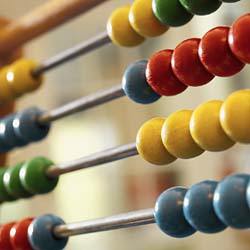 Our daughter turned the big one a few weeks ago, which meant it was party time!
We celebrated with the usual balloons and birthday cake but we also incorporated a bit of our Chinese and Korean cultures.
One popular tradition when the baby turns one is to try to predict the baby's future by setting out several objects and letting her pick one. In the past, this might have included items like an abacus to symbolize a career in business and a book to represent a life as a scholar. There's also thread for a long life.
We decided to have a little fun with it. We set out a microphone for the future American Idol, a push pin for the budding fashionista and/or Project Runway designer, a pencil for the next Hemingway, a golf ball for the future Michelle Wie, a tennis ball for the Venus or Serena Williams-in-training, a stethoscope for a doctor, a spool of the traditional thread, a book and an abacus.
We were at the playground for her birthday party, so we lined up all the objects up on the cement ledge that separates the sand pit from the rest of the park. Then we put our daughter down in the sand, a few feet away. She knew exactly what to do, crawling towards what must have seemed like a bunch of new toys — all for her!
She lunged first for the abacus. She also paused to consider the pencil and to pick up the golf and tennis balls. But then she went back to the abacus. We think the abacus must have looked like the best new toy, the shiny, colorful beads the perfect size for her little fingers, which she could move around and which each made a satisfying clicking sound.
Of course, what that means for her destiny is up to interpretation. Some of our party guests thought it meant she would become an accountant, though another said she could also be an engineer. Or maybe the CEO of some big business.
Given that she showed an interest in not just the abacus, but also the pencil and the balls, I'm hoping that not only will she be brilliant at math (unlike her mama) but also be athletic and a good writer. A mom can dream.