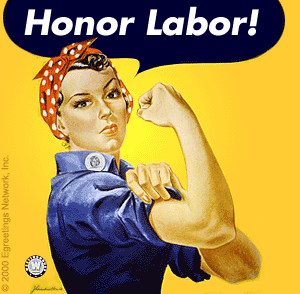 Labor Day recently passed us all by. The picnics, parades, fireworks , and endless speeches always seem to be interpreted as the final celebration of summer. It's a day that encompasses hard work and play at the same time; it wakes us up to the reality of another school year, another year of hard work while we barbeque and party to our hearts content . It made me wonder: Are work and play really that different from one another, and should they be compartmentalized as such?
In the mind of my toddler, work and play are one in the same; it is hard work to build a stack of blocks or attempt to color a picture within the lines, but she loves to do these things as well. It made me realize that work, and play both have something immensely important in common with one another: passion. I began to think about the different jobs people in my life have, and whether they were happy in their jobs or not. Those who chose their jobs on account of intense passion for their vocation are extremely happy, while those who simply want a paycheck see their jobs as a means to an end. It made me think of how I want my child to view a job. I want her to be passionate about what she accomplishes in life, to find meaning in her daily tasks. I want her to find a job where she can 'play hard.' I don't believe that a job should be laborious; it should fill the soul.
It's hard to live by such a manifesto as a parent. I not only have to reach for my dreams, but I have to teach my little one to reach for hers, which might mean she has to take risks, which might mean she falls flat on her feet a few times, and it is quite hard to watch your child, no matter how old, fall flat on his or her feet. I intend to remind myself on this past Labor Day, and the others that will come, that my child is the only person who knows her dreams, goals and aspirations. Whether that means she wants to be a lady on a flying trapeze, a policewoman, a doctor, or social worker…I cannot say. I only need to guide her to listen to her inner voice, to give her the confidence to follow her dreams, like a tiny Don Quixote reaching for stars that everyone else tells her are beyond her grasp.