When Laura and Emily brought back the below postcards from their inspiration trip to Old World Hungary, they could barely keep them away from me.  I was ready to start designing graphics immediately.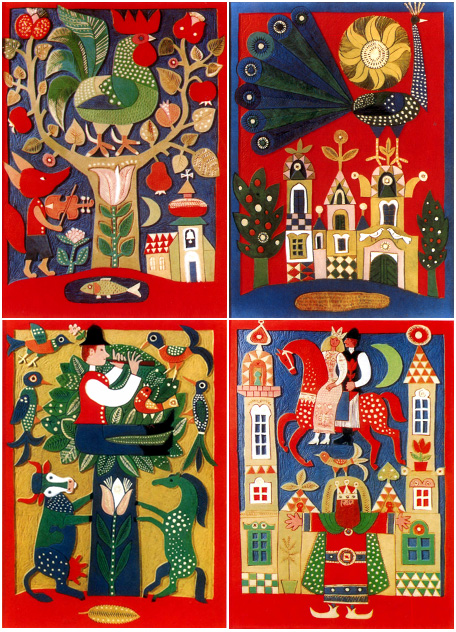 postcards of Károly's Reich linocuts from Tea's inspiration trip
I saw on the back of the cards that they were by Károly Reich, a Hungarian artist and children's book illustrator.   I couldn't wait to see more of his work.   Most of his work is in watercolor or gouache, which I found even more charming than his linocut pieces.  The more I found, the more obsessed I became.  I searched the internet for days trying to find every last piece of his artwork.  I was image searching google.hu.   I found myself on a random assortment of Japanese book sites that collected his work.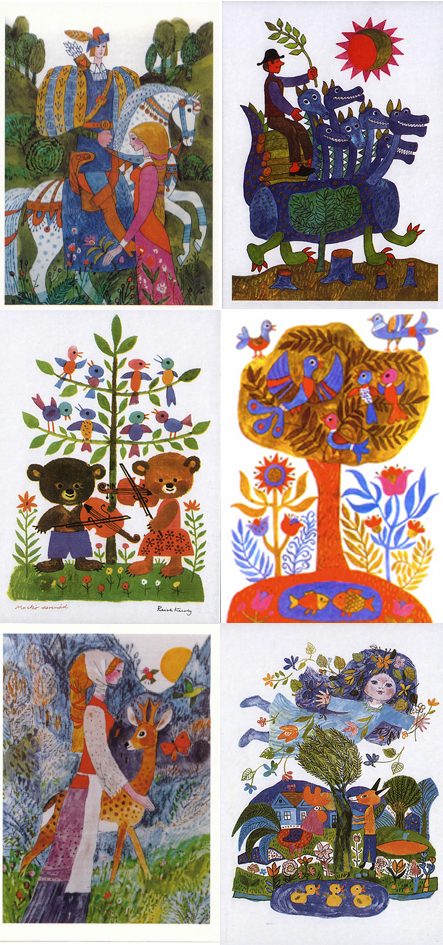 just a few of Károly Reich's watercolor/gouache children's book illustrations
I managed to get my hands on two of his books.  I got lucky with an Amazon used book search.   Matt the Gooseherd a Hungarian story told in English.  I love the idea of sharing a Hungarian tale for an English audience, I think its a great way for children to learn about new cultures.   Let's See the Animals teaches children about a variety of woodland creatures, most of which live both in Hungary and North America.  AND! It's illustrated in crayon!  Crayon!?  A real, respected artist who uses crayon!  I was smitten.  I was ready to design our entire line as a tribute to this man.  While the rest of the team didn't really go for that idea, there are a few pieces that are inspired by his work (see below).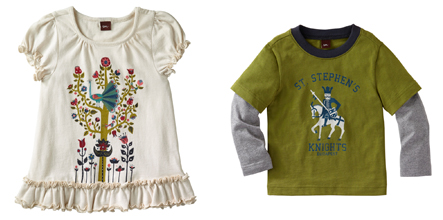 Tea's tops inspired by Károly Reich's illustrations
left:  Folk Tale Graphic Top
right:  Knights Layered Sleeves Tee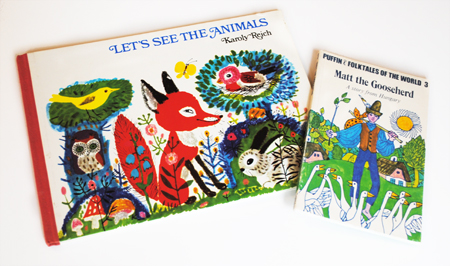 Let's See The Animals and Matt the Gooseherd covers
And if anyone out there knows how to get their hands on this Reich Károly collective book, let me know – I'm still searching for it!
fun fact: I was having a hard time determining if his name was Károly Reich or Reich Károly.  It seemed to be listed differently on different books.  I asked my aunt, a librarian, which she thought was correct.    Turns out that in Hungarian names are written backwards according to the Western way of writing names.  They are apparently the only country that does this.