We're in the middle of our 2nd heatwave of the summer here in SF. The heat always makes me want to sweat it out with spicy Asian food.
Our CEO, Leigh Rawdon, sent me a fun post about her sons experiencing Thai food (and she happens to be in Asia right now):
We took the boys to a great Thai restaurant in Berkeley. Our four year old falls squarely in the camp of orange/white foods only. We asked him to try everything and to find one thing he liked. He voted for Pad See Yew, a rice noodle dish. Best of all, he was so proud to tell our waitress and anyone who would listen that he loved Pad See Yew. Our one year old, on the other hand, loved everything – especially these panko fried Taro and Yams (what's not to love).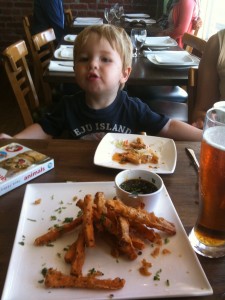 And if you'd like to try your hand at Pad See Yew, here's a great recipe from Food and Wine. Hmm, feels like a great night for a little Pad Thai.