Many of us here at Tea have been following the SF Giants (#SFGiants) all season and long before. The Giants play a kind of baseball that's been branded "torture" by Kruk and Kuip our awesome Giants announcers. It's been a lovely torture. We're awash in the aftermath and planning our dash to Wednesday's celebratory parade.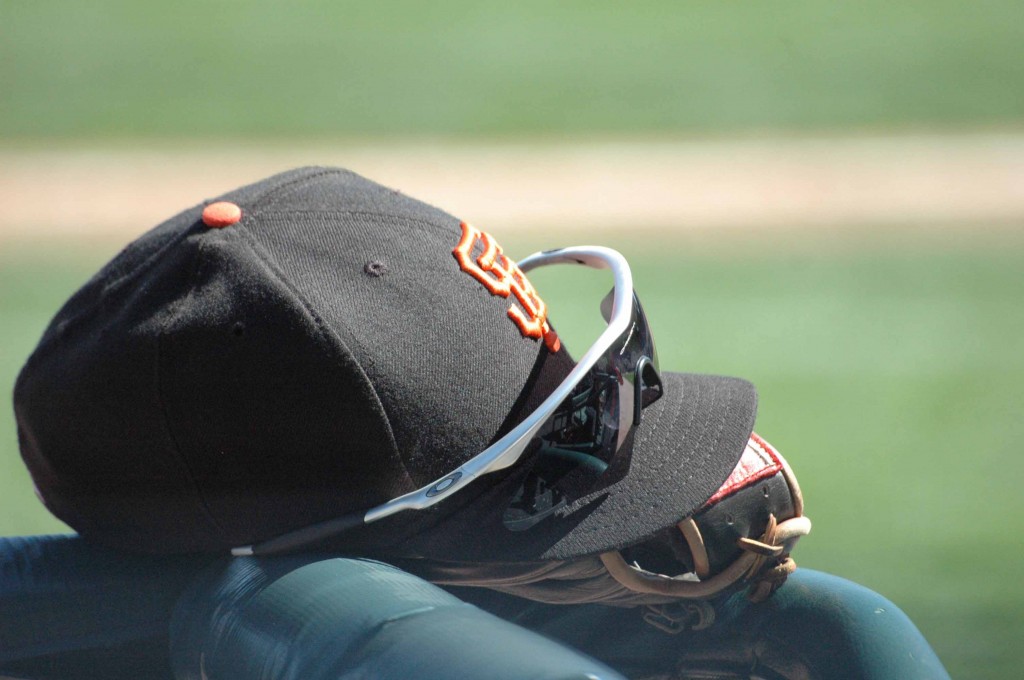 One of the Giants' biggest fans is Ana Ramos, graphic designer and photographer extraordinaire. About a week ago she joyfully shared this post with me. Today seemed like the perfect day to share it with the world!
I've been lucky enough to have attended a World Series game, it was October of 2003 and the Yankees were facing the Marlins in Florida. It was supposed to be Roger Clemens last start, he had just announced his retirement, and the standing ovation he received before the first pitch was thrown was electrifying. But he and Bret Favre are probably really good friends so you know how that story went. I can't remember who won that game, I know the Marlins won the World Series in 6 games. What I remember most is that I missed some classes because my dad took me on another one of our baseball trips to Florida (I'm originally from Caracas, Venezuela – if you follow the Giants, Panda and I share a nationality…), up to that time I had missed school one previous time for a NLCS between the Marlins and my then beloved Chipper Jones and Braves. In a sea of Marlins fans, we were one of the few Braves' fans around the bullpen and after Greg Maddux finished his bullpen session I was the lucky winner of a baseball, which is now signed by Bobby Cox. I'm guessing my mom wasn't too happy about those missed classes, but traveling to be in a World Series game was on another level: take in a huge baseball game, the atmosphere and just spending time with my dad, a dream really if you love baseball.
Fast forward to 2010, I'm still a huge baseball fan but no longer root for the Braves. Since moving to San Francisco I adopted the Giants as my team. The history the team has, the way the city embraces the team is night and day compared to my experience with summer baseball and the Marlins. And I love it! This year it all started with a slogan I thought was crazy "there's magic inside" and a roster that promised more of what we had experienced in previous years. But somehow since game 1, an extra inning win against the Braves, the team showed a special spark turned into torture and a season full of ups and downs with amazing baseball.
This year I've learned so much more about the game and the characters that make our "band of misfits" so special. It's part of my daily routine to listen to Murph & Mac in the morning interviewing Kruk or Kuip, and I usually don't go to bed without listening to the post game wrap with Amy G, Mychael Urban, FP and the rest of the team. And then there's the g-men. "25 guys, one common goal = win". That's what the players see when they head to the field every day they are at home, and that common goal has been carried this year by a group of guys that on paper shouldn't have the run they've had so far. It took all 162 games of the season to win the Division and go to the post season. Remember we have an unofficial slogan: "giants baseball: torture".
And then, for the first round of playoffs we had to face the Braves in the NLDS, my team during my teenage years… I have to admit it was a bit hard rooting against the team that brought me the love for baseball but I now bleed black and orange. And baseball being a superstitious sport, I watched those games with my Bobby Cox signed baseball to jinx my old team and have an outlet to relief the stress of the 1-run games. In fact, playing with a baseball during a game is something I learned from Krukow, one of the Giants announcers. If you ever get the chance to go to AT&T park take a moment to look at the press area and you will spot a baseball being flipped up and down, that's Kruk and now when I go to the games that's one of my little rituals – look for the ball and take a deep breath it's time for baseball…
Today is October 23rd and the Giants are still playing baseball. And every morning at the office we do a small, and sometimes not so small, touch base on how our boys are doing. I keep calling them our boys like I know them! But that's how this team has made us feel, like we are part of the Giants family. The October road for the Giants brought a lot more torture and exciting baseball: getting past the Braves by winning game 3 on the road to win the NLDS; the Giants as huge underdogs defeated the defending NL Champs Phillies in a classic Giants game: on the road, in a torture game and everyone pitching in (literally) to win the game.
I was watching the game at the tennis club, after missing the first part of the game while playing a tournament we all headed to the bar to watch the game. To the final out, we were on our toes counting down outs, strikes, everything…. And when the umpire rung up Ryan Howard we had our own little champagne celebration! Being so close to AT&T park we decided to take in the scene, cars honking, unknown people hugging and high-fives all over the place. The Giants, the unlikely group of misfit guys had won the National League for the first time since 2002 and are headed to the World Series.
During all the celebration, I kept texting with my parents back home in Venezuela. They updated me at the beginning of the game while I was playing tennis and then I updated them while they were at a wedding. And when they finally got home we were able to talk and celebrate that our Giants had won the pennant! Now my parents are planning a trip to visit and take in game 6 of the series. If everything works out my dad and I will get to experience a World Series game once again and my mom will experience her first. This time of course it will be different because is not just a World Series game, it's a game that involves a team we truly know and feel part of… As fans we are that 10th man on the field cheering them on every out until the last out. No matter if we are able or not to go to a game, you can bet that we will be watching together in different time zones and places, but enjoying the torture and rooting for the Giants to get 4 more wins and take it all…
Note from Lisa: And they did it! I guess the only downside of winning in 5 is that Ana and her dad didn't get to relive the World Series in person, here in SF. We're all thrilled they won and not sure we could have stood much more torture. Go Giants!!!