This week we'll be featuring three posts by guest blogger Kimberly Brambilla. Last summer she and her husband took their three young daughters to 2 Continents and 3 Countries in 2 weeks! This is Part One – stay tuned for Parts Two and Three.
"Are you crazy?" I've become used to being asked this question as I've planned trips and traveled with my 3 small children.  Having children doesn't stop me from doing what I love most– in fact having children has actually made me more determined to continue traveling, so that I can share this love with them.  I wish to instill in them a sense of adventure, an openness and appreciation of other peoples and their cultures and a love of exploring the world.
Last summer we embarked on a journey of a lifetime.  We traveled to Spain, Italy and Morocco.  I knew that traveling with a 7, 5 and 2-year old would present many challenges, but it would also undoubtedly be an incredible experience for my daughters Chiara, Olivia and Gisele.  We were going to Spain to vacation, but were also headed to Italy to spend time with "la familia".  My husband's family lives there, and the girls do not get the chance to see them often.  Since Morocco is only 9 miles from Spain I couldn't pass up the chance to expose my children to a culture very unlike their own.
To prepare and get them excited we read library books about places we would visit, looked at maps, made art projects and learned simple words and phrases in Arabic and Spanish My husband also speaks Italian with the girls, so going to Italy would be an opportunity for them to practice.
With bags and camera packed we were off, and began the adventure in the colorful and vibrant city of Barcelona.  We were thoroughly exhausted after traveling by plane, train and automobile to reach our apartment rental in the city.  After dropping off our luggage, we began the search for a place to eat dinner.  We were so tired that we stopped at the first place we found.  It didn't look like much, but boy were we surprised!  Chiara wanted to order spaghetti but we reminded her that we were going to try new food on this trip.  Once the paella, green olives, manchego cheese and fresh bread arrived at the table we were 5 very happy travelers.  Although the girls were a little shy about using Spanish words with the waiters, they loved their first Spanish meal.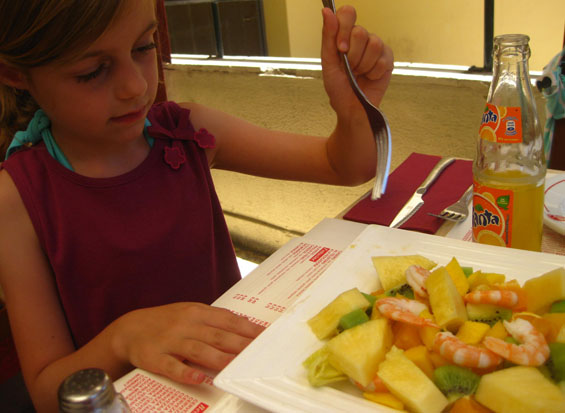 The next couple of days we toured the city in double-decker buses, which we found was the perfect way to see a city with kids. We saw many of the famous sites such as Sagrada Familia Church, Casa Batllo, Park Guell, and also spent time at the beach.  Our time in Barcelona was short but the memories we made are long lasting.  Next it was time for the girls to experience and learn about their Italian heritage and roots.  Italia here we come!