Kimberly Brambilla is guest posting on Studio T this week, telling the story of traveling with her three young children to Spain, Italy, and Morocco. Read part one of her journey here!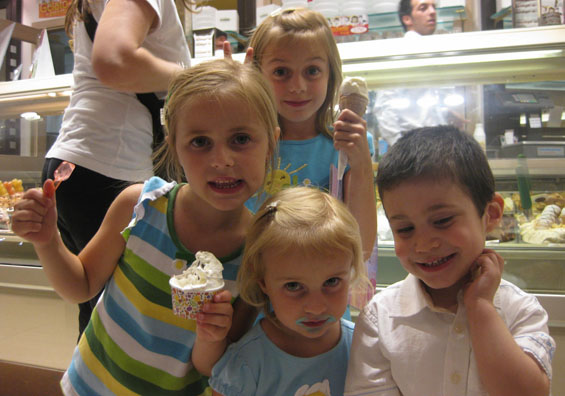 From Barcelona, we flew to Italy.  My husband grew up in Mezzago, a small town close to Milan.  He's from a large family so there are many aunts, uncles and cousins.  It wasn't the first time our girls had been to Italy, but it's always a bit of a culture shock at first. They're greeted with tanti baci (many kisses), hugs and tears.  There's a constant flow of family members and neighbors that come to see us.  It can be a bit overwhelming even for an adult, but it didn't take long for the girls to warm up. We were so proud of their willingness to communicate with the family. Their Italian is rough but they sure try. My oldest, after playing and having fun with cousins, told us "I like speaking in Italian".  That brought quite a smile to my husband's face!  It is one thing to tell the girls about their Italian heritage, but it's another to let them experience it firsthand.  It was sad to say goodbye after being smothered with much love, affection and pasta, but in the end we set off for Morocco.
Morocco is unlike any place I've ever been.  Many of our friends and family were concerned about us traveling there, but I am so thankful we did, because we learned so much.  We took a short flight from Italy to Tangier, Morocco.  When the doors on the plane opened it felt like we were a million miles from home and from everything familiar.  The short cab ride from the airport to the hotel confirmed for me that the world is so much larger than the small space I occupy in my little Florida town.  My girls loved  seeing stop signs written in Arabic, hearing Arabic on the radio and holding Moroccan coins.  Upon arriving at the hotel we went to the rooftop terrace for mint tea and cookies.  The girls loved this!  Chiara began making plans of how she would make her own tea once we returned to Florida with mint leaves from our garden.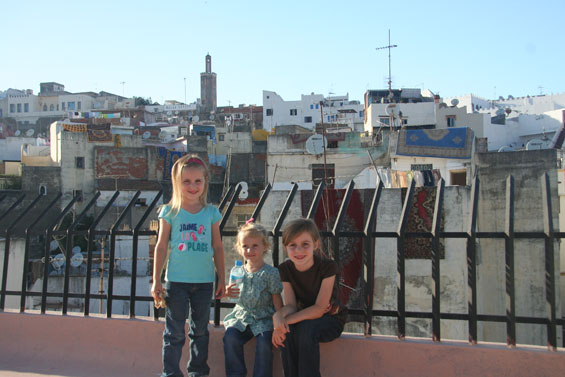 The next day we toured the medina (city) as well as the outskirts of Tangier with our guide Cherif. Our first visit was to a rug store where we were able to see the process of Moroccan rug-making.  The girls loved the experience of being given mint tea and their own "magic carpets" to sit on.  We also rode camels, an experience which my daughter Olivia had been patiently waiting for!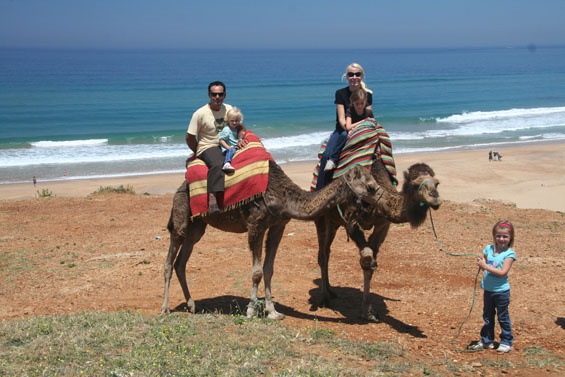 The next day we visited the quiet town of Assilah.  In Morocco you can hire a taxi not just for one trip, but for the day.  The driver will wait for you while you explore, or accompany you, but most of the drivers speak little or no English.  Our driver Unes was wonderful.  He showed us around Assilah, ate lunch with us, and taught the girls a few Arabic words. He even bargained for Moroccan slippers for the girls at the marketplace, and we were all a little sad to say goodbye at the end of the day! It's amazing how quickly you can connect with people even if you don't speak the same language.   The next morning as we packed our bags to leave, Chiara sat at the window looking out onto the street.  She got so excited when she spotted Unes as he picked up more tourists in his taxi, and I was thrilled when I heard her say to him "Ahlan (hello) Mr. Unes"!  I knew in that moment that the goals I had set when planning this trip were becoming a reality.  My kids were learning about new cultures & peoples and embracing them as well.  Beautiful!