Today we have a guest post from Ana, who works in Graphic Design at Tea. Every year Tea employees receive a dividend from Tea to use towards international travel. On Studio T we'll be sharing travel stories of our employees as they travel around the world.
This year my international travels took me to Paris to meet my first niece Sofia. She is a gorgeous half French half Venezuelan healthy baby girl. So for this particular visit to the City of Lights, it was all about family time and not about sightseeing. I'm excited to see her grow up in a mix of cultures, and right now I'm undecided about a little detail… do I want her to call me Tia Anita? Tante Ana? Or Auntie Ana? French and Spanish will definitely surround her, but in me she has a very American aunt! So she will have a little bit of everything I guess.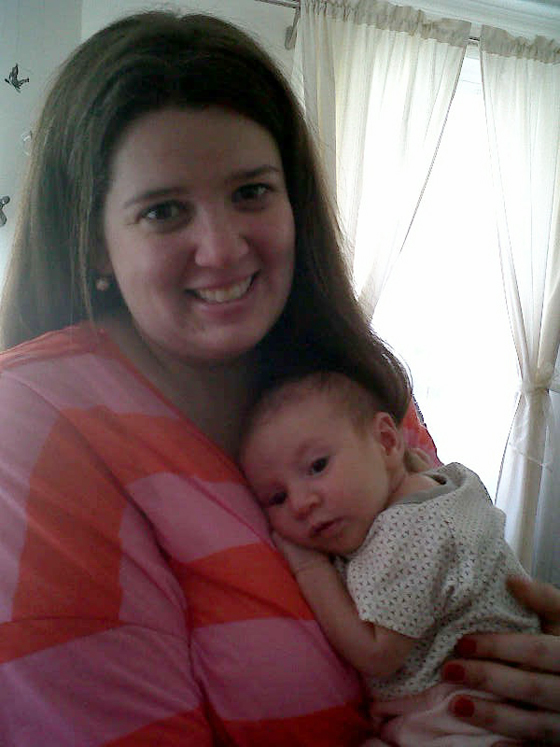 There are different things I would love to share from this trip, and I have a hard time selecting which ones to share. But I'll share highlights of my favorite things!
This trip was not about the Eiffel Tour or Champs Elysees; it was about spending quality time with Sofia and my family. So on a Saturday, my mom, dad and I walked to a local market: Saxe-Breteuil Market in the 7th arrondissement. It was a bit overwhelming because it was crowded and the locals have their way of navigating their way through their market… and there were so many different things that you just didn't know where to start! From cheeses, to hand-made Italian pastas, to jewelry and hats… you could find anything you wanted. On this visit we got a variety of raviolis and fresh vegetables to make pasta for lunch, and of course a cheese platter for dessert.
One afternoon, my mom and I took a walk on Rue de Sèvres and visited the Hermes store there. Amazing. My family had told me about how beautiful it was inside and the minute I saw the window displays I knew I was in for a treat! The entrance had a flower section with orchids and mini flower arrangements on one side and on the other it was all about horses and the classic Hermes scarf. But what really drew me in was once you started walking down the stairs into the main floor this enormous three pear-shaped tee-pees made out of wood and in each of them a different theme: beach, home linen and home china. My eyes were flying all over every detail. The floors, the leather handles on the staircase with the wood… forget about the product the experience of being in the store was just perfect for inspiration! And right next to the Hermes store there is a children's bookstore: Librairie Chantelivre that I definitely recommend checking out. We were lucky enough that a Chinese illustrator was signing his books and he didn't just sign the books–he drew illustrations with ink and brush on the spot. I think the parents were more excited than the kids to see the man at work!
The highlight I could go on forever about is Roland Garros. My hobby is tennis. I've been playing since I was a kid and now in my free time I play competitively (and for fun of course).  So to get to sit in the stand of Philippe Chatrier during the 40th anniversary of Roland Garros was an amazing treat.  I was only able to go to one day, but the tennis I saw was amazing: defending champion Francesca Schiavone, Novak Djokovic – winning his 38th straight win in 2011! For a tennis fan this was one lucky day to get all this great tennis on the first round of the open. I wish my pictures could show how amazing the tennis was, but my main focus was to capture the tennis form of the players so that I could improve my game!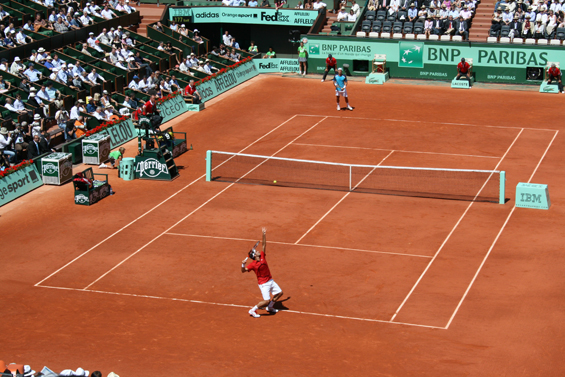 The last little thing I'd love to share is that on one of the walks to the metro to go from our place to my sister's place, there's a little park across the street from Le Bon Marché…as we were walking by I spotted a trailer and my mind clicked: they're having a photo shoot at the park! I've been doing a little bit of photography at Tea and now I can't help but pay more attention to photography so I had to go check it out. I'm a little bit shy so I didn't go and talked to anyone, but I did take a minute just to see them work. I have no idea what they were shooting for; there were two very tall models that looked like they were wearing something straight out of Lagerfeld's sketchbook: