Every year Tea employees receive a dividend from Tea to use towards international travel. On Studio T we'll be sharing travel stories of our employees as they travel around the world.
Earlier this month I returned from a vacation to England, Paris, and New York. I went to England to visit family (I'm English/American), Paris for my birthday, and New York to reconnect with old friends and neighborhoods where I used to live. The whole two weeks was a beautiful blur of old cities, family, English vocabulary, French language, Parisian fashion, and the bustling streets of New York.  But somehow what I have the most photos of on my camera is a bridge over the River Seine where I spent my final morning in Paris.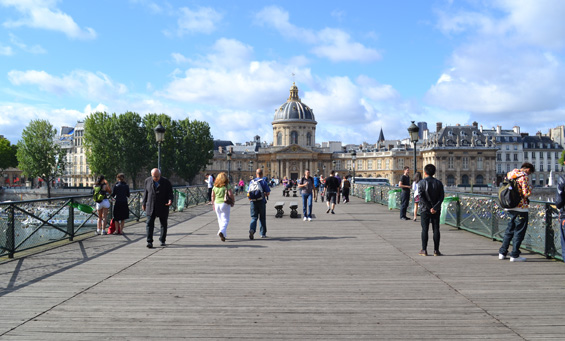 The Pont des Arts bridge was finished in 1804, and was the first metal bridge in Paris.  Connecting the Left Bank with the Right Bank, and leading directly to the Louvre, it gets a lot of foot traffic from visiting tourists. It has held up valiantly despite two World Wars, but succumbed to a 60 foot barge that ran into it in 1979. Now reopened and more beautiful than ever, it has become a strangely surreal landmark. The criss-crossing metal siding of the bridge has become covered with thousands of padlocks, placed there by lovers who then threw the key into the water of the Seine below. Initials of the couples and sweet notes are written on most locks. The twinkling and sparkling of these locks can be seen a block away, and one can spend hours reading the sweet inscriptions.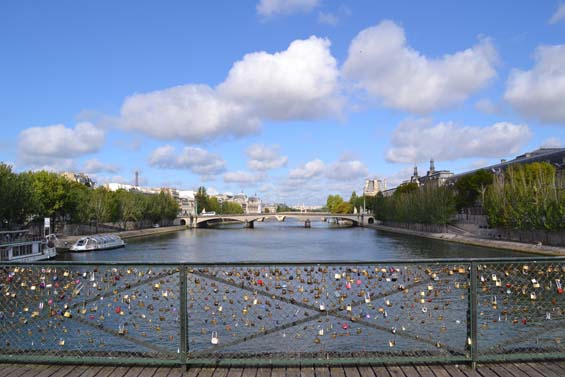 After spending 5 days in the city of romance, and being somewhat superstitious, I couldn't help but want my own piece of the Pont des Arts ritual. But where to find a lock? I searched everywhere for une serrure and finally found one at the Bon Marche department store. My mother and I celebrated the end of the treasure hunt by purchasing tarts and pastries from their exquisite supermarket on the first floor, and we ate them in Luxembourg Gardens while watching little Parisian children push their sailboats around the pond.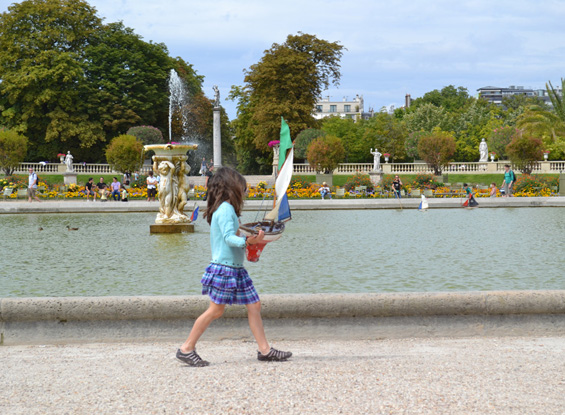 I waited until my last morning in Paris to add my lock to the bridge.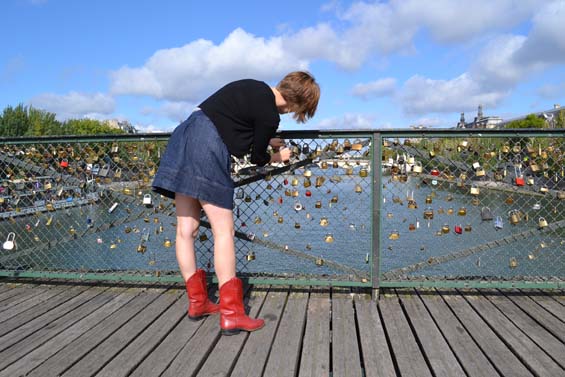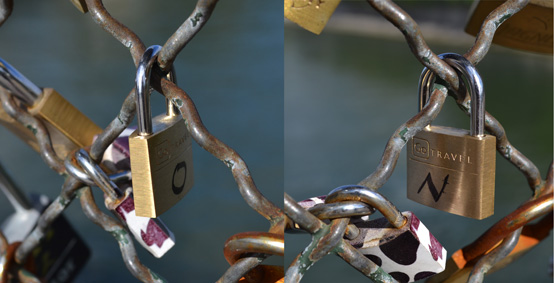 Newspapers around the world are hinting that Paris is not such a fan of these locks – one article threatened that the city was going to remove the locks as they were defacing a public monument. The article was written in May of this year, but when I was there a few weeks ago many of the locks looked old and rusted shut, and there were so many that I couldn't imagine they were just a summer's worth.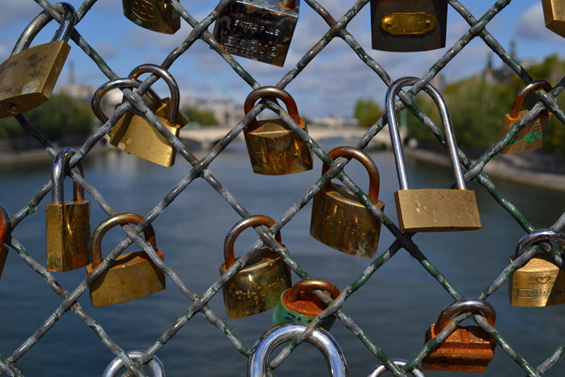 What do you think? Are the locks a sparkly homage to superstitious lovers, or are they an eyesore on an old monument? I encourage you to walk along the Seine, with the morning sun casting long shadows along the cobblestones, a hot crepe wrapped in paper in your hand, and witness the bridge in person before you make a decision.