Elise Hofer Derstine is co-author of What We Wear: Dressing Up Around the World, a Global Fund for Children book. Part of the proceeds from each book sale supports The Global Fund for Children's (GFC) grantmaking program, benefitting vulnerable children and youth worldwide. Total War Against AIDS Youth Foundation, featured in this post, is a GFC grantee partner.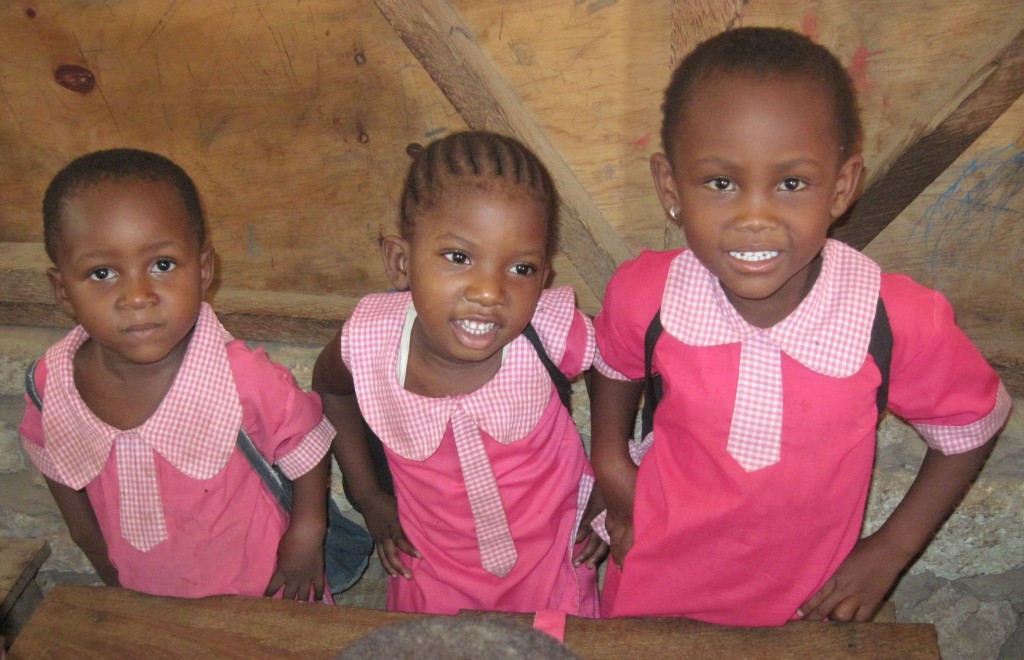 Just about anywhere in the world, you can find children wearing school uniforms.  Kids sitting in rows of desks, wearing pleated skirts or khaki pants, knee-socks or cotton dresses—wearing blue, purple, gray, or yellow.
You can easily spot the kids who attend the Madaraka Community School in Likoni, Kenya, because they wear a beautiful, vibrant pink. You'll see them eating breakfast together before school starts, or at the end of the day playing in clusters of twos and threes.
For many of these children, and so many others throughout the world, a school uniform is a cherished and special outfit. Likoni is one of the poorest districts in the area surrounding Mombasa, Kenya's second largest city. Though Mombasa itself boasts a breathtaking coastline, with all the amenities and attractions of a top tourist destination, the aura of luxury quickly fades in Likoni.
In addition to the community's daily struggle with poverty, HIV/AIDS is a significant issue. Despite Kenya's national HIV prevalence rate of 6.3 percent, in Likoni the rate hovers around 16 percent. As a result, many children are orphaned or abandoned, left to live and work on the streets where they are at risk of exploitation and abuse.
But the children wearing pink are being cared for and protected. Total War Against AIDS Youth Foundation (TWAAYF), which runs the Madaraka Community School, is a youth-led community development organization that empowers orphaned children and youth through art and education.
At the school—one of three core programs at TWAAYF—children receive learning materials and a nutritious breakfast and lunch in addition to their lessons. Classes are taught by specially trained teachers with a curriculum that borrows from the Montessori model. Though the school asks parents and guardians to pay a small amount of money to support the program, no child is rejected because of an inability to pay.
And of course, each child gets a pink uniform. The children come from poor households, and many of them have lost loved ones to AIDS. But the uniforms show they have a place where they belong—a place where they can be nurtured and cared for, and where the future is bright.