To help everyone at Tea "go there," we make a yearly contribution to each employee for international travel and exploration. Upon their return, our Tea travelers write blog posts to share their adventures with all of us (and the world).
Cindy Young, the manager of technical design at Tea, recently traveled to China. Read on about her adventures!
In addition to all the Mid Autumn festival excitement, there were other highlights of my China trip that I am eager to share.  Since it was a short trip, I did not plan any big excursions to the Great Wall or Forbidden City (for I've also had the fortune to have toured those places back in 2006), instead I decided to engage in more normal activities to appreciate the locals' everyday lifestyle.
Every morning, I went out for a run around the neighborhood or nearby park to experience the locals' daily activities. Roaming through local neighborhoods and parks in both cities, I discovered pockets of street vendors, food trucks and pedi-cabs.  There were a wide variety of street vendors serving up fresh-made dim sum and steamed buns, scallion cakes, meat and fish balls and other interesting delicacies.  I couldn't resist and had to sample some fresh steamed veggie buns for breakfast.  They were so tasty and only $1 RMB ($.15/each), irresistible!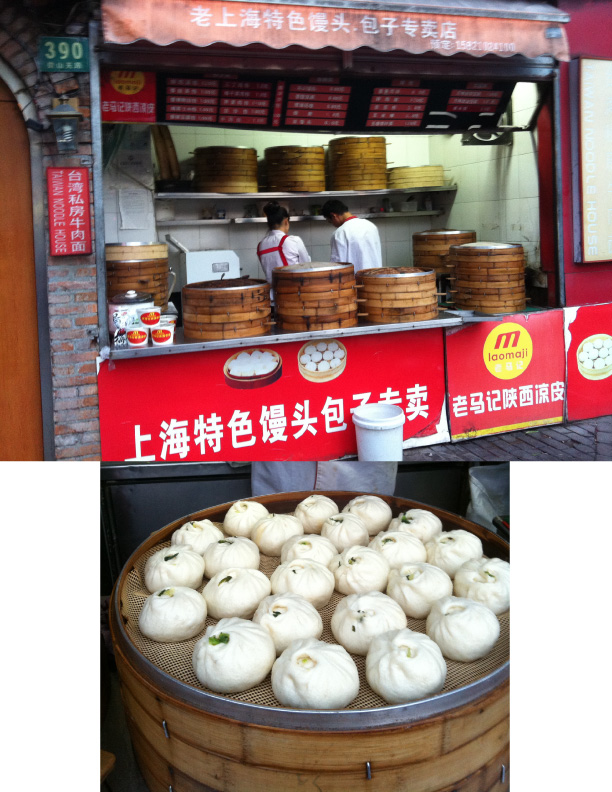 A big part of any culture is food, and the Chinese cuisine is anything but boring.  Peking duck is a popular specialty, and only at the finest restaurants will you experience the proper taste and texture of such a dish. They are delicately carved with choice of crispy skin or not (my recommendation, try with skin) and served in sandwich style between steamed buns or roll style with a thin crepe.  Complementary plum sauce and scallions or pickled condiments completes this delicious dish.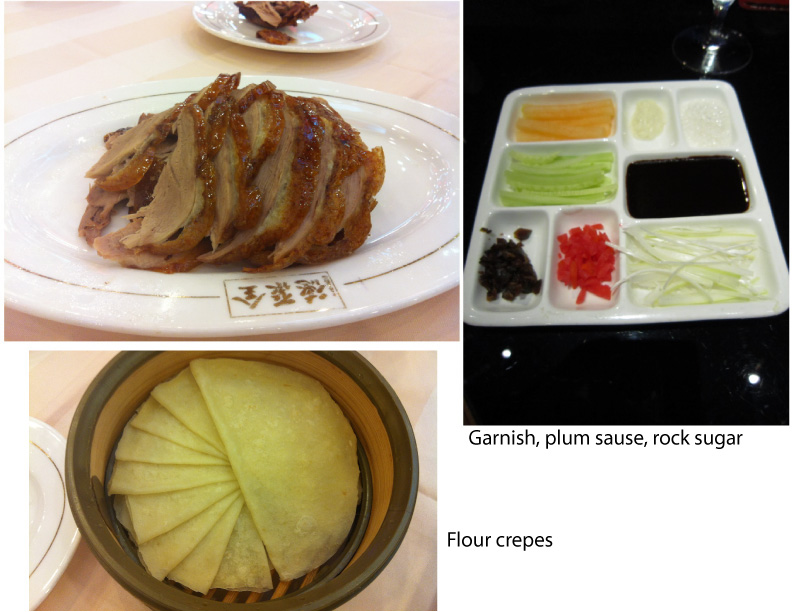 Due to the high population of Buddhism in China, vegetarianism is very prevalent.  I am not a vegetarian but I love vegetarian dishes and was able to enjoy a remarkable lunch at Elaine's Vegetarian Restaurant and Bar, a beautiful little restaurant that sits beside the Luoma Lake in Shunyi, a suburb of Beijing.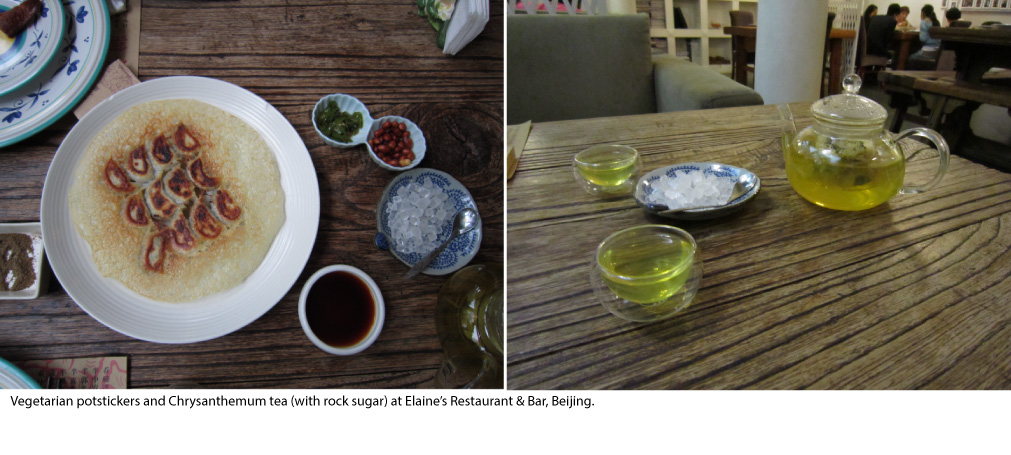 Aside from the extensive culinary experience, both cities are shopping meccas in China.  I did not have enough time to visit all of them but did enjoy some fun shopping at the Solana Mall and Sanlitun Village in Beijing, and Xintiandi in Shanghai.
The Solana Mall is similar to an outdoor shopping center in Southern California.  It houses more than 1,000 international brands, with dozens of retail shops (Esprit being the largest store there), restaurants, a sage cinema, an ice rink as well as a lively bar and club strip.
The Sanlitun Village consists of 2 sites, The Piazza (Village South) and The Deck (Village North).  The Piazza features 140 mass brand stores and dining outlets, while the Deck houses high-end designer brands and a core selection of art galleries representing avant-garde and contemporary Chinese and international artists.
More interesting than the shopping, I stumbled upon a boutique hotel, The Opposite House, situated in the heart of the Sanlitun village.  It has a vibrant mix of traditional Chinese and contemporary elements.  The stunning tall ancient wooden doors at the entrance resembled an old design back from the Dynasty eras, but as soon as you entered, you're greeted by a state-of-the-art drape display that signifies modern creativity and technology.  There is an art gallery on the ground floor that were showcasing a women's traditional "qipao" (long dress) and men's mandarin collared jacket made out of porcelain chips from bowls and plates, hundreds and pieces of them.  They were masterpieces of fashion.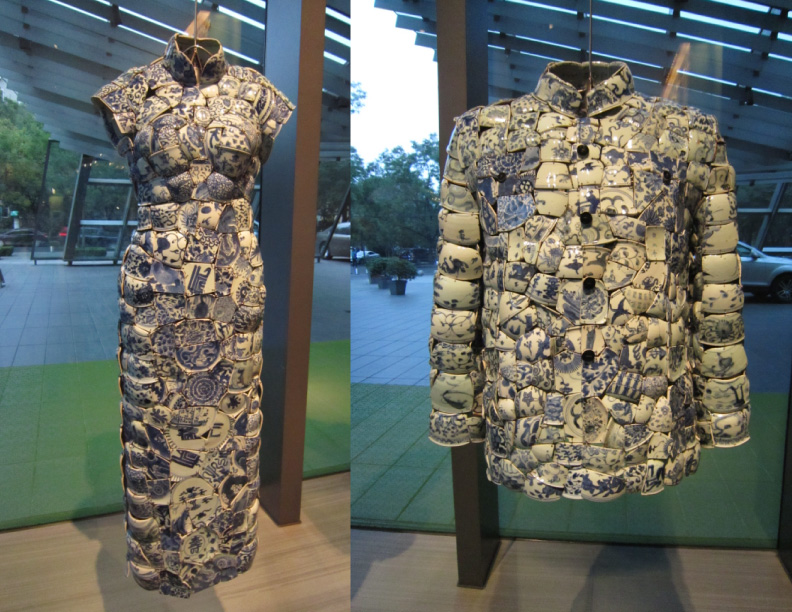 Xintiandi "New Heaven and Earth" is an affluent car-free shopping, eating and entertainment district in Shanghai. It is composed of an area of reconstituted traditional shikumen ("stone gate") houses on narrow alleys, some adjoining houses which now serve as book stores, cafes and restaurants, and shopping malls. Xintiandi has an active nightlife on weekdays as well as weekends, though romantic settings are more common than loud music and dance places. It is considered one of the first lifestyle centers in China.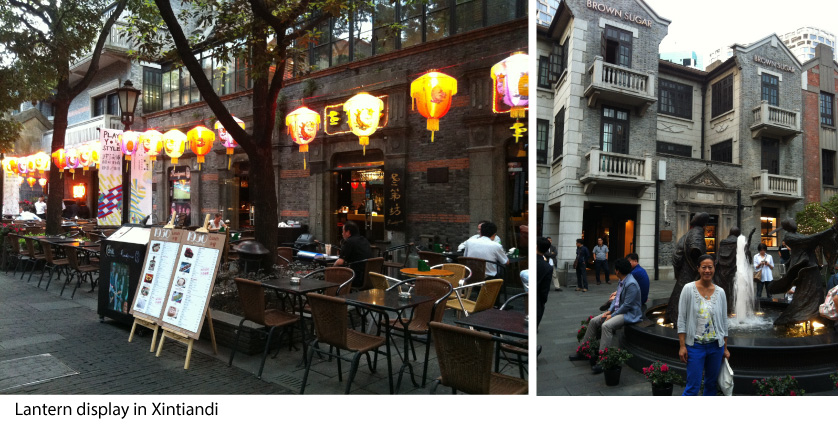 Last but not least some other highlights to sum up the short yet culturally-enriching trip:

>798 art district, a thriving artistic community in Beijing, among 50-year old decommissioned military factory buildings of unique architectural style. It is often compared with New York's Greenwich Village or SoHo.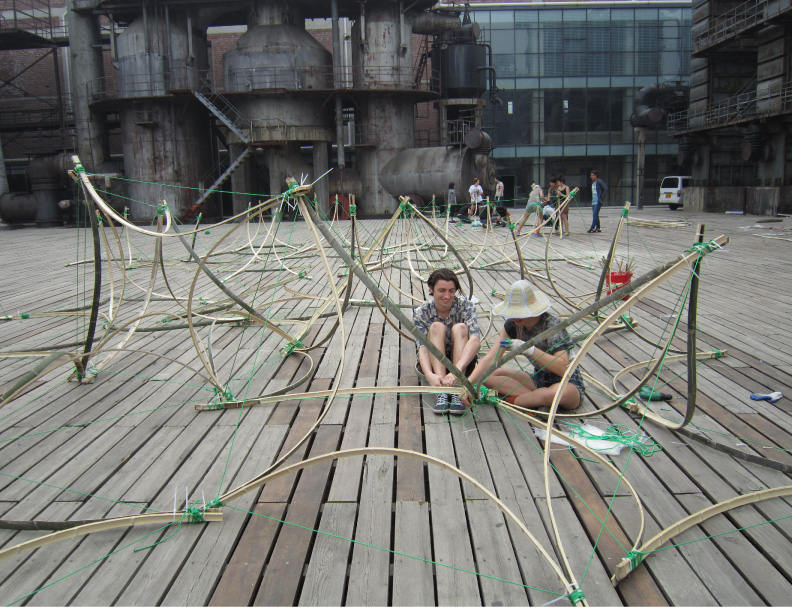 >The Bund: waterfront area in Shanghai. The Oriental Pearl Radio & TV Tower, Jin Mao tower and Shanghai World Financial Center (aka the world's largest bottle opener), are extraordinary projects worthy of appreciation.